Living in anxiety and praying for peace
Anything can happen at any time: Rashid Khan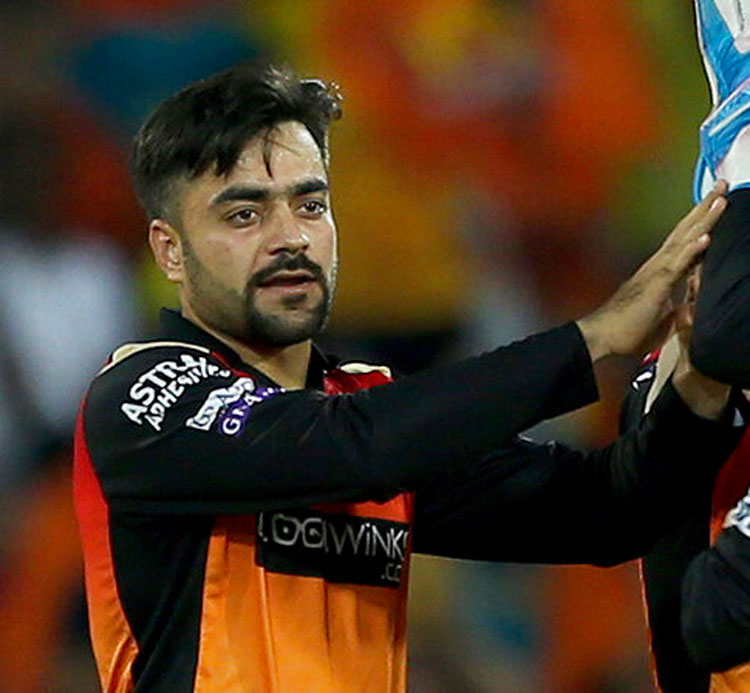 Rashid Khan
Picture by AP
---
Calcutta
|
Published 26.04.19, 10:25 PM
|
---
Nangarhar-born Rashid Khan Arman spends much of the year away from home, either turning out for Afghanistan or playing in one of the lucrative T20 leagues. Much of the year also goes by with the star all-rounder in a state of anxiety.
All because of the violence which keeps blood flowing in Afghanistan. In Kabul, in Jalalabad... Almost everywhere, really.
"The well-being of the family dominates my thoughts... Mera bhai kahan hai, mera nephew abhi kahan hai...
"I pray that nothing distressing happens in my hometown, nothing happens in my country...
"At the back of my mind, there is some fear... Anxiety takes centre stage, as anything can happen at any point in time," Rashid, Afghanistan's T20 captain and an invaluable member of the Sunrisers Hyderabad franchise, told The Telegraph.
Rashid is the No.1-ranked all-rounder in ODIs and the No.1 bowler in T20Is. He's no more than 20 years old.
Years ago, for a period of time, Rashid's own family had to take refuge in Pakistan to survive the intra-Afghan war after the end of occupation by the erstwhile Soviet Union.
It couldn't have been an easy phase either for the family or for the very young Rashid.
Trying not to get emotional, Rashid added: "I pray... We all (Afghans) pray that kuch bada na ho jaye, that Allah has mercy...
"It's tough, very tough. If I hear of a blast or killings anywhere in Afghanistan, then I look to call home instantly...
"This violence must stop and Afghanistan has to return to the days of peace, which hasn't been there for decades...
"I have seen blood on the streets, mourned the loss of dear friends... No country is as badly affected (by terrorism) as Afghanistan."
Rashid, it may be noted, lost "two-three" of his childhood friends in last May's blast at a sports facility in Jalalabad where cricket was being played.
That terror strike took place while IPL 2018 was on and, naturally, left Rashid distraught.
Rashid said he was "horrified" to learn of the Easter Sunday killings in Sri Lanka.
"Bahut dukh hua... Dard hota hai... I can't understand why such tragedies keep happening, can't understand why innocents continue to be victims...
"When will this all end?
"I doubt if the people behind most of the violence even know why they're engaging in such terrible acts...
[ISIS has claimed responsibility for the massacre at multiple places in Sri Lanka, churches in particular. The Government, by the way, has drastically scaled down the toll to 253, resulting in more egg on Colombo's face.]
"You and I don't know what the solution is, but it has to be quickly found... Time, jaise ki bolte hain, is running out," Rashid pointed out.
Rashid recalled he'd been most disturbed by the killings in Christchurch last month, when a "White supremacist" targeted two mosques.
"The Bangladesh cricketers were so lucky... Anything could have happened and the toll would then have been so much higher (than 50)...
"On a personal level, one may only pray... Pray for peace, something we deserve 24x7... Pray for an end to blasts," Rashid signed off.
Pray, of course.
Getting back to Christchurch... Fourteen members of Bangladesh's Test squad and three from the support staff were within metres of the lone gunman who scripted mayhem at the Al Noor Mosque, where most of the killings took place.
Meanwhile, well-placed sources in Sri Lanka have informed this Reporter that the hotels had, apparently following an advisory from the Government, "done away with baggage screening and even metal detectors," put in place from the 1990s.
One of the well-placed sources stated: "Last year, Sri Lanka got voted the top destination in Asia by a panel of the world's top travel influencers and bloggers...
"The thrust was to become more and more tourism friendly. But just look at the high cost."
An exceptionally high cost.
Clearly, Sri Lanka had become complacent. That too in an era when terror strikes can happen at the least expected of places.
The sharp divide and distrust between President Maithripala Sirisena and Prime Minister Ranil Wickremesinghe has only made matters worse.