Like Windies greats, Jofra Archer lets ball talk
He is lethal, arguably the most lethal pace bowler in world cricket now, but he doesn't make a show of it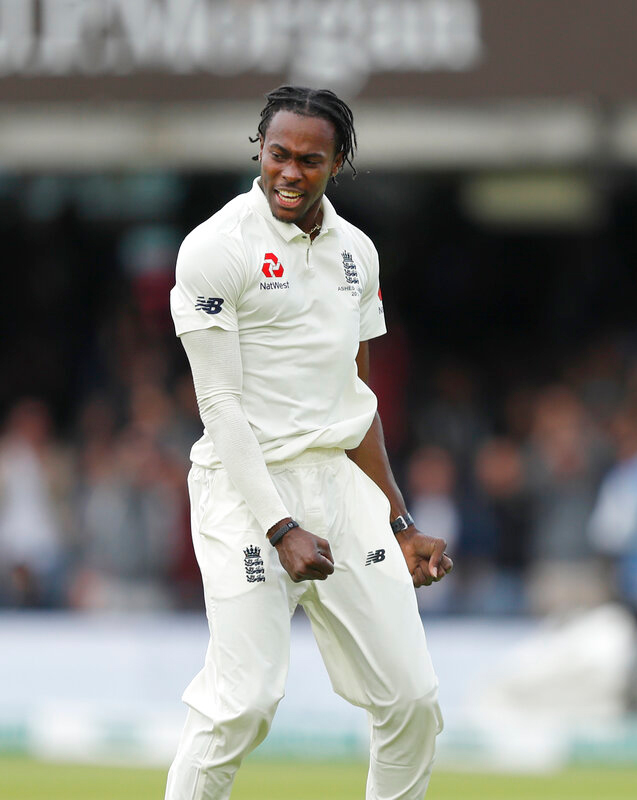 Jofra Archer at Lord's on Sunday
(AP)
---
Calcutta
|
Published 19.08.19, 11:17 PM
|
---
Jofra Archer is fast. The fastest bowler England has had in many years. By the time the second Test ended at Lord's on Sunday with darkness enveloping the ground around 7.15 in the evening, Australia would have been both relieved and afraid — relieved that the scorchers were over and afraid of what might come in the matches that follow at Headingley, Old Trafford and The Oval.
For the record, the 24-year-old bagged five wickets conceding 91 runs in the Test, a good start, but others have had better figures on debut. But it wasn't the scalps that mattered; it was what Archer brought to the ground — pace, sheer, raw and brute.
When Australia batted first, Archer bowled 29 overs that included an eight-over burst during which he consistently hit 90 miles per hour (145kmph), something no other bowler looks like doing in the game today.
He first felled Steve Smith, who was batting as solidly as ever, looking set for yet another hundred, with a lifter that the man who must rank with Virat Kohli as the best batsman of the current generation could not avoid.
Smack it hit him just below the left ear, the cherry delivered at around 93mph, or nearly 150kmph, and Smith fell flat — not a pretty sight, much like the time when Bert Oldfield was struck in the head by Harold Larwood during the Bodyline series.
Smith retired hurt but did come back to bat, brave as ever, but he wasn't his usual self, getting out shouldering arms to Chris Woakes for 92. The blow had taken its toll.
Archer was relentless — when Australia came on to bat a second time on Sunday afternoon, he also hit Marnus Labuschagne (the first concussion sub in Test history), Tim Paine and Matthew Wade in bright sunlight in the second innings.
And he wasn't finished. The Sussex speedster had David Warner, going through a harrowing time, caught at slip; Usman Khawaja nicked one to Bairstow; and then Archer got the skipper Paine, who never looked comfortable.
But it was not just the wickets that he took. Archer has hit some 15 batsmen on the helmet since making his international debut in May. He is lethal, arguably the most lethal pace bowler in world cricket now, but he doesn't make a show of it. Not for him the image of a face-contorting, fire-spewing fast bowler.
In many ways, the Barbados-born Archer is like the West Indian pace legends of yore. Malcolm Marshall, whose skid-on missiles Archer has again made fashionable, Andy Roberts, Michael Holding, Joel Garner and Courtney Walsh were fast and deadly accurate but they didn't hurl invectives, didn't remonstrate or sledge. Nor did they need to — a stare was often enough to unnerve the batsman.
Roberts and Walsh have famously said they never thought it necessary to sledge or go verbal when they had the ball in their hand to do the talking. Unlike, say, a Len Pascoe who once drew the sign of the cross on the forehead of an Indian batsman who had unwittingly pushed his tongue out, infuriating the Australian fast bowler.
Pascoe, of course, is more famous for felling Sandeep Patil in Adelaide with a bouncer, an act he later repented.
Holding, now a commentator who tells it like it is, has predicted that Archer will "change the entire outlook" of fast bowlers.
"Pace separates the men from the boys," he said. "When you have someone with that sort of pace you find out who really wants to play. This man will change the entire outlook of fast bowling in the modern era.
"You see 85mph on the clock — not that I always look at that — but when you see 95mph you know what real pace is. Not a lot of batsmen will want to be going to bed knowing they are getting up the next morning to face that."
Archer has come in for criticism from former Pakistan fast bowler Shoaib Akhtar, who has accused him of failing to show the basic courtesy of checking on Smith after the Australian went down.
"Bouncers are a part & parcel of the game but whenever a bowler hits a batsman on the head and he falls, courtesy requires that the bowler must go & check on him. It was not nice of Archer to just walk away while Smith was in pain. I was always the first one to run to the batsman," Akhtar tweeted.
But his tweet was hooked into the stands by former India all-rounder Yuvraj Singh who on Monday reminded Akhtar how he would warn batsmen while checking on them after nasty bouncers.
"Yes you did! But your actual words were hope you're alright mate because there are a few more coming," Yuvraj said.