Lifter Achinta mulls state switch
Lack of proper financial help, Achinta fears, may turn out to be a hindrance in pursuing his dreams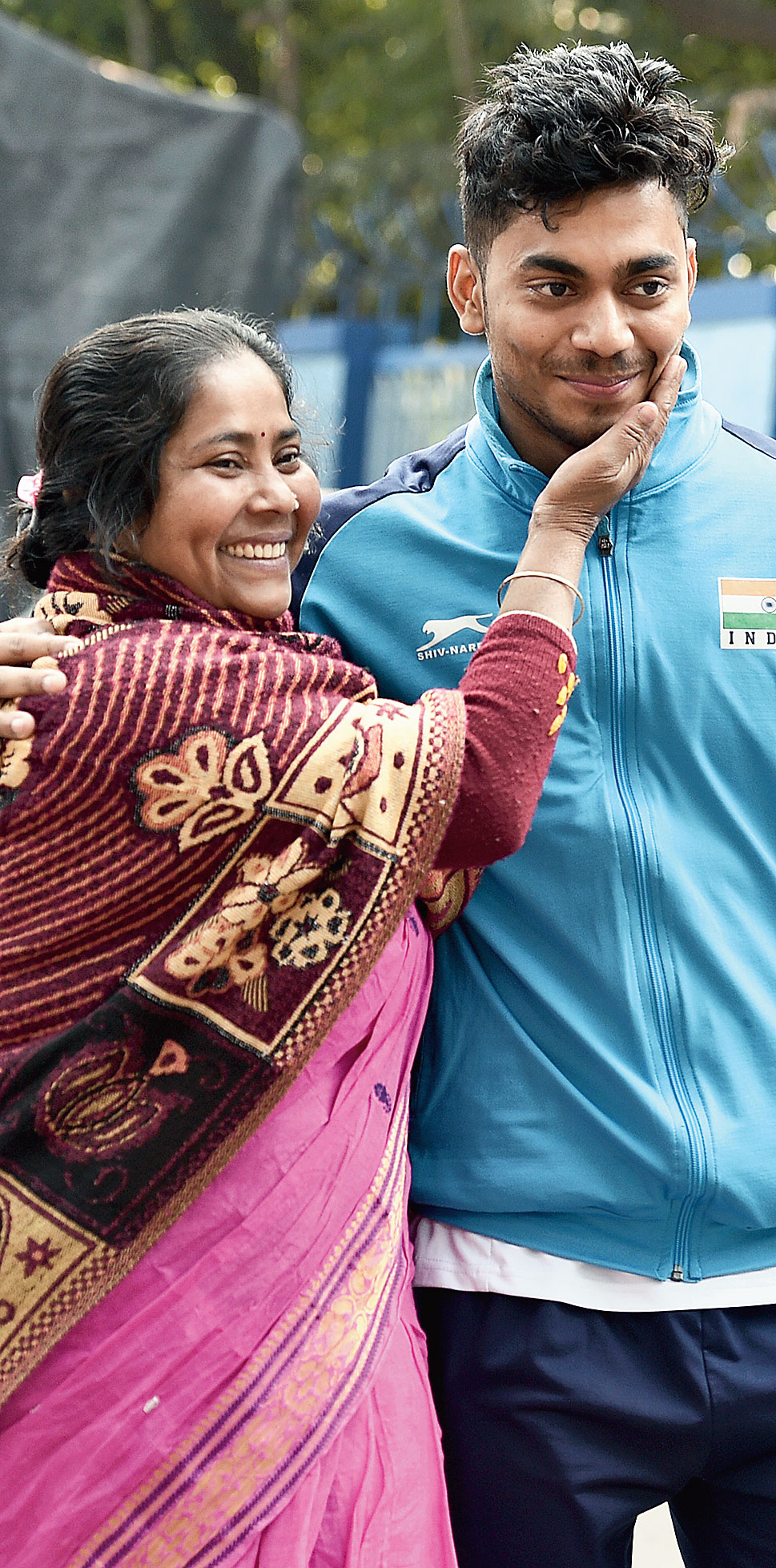 Achinta Sheuli with mother Purnima at the Khudiram Anushilan Kendra on Tuesday
Picture by Santosh Ghosh
---
Calcutta
|
Published 04.02.20, 08:26 PM
|
---
A national championship title followed by a gold medal in the Commonwealth Weightlifting Championship last year did help Achinta Sheuli dream bigger.
In spite of that, the worries don't seem to have lessened for the lifter who's a regular at the India camp in Patiala.
Lack of proper financial help, Achinta fears, may turn out to be a hindrance in pursuing his dreams. And to counter that, he mulls shifting allegiance to another state, hoping for better economic support.
"So far, I've got no financial support from the state association (West Bengal State Weightlifting Association) or from the state government.
" This lack of support has already made matters tougher for me… It can't go on in this manner and something needs to be done.
"So the only way I can address this problem is by representing another state," the 18-year-old, a resident of Deulpur near Howrah, said on the sidelines of the National Weightlifting Championships here at the Khudiram Anushilan Kendra on Tuesday.
Achinta hasn't yet made up his mind on which state he will represent. "I haven't yet taken a call on which state I'll be representing in the near future.
"But yeah, I'm certainly weighing my options as the likes of Haryana, Arunachal Pradesh and Manipur are there as alternatives.
"They provide better support. As far as I know, all other states do what's required in order to ensure their lifters benefit. But it's not the case here (in West Bengal).
"After my performance in the Nationals, I'll quietly go back to the camp in Patiala and no one will take notice. How do I benefit then?" he lamented.
The state association, however, claims sponsors of the ongoing nationals have "assured" help to Achinta and other lifters of the state.
"Look, Achinta is a part of the India camp in the first place. So that's one factor.
"But having said that, the sponsors of this Nationals have assured that they will provide all the necessary help to the needy lifters in our state and particularly Achinta," WBSWA president Chandan Roy Choudhury said.
Achinta, though, had to remain satisfied with a silver medal in the national meet. He totalled 306 in the 73kg, with N Ajith of Tamil Nadu (310) clinching gold.