Kohli proud but grounded
The skipper hailed the importance of BCCI president Sourav Ganguly's role in making Indian cricket stronger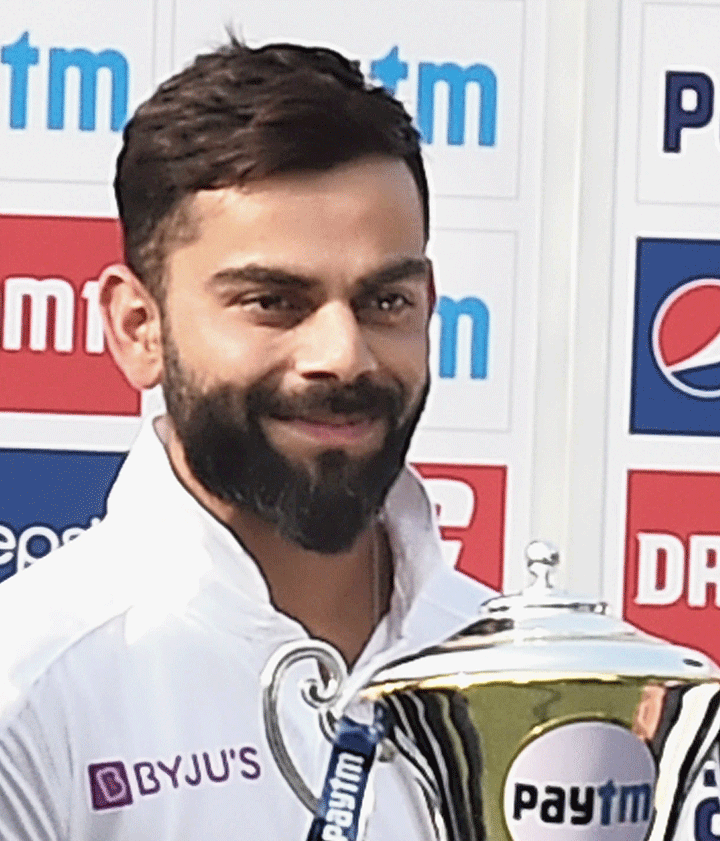 Virat Kohli on Sunday.
Picture by Santosh Ghosh
---
Calcutta
|
Published 24.11.19, 07:50 PM
|
---
India registered their seventh successive Test match victory and captain Virat Kohli agreed that they are at the top of their game.
But when asked if India's dominance is like that of the West Indies of the 70s and 80s, Kohli steered clear of any comparison, his feet firmly on the ground.
"I can only say we're at the top of our game. You can't judge a team's dominance with seven games.You're talking about a Windies side that dominated for 15 years. When we all are close to retiring, maybe then you can ask how the decade has gone for us... Not seven games, maybe seven years.You can praise our team on our performances, but to say that we're dominating like no other team is a very subjective thing to say. We've played three series so far, and if in a four-game series it was two home, two away and we had 300-odd points, then you could say we're playing really well.We are definitely playing good cricket, but I don't think there should be any kind of tags. In the Test Championship, even if we make the final, there's only one game and whoever plays well wins the Championship.So it doesn't matter how many points you have at the end of the day, because you've to play good cricket to win," Kohli said.
"But yeah, we're quite excited about how the game is going. Going forward, we'll be playing in New Zealand soon, so now the frame of mind is to get to the next series in Test cricket and not that you finish playing a series at home and think, 'Let's see what happens abroad'.
"We're waiting to play Test cricket. I think that mindset has changed and we know if we play well, we can win anywhere in the world. That's a very exciting and nice feeling to have in the change room," the captain added.
Like head coach Ravi Shastri, Kohli also stressed the hunger for success that each player in the squad has. "It's in everyone. If you don't have hunger, you can't reach this level. The challenge is when you perform at this level, can you keep the hunger going?"
The skipper also hailed the importance of BCCI president Sourav Ganguly's role in making Indian cricket stronger. "Dada has been very open and welcoming of all viewpoints that I discussed with him.
"Our point of view as a team and his vision are also in sync. So he's also doing things for the betterment of Tests and in return, Indian cricket will be stronger. We're walking in the right direction and I think under him, we'll see a lot more positive changes which will be cricket specific," Kohli emphasised.