Kiran Nadar builds 'bridge' to success
Follow China to popularise game: Nadar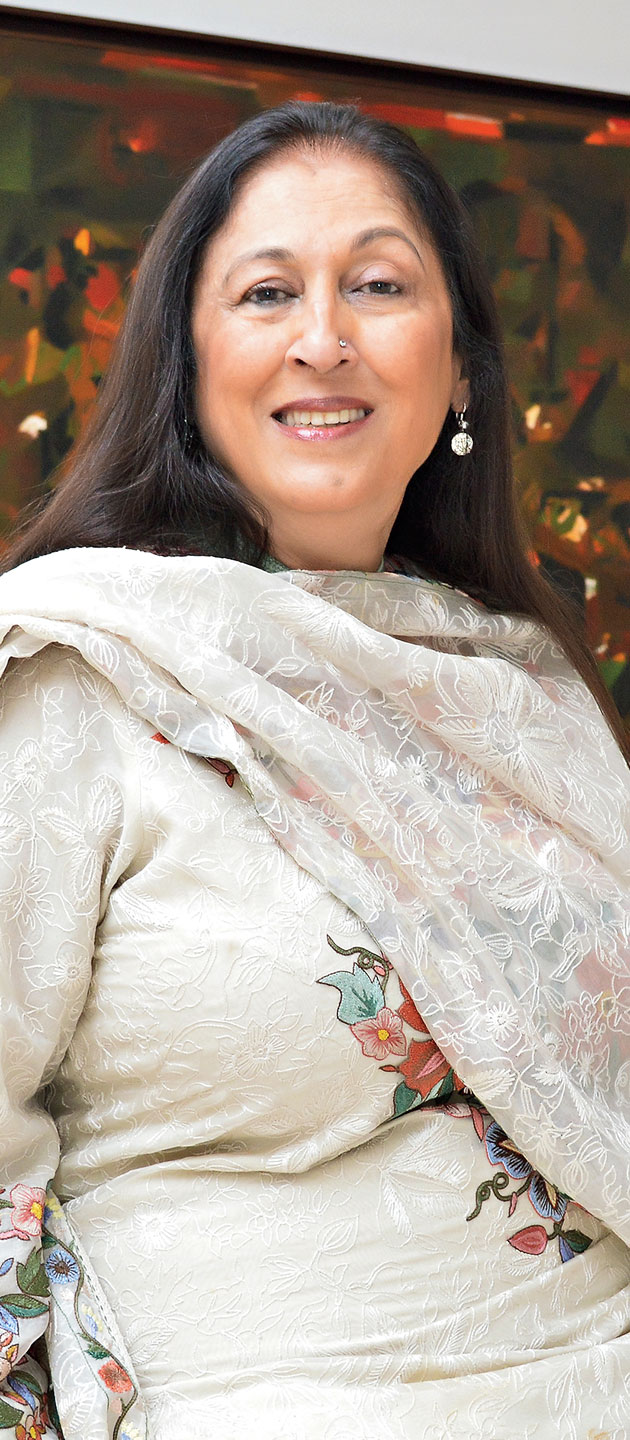 ---
|
Calcutta
|
Published 12.12.19, 10:32 PM
---
Kiran Nadar wears many hats — she is a philanthropist, an art aficionado and chairperson of the Kiran Nadar Museum of Arts, an entrepreneur and last, but by no means the least, an acclaimed bridge player.
So how does the 68-year-old accomplished lady make time for all her various roles? "Oh, I am on the move 24x7," laughed Kiran as she spoke to The Telegraph on the sidelines of the Winter National Bridge Championship, currently underway in the city.
Kiran's team, the Formidables, went on to win the Ruia Gold Cup on Thursday.
But what prompted Kiran to take up the game? "I used to play bridge with my parents, but that was at a basic level. Later, when my daughter was very young, I started playing with a group of players who were much better than me. They felt I had the potential to develop on my innate sense of the game and ought to take part in the selection trials. That is when I started taking my bridge seriously," said Kiran, who is married to Shiv Nadar, the founder and chairman of HCL and the Shiv Nadar Foundation.
Last year Kiran led her team to win the gold at the Commonwealth Bridge Games in Australia and later she was a part of India's mixed team which won bronze in the Asian Games in Jakarta.
These, she considers, among her more cherished achievements.
Kiran has also reached the quarter finals of two World Championships and several nationals.
Several international tournaments always keep her busy. There is a world championship every year. The Bermuda Bowl is a biennial contract bridge championship for national teams. There is also the team Olympiad and the pairs Olympiad.
How does she prepare and practice?
"My playing partner B. Satyanarayana and I practise on Bridge Base Online (BBO), an Internet site. Closer to tournaments we practise a lot more. I also watch other players playing."
But Kiran wishes the bridge federation would do much more to popularise the game in the country.
"Bridge should be introduced at the school level. There ought to be more tournaments in colleges. Previously bridge was popular in the IITs, but sadly that participation has gone down.
"The federation should introduce interesting courses, organise workshops and seminars. In China, they make a lot of effort to popularise the game among schoolchildren as a result of which they have a lot of junior teams, unlike in our country. The message needs to go out that contrary to general impression, bridge is by no means an old person's game," Kiran said emphatically.
Apart from bridge, what other sports interest her? "Cricket, certainly. Since our 1983 World Cup win, I regularly follow cricket, " she said. "And tennis. I've been going to Wimbledon regularly, for the past 6-7 years. In fact, I'm interested in soccer too."
As always, playing in the city has been a pleasing experience for Kiran, as the city has a lot of bridge enthusiasts.
Despite there being so much on her plate, Kiran spends a lot of time with her two grandchildren, who are aged four and seven and is satisfied with her life.