Datt, giant on the field with simple ideology
Keshav Datt, one of India's hockey legends, passed away at the age of 95 on Wednesday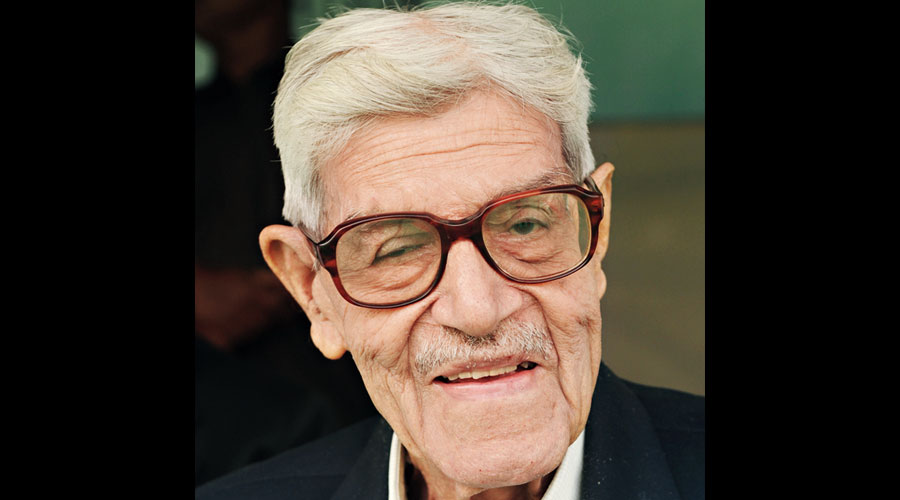 Keshav Datt
Sourced by the correspondent
---
Calcutta
|
Published 08.07.21, 03:38 AM
|
---
One of India's hockey legends, Keshav Datt, passed away at his Santoshpur residence on Wednesday morning. Datt, 95, one of the finest half-backs of his time, was the lone surviving member of the golden generation which won the Olympic titles in 1948 and 1952. He leaves behind two sons and a daughter.
The Lahore-born Datt couldn't return after Partition and moved to Calcutta in 1950, after spending a few years in Bombay.
I was 12 during Partition and grew up idolising Dhyan Chand. He was the super hero of Indian hockey, having won consecutive Olympic gold medals in 1928, 1932 and 1936. Datt had toured East Africa in 1947 under Dhyan Chand before the Olympics.
During the inter-university hockey in 1954-55, I represented Agra and grew up hearing tales about Datt and Co. So when I landed in Calcutta in 1957, it was great to see him play for Mohun Bagan.
Datt was a giant on the field though he never dribbled a lot. He had a very simple ideology — if the wingers were fed well, the goals will automatically come. During those days, Mohun Bagan used to start with 10 men because Datt, who worked with British firm Brooke Bond, would join the men on the field a little later because of his professional commitments.
In fact, he missed the 1956 Olympics, despite being selected, because his employers didn't sanction his leave. He couldn't afford to lose his job during those days.
I often used to tell Datt in Punjabi, "you are my hero". He was a selector when at 21 I was picked for the Bengal team. I started with East Bengal before moving on to Customs and then Mohun Bagan. I played against him in the Calcutta League. He had a very simple style, no quarters given, none asked for.
KD Singh Babu, Balbir Singh Senior, Leslie Claudius, Randhir Singh Gentle along with Datt were a very closely knit quintet. During the 1972 Munich Olympics, Datt was the manager and KD Singh the coach when India won the bronze for the second year running.
Datt played a significant role in India's campaign in the 1952 Helsinki Olympics. That was probably India's greatest team ever. They beat Holland 6-1 for a fifth Olympic gold.
In the 1948 London Olympics, India won, thrashing Britain 4-0 in the final at Wembley.
A thorough gentleman, Datt also served as president of Saturday Club and CCFC. Besides his exploits in hockey, he also excelled at badminton and was the No.1 in Bengal. He was among the top-ranked players in India alongside Gajanan Hemmady.
Datt donated his 1948 medal to Jawaharlal Nehru after the 1962 Indo-China war. The other medal is with his son Arun.
Personally, we shared a close bond. He kindly wrote the foreward to my autobiography along with Bishan Bedi in 2018.
He always preserved the newspaper cuttings and the photographs from his playing days. During his later years, he had a lonely life. Having lost a lot of money in business deals, he spent sometime in a rented flat at Alipore before moving to Santoshpur. His daughter Anjali, who is settled abroad, is expected to be present for his last rites.
l Gurbux Singh is a former India hockey captain and 1964 Olympics gold medal winner                       
As told to Indranil Majumdar