Japanese consul general Yutaka Nakamura talks Tokyo 2020
A conversation centred around the greatest show on earth set to unfold in Japan on Friday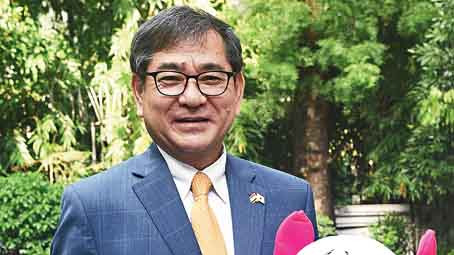 ---
---
Back home in Japan, his elder son is working for the Olympic committee. At his official residence in Ballygunge, Miraitowa and Someity, the official mascots of the Olympic and Paralympic Games respectively, sit pretty in the drawing room. But other than that, there is little Olympic-related activity at the consulate — no visas to process for Tokyo-bound spectators, no events to plan in the city to build hype around the Games. The virus has stopped everything. Yet when the consul general of Japan Yutaka Nakamura met t2 face to face across a protective screen, the conversation centred around the greatest show on earth set to unfold in Japan on Friday.
Tokyo will be the first Asian city to host the Summer Olympiad twice. Do you have any memories of the '64 Games?
I must have been five or six then. I went to my uncle's house to watch the opening ceremony as he had a big colour TV. I missed our team at the march-past as they came last (as the host nation). I had dozed off by then. We had two pigeons in our Kyoto home. The Olympic committee asked all Japanese people to lend their pigeons. At the opening ceremony, on October 10, the pigeons would be released. I was very worried. But three days later, both came back, flying 450km from Tokyo!
Japan has hosted two Winter Olympics since then — in Sapporo (1972) and Nagano (1998).
Yes. In Sapporo, the Japanese jumpers got gold, silver and bronze in ski jumping. Those were the only medals we won. I even remember the medallists' names. Because of them, winter sports became popular, and in the '98 Games, we got medals in several other events.

The host nation gets to add new sports to the programme. Five new sports have been added this year, including karate. How popular are the other four — sport climbing, surfing, skate boarding, baseball/softball — in Japan?
Softball and baseball are the most popular sports in Japan, like cricket in India. Every boy plays baseball. So did I. Fifty years ago, after Japan won the bronze medal in 1968 Mexico Olympiad, soccer became popular. Now people play a variety of sports. Karate, like judo and kendo, is a form of martial art, which helps to teach discipline also.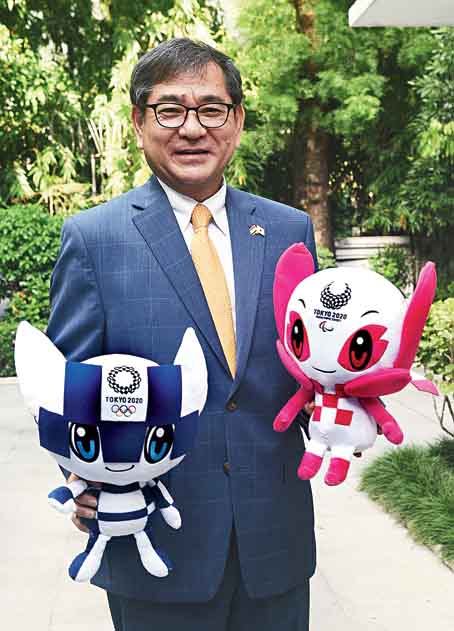 Are you handling visa applications for the Games at the consulate?
No. The Organising Committee has issued accreditation cards to the athletes and the other related members and participants. Those having the card can travel without a visa. Considering the current situation, no spectators from overseas is being accepted. So no visa will be issued to the spectators this time.
Even local spectators will not be allowed in Tokyo, right?
Prime Minister Yoshihide Suga announced another state of emergency from July 12 to August 22 to control the pandemic. Further, spectators are barred from attending the Games in Tokyo — along with Chiba, Saitama and Kanagawa prefectures, as decided in a meeting between the International Olympic Committee, the International Paralympic Committee, as well as the Japanese and Tokyo metropolitan governments and The Tokyo Organising Committee of the Olympic and Paralympic Games. However, restricted number of spectators will be allowed at the venues in Miyagi, Fukushima and Shizuoka prefectures, where the impact of the virus is relatively less, although soccer games in Hokkaido and Fukushima prefecture will be held without spectators. Many of the promotional events have also been cancelled.
Hasn't the stadium that was the venue of the '64 Games been renovated?
Yes, the new 68,000-seater National Stadium is the centrepiece of the Tokyo Olympic and Paralympic facilities. The old stadium's capacity was less than 60,000. It had no roof for most spectators, and had suffered general wear and tear. So it was demolished to make way for this new facility. The wooden lattice framework and design blend modern and traditional Japanese architectural techniques. The wood has been symbolically collected from all of Japan's 47 prefectures. The structure is designed to let in the wind, in order to address concerns about the Tokyo summer heat. Layered eaves, like those seen in traditional Japanese pagodas, will catch the wind and redirect it throughout the stadium. The design has also been welcomed for its clever use of greenery.
Once the Games are over, the stadium will be used for soccer and rugby matches for Japan's national teams, as well as hosting domestic cup finals. The stadium is central to Tokyo's future bids for other major regional sporting tournaments. It will be used for cultural events too.
Some events will be held outside Tokyo too. Can you talk about these places?
Hokkaido is a popular destination for skiing and snowboarding in winter, thanks to its abundant powder snow and top resorts like Niseko, Rusutsu and Furano. Sapporo, Hokkaido's main city, is famous for beer, ramen and the annual Sapporo Snow Festival. Much of Hokkaido is wild and unspoiled, with natural hot springs and volcanic lakes.
The marathon and race walking events have been shifted to Sapporo, keeping the comfort of the participants in mind. Sapporo is much cooler than Tokyo and hosted Asia's first-ever Winter Olympics in 1972. In other seasons, Sapporo has breathtaking display of natural scenery. Sapporo was established in 1868 and is Japan's youngest major metropolis.
The fertile lands of Fukushima produce some of Japan's best fruit and sake. Winter sports enthusiasts love Fukushima. While the 2011 earthquake and tsunami hit the region hard, tourism has bounced back, thanks to local spirit — as expected from people in the northern heartland of samurai culture.
Tsurigasaki Beach, commonly known as Shidashita Point, is popular with many surfers because of the high quality waves that hit it throughout the year.
Medals will be made this year using recycled metal from discarded electronic goods. Could you share some details?
Sports fans across Japan have a close connection to the medals, thanks to the Tokyo 2020 Medal Project, a recycling initiative. Each medal has been moulded entirely from metal extracted from recycled consumer electronics over the past two years. The Organising Committee intends to make these the most environmentally friendly and sustainable Games so far. The project received donations from 1,300 educational institutions and 2,100 electronics retail stores across Japan. Yellow donation boxes were placed in post offices and at street corners all over the country. About 6.21 million used mobile phones were collected, along with digital cameras, handheld games and laptops. They were dismantled and melted down by trained contractors.
The goal was to collect 30.3kg of gold, 4,100kg of silver and 2,700kg of bronze this way by March 31, 2019.

You completed a year in Calcutta. How has it been?
I arrived in the middle of the pandemic last year in June by a special Air India flight. With the lockdown, it was difficult to do anything. I have attended only a few physical events. For a diplomat, meeting people is most important and for the first time in my 36-year career, I can't do that any more, like everybody else.

Have the Japanese expatriates who went home during the first lockdown returned to Calcutta?
Some have. Especially those working for Air Water India, a Japanese industrial gas company in Calcutta that put its efforts devotedly not to shut off its production and supply of medical-use oxygen even during the first and the second wave of Covid in India. They supplied 260 tonnes of liquid oxygen per day from their plants in eastern and southern India.
Incidentally, this May, 800 ventilators and 800 oxygen concentrators were handed over to India by the government of Japan as a part of Japan's emergency assistance in response to the surge of Covid-19 infections in India. We have provided a total of 1,800 ventilators and 2,800 oxygen concentrators to India.

You were earlier posted in Bangladesh. Have you found differences on two sides of the border?
The atmosphere and food are similar. But one big difference is in Dhaka, all signboards are in Bengali. You don't know what the shops are selling! Here the signs are in English and sometimes also Bengali. So there is no problem.

You mentioned the food being similar to Bangladesh. Have you managed to taste anything here?
In Chittagong, they had good seafood. Here, I have tasted only one or two vegetarian dishes outside. My chef is Bengali. Before shifting to Japanese cuisine, his speciality was Indian. On Saturdays, I now have Indian food. Last Durga puja, when I did virtual puja viewing, we had Bengali food for five days. I like a fish dish wrapped in leaf and with mustard (paturi). I don't remember if I had that in Bangladesh. By the way, I am a fan of t2 — fashion, movies and cuisine... I also read the other part (of The Telegraph)! (laughs)