Ishant resurrection in band of pacers
Ishant has definitely complemented Bumrah's disciplined and incisive spells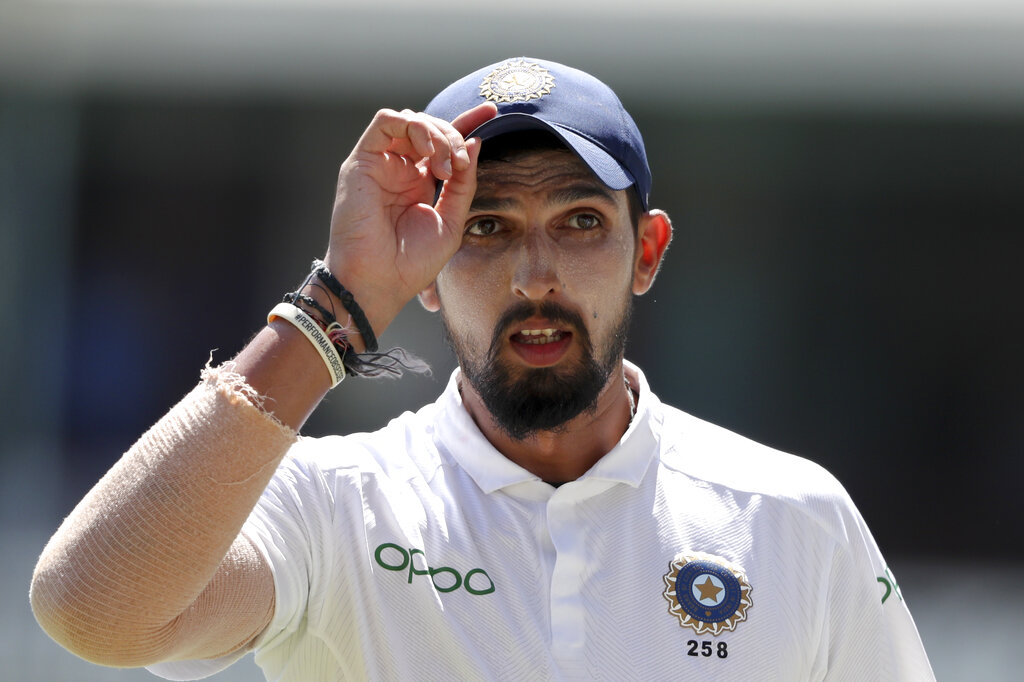 ---
|
Calcutta
|
Published 05.09.19, 09:59 PM
---
Don Bradman in his instructional manual The Art of Cricket outlined that a perfect mix of pace and accuracy makes a fast bowler lethal.

"Accuracy should be their watchword above everything else. Certainly they may attempt swing, perhaps a measure of off-spin, a cutter, change of pace, etc., but at no time must it be at the expense of accuracy," Bradman wrote.
The emerging band of Indian pacers has stuck to these basics and proven a lot of people wrong with consistent and disciplined bowling. No wonder the trio of Jasprit Bumrah, Mohammed Shami and Ishant Sharma have taken the world by storm.
Viv Richards put it bluntly during the Test series: "I didn't imagine I would live to see Indian fast bowlers ruling the world."
Bumrah's unorthodox run-up and action may have moulded him into a lethal component but that in no way undermines Ishant's contribution on the recently-concluded tour of the West Indies.
While Bumrah finished as the most successful bowler in the Test series with 13 wickets in two Tests and a strike rate of 22.6, Ishant was a close second with 11 wickets and a strike rate of 27.0.
It is often said that fast bowlers hunt in pairs and Ishant has definitely complemented Bumrah's disciplined and incisive spells. What has made Ishant special is his game sense and ability to out-think the batsmen.
A changed approach where he consistently pitched the ball up paid dividends as he returned with a match-haul of eight wickets in Antigua.
The 31-year-old's athletic frame and smooth action always aided movement but on this tour Ishant showed that with experience he can shoulder the responsibility of being the leader of the pack. Not without reason has he
become India's most successful pace bowler outside Asia, overtaking Kapil Dev's tally of 155 wickets.
Having toiled on unresponsive pitches at home for most of his 92 Test matches, Ishant's clarity of thought is evident when he's bowling on lively wickets overseas. The propensity to alter the length according to the situation coupled with his aggression make life difficult for batsmen.
But things didn't seem so hunky-dory for Ishant a year ago. He was snubbed at the IPL 2018 players' auction and utilised the summer playing for Sussex in the County Championship Division Two and the Royal London One-day games.
That in a way changed Ishant's perspective. He worked with Sussex coach Jason Gillespie, who played a role in his resurgence. India bowling coach Bharat Arun's influence cannnot be ignored too. The domestic season with Delhi also turned out to be an opportunity.
The hunger to succeed has always kept him going. He worked on his fitness and the difference is showing. "He has confidence and is super fit. The way he bowled on docile wickets was exemplary. He won us four Ranji Trophy matches last season," said Delhi coach Bhaskar Pillai, who has worked closely with him.
"This resurrection has mainly been due to improved fitness. He's worked on his body and can bowl at the same pace for 10-12 overs," Bhaskar said.
"He has changed his approach. He's a frontline bowler and as a professional knows he has to deliver. More than the technical aspect, his situational awareness has gone a long way in making him a leader."
The senior pro is exploding in his bid to control the mantle of an emerging fast bowling force.