IPL: Gambhir leadership jab at 'No.7' Dhoni
MS scored 29 not out off seven balls, including three consecutive sixes, but it was too late to make any impact on the result against Rajasthan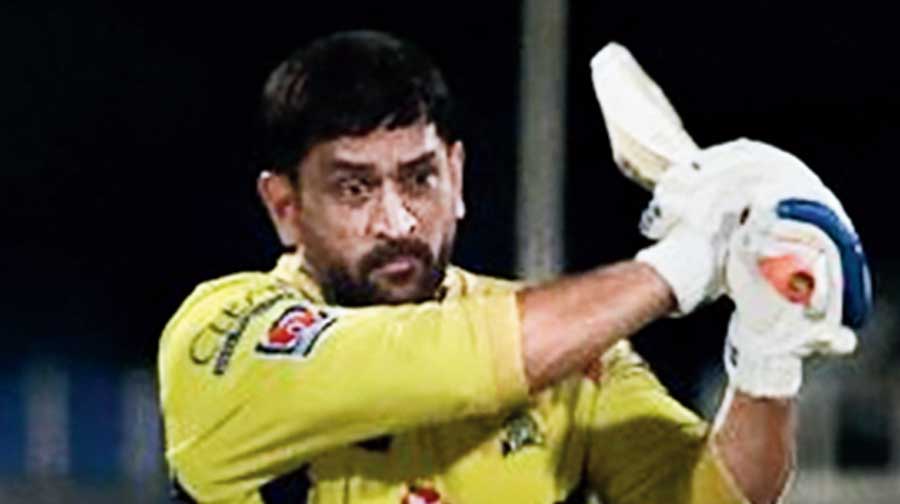 ---
|
Calcutta
|
Published 24.09.20, 03:21 AM
---
Chennai Super Kings suffered their first loss in their second match of the 13th IPL on Tuesday but it was Mahendra Singh Dhoni's approach that remained the talking point as Rajasthan Royals prevailed in their very first game of this edition.
The CSK captain came in to bat at No.7, only the sixth time he has batted in that position in 12 years of the IPL and twice already in this edition. Dhoni scored 29 not out off seven balls, including three consecutive sixes, but it was too late to make any impact on the result.
Dhoni said his lack of time in the middle was the reason behind his coming in at that position. The former India captain is playing for the first time since India's World Cup semi-final defeat to New Zealand in July 2019.
"Oh I haven't batted for a very long time, you know and the 14-day quarantine doesn't really help," he told the host broadcasters after the match. "I'm slowly trying to get into the tournament. Also at the same time, we want to try a few different things like Sam (Curran) or (Ravindra) Jadeja, sending them up."
"I feel we have an opportunity over here where we can try a few different things if they work. If it doesn't work, we can always go back to what our strengths are," Dhoni argued.
Dhoni came in at 114 for five in the 14th over, and was on 9 off 12 before plundering 20 off the five balls he faced in the final over. CSK finished on 200 for 6, 16 runs short of Royals' 216 for seven.
Dhoni's decision came in for scathing criticism from former India opener Gautam Gambhir, who said the CSK captain "did not lead from the front".
"I was a bit surprised to be honest. MS Dhoni batting at No. 7? And sending (Ruturaj) Gaikwad, Sam Curran before him. Makes no sense to me. In fact you should be leading from the front," Gambhir told ESPNcricinfo's T20 Time Out.
"This is not what you call leading from the front. Batting at No. 7 when you're chasing 217. The game was over. Faf was probably the lone warrior," he said.
"See, if someone else would have done this, some other (batsman) captain had batted at No. 7, he would have got a lot of flak. It is MS Dhoni — probably that's why people don't talk about it."
Sunil Gavaskar was critical too, pointing out that sending young Ruturaj Gaikwad higher up the order wasn't the ideal way to approach the chase.
"If the opposition had got 160-170, then by all means, send in Ruturaj so he can may be play himself in.
"But coming into bat after five wickets is like he had decided this match is not going to be won. And that's no way to approach any target. You got to go in with the belief you will be able to win it," Gavaskar said.
CSK coach Stephen Fleming backed Dhoni. "We have this question every year," Fleming said. "He was in the 12th over (actually the 14th over), which is pretty much optimal time, and sort of batted accordingly.
"He is coming back from not playing a huge amount of cricket, so the expectations — to see him at his best — is going to take some time. But you see him towards the end, he was very good. Faf du Plessis carried the form, so we weren't too far away. It wasn't the batting that was the worry to be honest."