IPL a revelation in terms of strokeplay invention: Lloyd
'Indian Premier League has given cricketers a very good standard of living and as a retired cricketer it is wonderful to behold'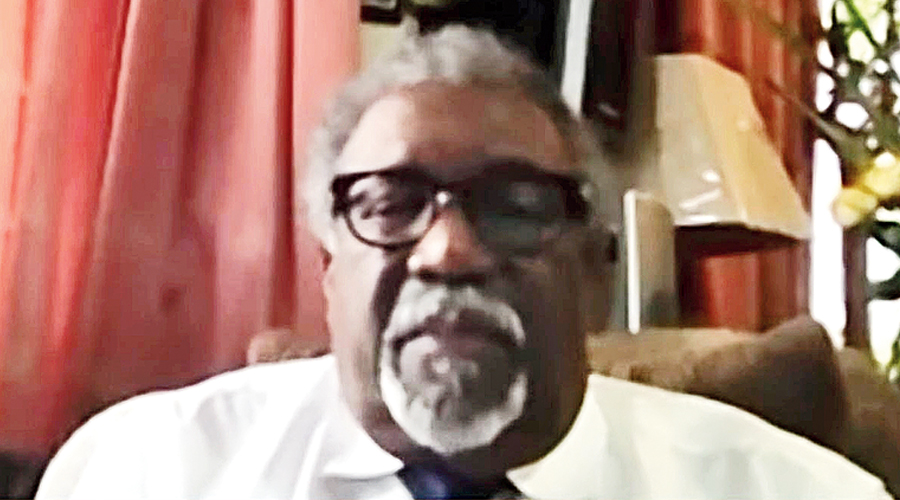 ---
Calcutta
|
Published 25.03.21, 03:18 AM
|
---
Sir Clive Lloyd's speech during Wednesday's Tiger Pataudi Memorial Lecture, a joint initiative by The Bengal Club and The Telegraph powered by Chemtex in association with The Oberoi Grand Kolkata, could easily be compared to one of his trademark innings — minimal usage of footwork yet executed with supreme power and elegance.
Rich in West Indies cricket's heritage, culture and history, everything he spoke about was straight from the heart and with a definite message. When he reminisced about Tiger Pataudi it was filled with nostalgia and reverence.
Excerpts
Love for India 
I have a great affinity and love for India. My first Test match was played in India, I won my first Test match as captain in India, my captaincy started in India, I won by first series in India... My first double hundred also came in India. Of course, I cannot begin this lecture without reference to the man for whom it is named. Various Indan players and administrators have had an impact on Indian cricket. The Nawab of Pataudi or Mansur Ali Khan as he later became was one of these blessed souls.
Mansur Ali Khan has gone down in cricket legend as a man who, despite a visual impairment, could play some of the best innings in Test cricket. Fortunately, he never got going against us shortly after I took over the captaincy in 1974-1975 series. I have known the Nawab for over 54 years. I first saw him playing for EW Swanton's XI at Bourda in Guyana and I was mesmerised by his fielding. I was similarly excited by his batting.
For a young man who was visually impaired, he was so nimble on his feet and played some of the most exciting strokes ever seen at Bourda. From that day I was a confirmed Pataudi fan. I was a teenager at the time and I never thought that he would be captain of India when I was made captain of the West Indies in the 1973-74 series in India.
IPL revolution
I do not think anyone who is familiar with the game of cricket would deny that the Indian Premier League (IPL) has been a revelation in terms of finances, fitness, and the invention of strokeplay. The IPL played an integral part in fine-tuning the young Indian players into maturity as they are experiencing some excellent cricketing knowledge by rubbing shoulders with some icons of the game . It's a fantastic opportunity for them and they are also being handsomely remunerated for their services. The IPL has been a success and has given cricketers a very good standard of living and as a retired cricketer it is wonderful to behold.
Leading West Indies
I wish to provide insight into the struggles as well as success in captaining the West Indies between 1974 and 1984. 
A lot has been written during this period about the domination of West Indies cricket when we never lost a Test series for 11 years and played 27 Tests without a defeat. This is an outstanding feat and even more remarkable as we are a diaspora of just over 5 million people. 
If anything I have learnt is that cricket is supremely a team sport, it involves the careful management of men, and the careful study of the conditions of play. As West Indies captain, I had to teach our men to inculcate the right formulae for play in the varied conditions in England, Australia, India, Pakistan and New Zealand. I assure you that in each Test series we played, we had to assess local conditions, the psychology of my own players and what it took to convert my team into a purpose driven and coherent unit of players. 
Anyone who thinks that the West Indies became a dominant force because of the right and supporting circumstances does not know our history. The West Indies team of the 1980s emerged out of a cultural and political matrix... Our history has been bedevilled by disunity and insularity. 
The glorious years
When I took over the captaincy of the West Indies cricket team I had before then the fine example of Sir Frank Worrell … But even with Worrell's farewell victory in 1963 against England, the region seemed to have returned to the bad old days. Our team seemed to have disintegrated in Australia in 1968, and in the West Indies and in other regions we could not win Test matches, even in our own backyard. 
The latter part of the Sixties offered some hope. But the Seventies was a disheartening period. We might have lost some 20 Test matches without winning a series. 
Sobers had departed at the end of 73 and Kanhai too had moved off the scene, even though he was retained for the World Cup in 1975. The most important point to be made is that Wes Hall and Charlie Griffith had departed as well as Lance Gibbs. We had no pace attack and no quality spinner. 
When I took the team to India for the 1974-75 series, I had no seasoned fast bowler and five of the players, including Gordon Greenidge and Viv Richards had no experience with Test cricket. 
We had to rebuild and to do so very quickly. I confess that I was aided by certain events. The emergence of certain events were certainly beneficial. After the heavy defeat against Australia in the 1975-76 series I took a firm decision that this would not happen again. 
I studied the ruthless method with which Australia played Test cricket. I noted the need for fitness, consistency and purpose. These were the attributes which Frank Worrell was able to instil in his players and which I worked hard to instil in mine. In this exercise I was aided by the emergence of World Series Cricket. As it will be remembered, I resigned from the captaincy of the West Indies cricket team over the issue of better playing conditions. During the WSC tour I bonded with my top players such as Viv Richards and Gordon Greenidge and the other players. 
During the WSC tour there was a notable improvement in fitness, concentration and determination. By the time I resumed the captaincy I had a team which was cohesive and unified. The results speak for themselves. We played unbeaten for 15 years. But it was not easy. The management of players from the different islands required study, patience and human management. I think I got my players to believe in themselves and to learn how to win. 
Most of all I got them to believe that in a Test match we played as the West Indies and not as representatives of the individual territories. I am proud that my team was the first, among many other achievements, to defeat Australia in Australia and to win successive World Cups.
Importance of sport
I should let people know, especially in India, the importance of sport. I think governments should seek to elevate the quality of sports in schools and make it an important part of the curriculum. Sport provides healthy challenge and professional opportunities. A regiment of sport and good nutrition is a catalyst for fitness and good health.