Ashwin's warning to errant non-strikers Jos Buttler & Aaron Finch
Off-spinner's message: Stay put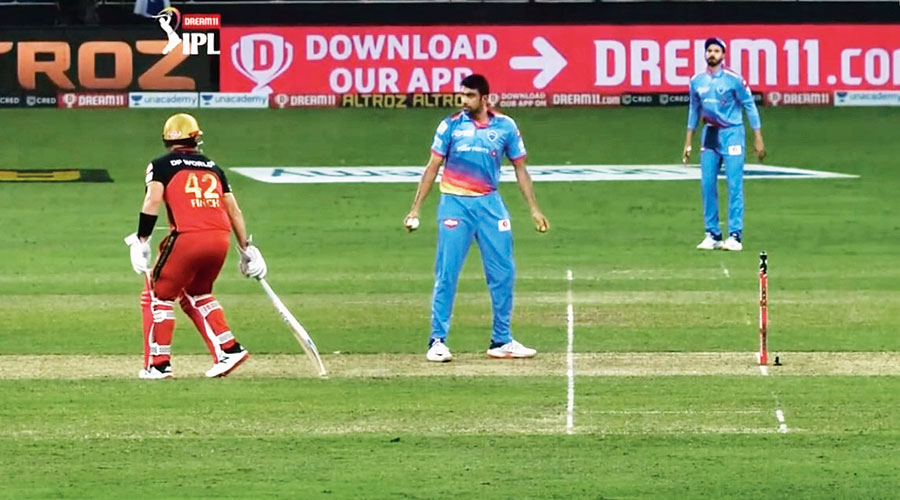 A TV grab shows Ravichandran Ashwin stopping in his delivery stride as RCB's Aaron Finch is away from the crease.
Picture courtesy Twitter
---
Calcutta
|
Published 07.10.20, 02:43 AM
|
---
Ravichandran Ashwin, who triggered a controversy on the "spirit of the game" in last year's IPL by "Mankading" Jos Buttler, has again touched off a debate
by not running out non-striker Aaron Finch during the Delhi Capitals-Royal Challengers Bangalore game in Dubai on Monday.
The India and Capitals off-spinner, instead, took to social media to issue a "warning" after the game.
The incident happened in the third over of RCB's run chase when opener Finch prematurely left the non-striker's crease even before Ashwin had released the ball.
"Let's make it clear!! First and final warning for 2020. I am making it official and don't blame me later on," Ashwin tweeted, also tagging Capitals head coach Ricky Ponting.
Initially, Ashwin and Ponting were not on the same page over such a dismissal of the batsman at the non-striker's end. Ponting had made it clear before the start of IPL 2020 that he would not allow "Mankading" by any Capitals player and also had a discussion with Ashwin on the issue.
Though legal, this mode of dismissal is considered by many to be against the spirit of the game.
"Last time what Ashwin did was a little unsportsmanlike, no matter what he has to say about it or what his thinking on the issue is," said Ashok Malhotra, who, during his tenure as Bengal head coach, was furious with Murali Kartik when the former left-arm spinner "Mankaded" Sandipan Das in the 2013-14 (Bengal-Railways) Ranji Trophy quarter-final game at Eden Gardens.
"He must have had a conversation with Ponting regarding this matter. Ponting's opinion must have rubbed off on him.
"At Kings XI Punjab, Ashwin was the boss and could do whatever he wanted to. I think it was in bad taste what he did last year. A bowler should warn the batsman first," Malhotra, also president of the Indian Cricketers' Association, added.
Ashwin captained Kings XI in the last edition of the IPL.
Lauding Ashwin for his "good gesture", former Pakistan pacer Sikandar Bakht feels some runs could be deducted from the batting side if the non-striker repeatedly moves out of his crease before the ball is released.
"When a bowler oversteps, you call it a no-ball and give the batting team a run. Similarly, if the batsman at the non-striker's end is trying to leave the crease early, you can deduct runs and give it to the bowling side.
"You could do something like that rather than giving the non-striker out straightaway," Bakht, who played 26 Tests and 27 ODIs for Pakistan, told The Telegraph from Karachi.
Bakht was at the receiving end when Alan Hurst "Mankaded" him during the second innings of the Test match in Perth, back in March 1979. "When it happened with me, there was no warning," he said.
Former Bangladesh left-arm spinner Mohammed Rafique too had the opportunity to run non-striker Umal Gul out in a Test in Multan 17 years ago. But Rafique didn't and Pakistan went on to win the Test by a wicket.
Looking back, Rafique said: "A player of class and high standard will never do such a thing... you must respect the spirit of the game."