India will miss Virat Kohli's aggression and passion: Allan Border
The tour Down Under will begin with the first ODI on November 27 and will be telecast live on Sony Ten 1, Sony Ten 3 and Sony Six channels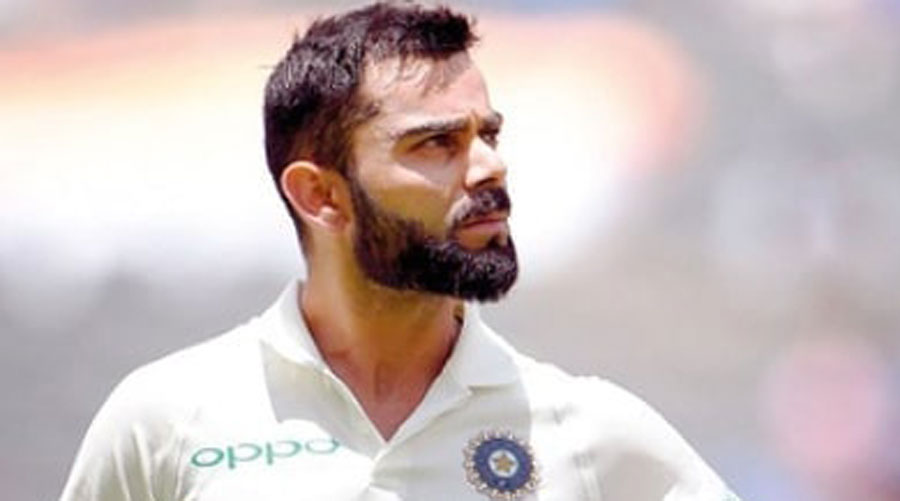 ---
---
Former Australian captain Allan Border thinks Virat Kohli's absence after the first Test will have a significant impact on the outcome of the four-match series.
The tour Down Under will begin with the first ODI on November 27 and will be telecast live on Sony Ten 1, Sony Ten 3 and Sony Six channels.
Border, 65, who answered a few questions from The Telegraph during an interaction with a select group on Thursday, is also worried about the future of Test cricket.
Excerpts:
How do you look at the forthcoming series?
Allan Border: Obviously I'm confident of Australia's chances as they will be playing at home. Since India won the series the last time here, there's a little bit of trepidation about our chances but we have a very good team... Got quality fast bowlers, good spin options apart from Nathan Lyon... Our batting has started to take shape a little more than last time the two countries played with Smith and Warner back. In our conditions, we will get the better of India... Maybe a 2-1 scoreline… But I will bet for a fantastic series. If India gets a bit of momentum, they will be able to win one Test but Australia will manage to dominate the rest of the matches.
How much of a factor will Virat Kohli's absence be after the first Test?
The one thing that works in Australia's favour is Virat Kohli is going to play only the first game. It's going to be a huge thing in favour of Australia. India may have some quality players but I feel he is irreplaceable at the moment with what he brings to the table… His own batting besides his leadership. It's a bit of a love-hate relationship with Virat because we respect him highly... He's a bit of an antagonist and plays the game positively and in an aggressive manner.
Will the first Test determine the course of the series?
It always has a bearing, doesn't it? The first Test of any series tends to dictate where the series might go. In this case since it's a pink ball Test, the conditions will be slightly different. The pink ball behaves differently and the conditions change quite subtly... I don't think the first Test will set the tone for the series. It's a completely separate Test match. Because of the Covid situation we are still not sure where the first Test will take place, which is crazy. It is scheduled in Adelaide but it could change. It will almost be a one-off Test and the other three will be played in similar conditions with the red ball.
How would you have handled a player like Virat in your team given the feisty character that he is?
I would love to have him in my side. He is more than welcome. He might think of having his new-born baby in Australia! Look I've got a lot of time for Virat. I love the way he plays his game. He plays the game with his heart on his sleeve. I like his aggressive nature and the passion. That's why I say that India as a team will miss that, let alone all the runs. He's a special player and has got serious talent just for what he does as a batsman. He's part of the new India. That's the way I look at it... The difference in the character in the new generation of players... Lot more positive and I think Virat has led the way. I am a big fan of him. I just love him and there's no hate involved.
Where does Virat stand in the list of greats?
I like the way he can change his game between different formats. He has been able to transcend his game between Tests, T20s and ODIs which is remarkable. That's a very difficult thing to do. A few guys do it well like Steve Smith, Warner, AB de Villiers... He's right up there in the top echelons.
Will there be a lack in aggression in Kohli's absence?
I don't apologise for the way we play our cricket. It's ingrained in us from an early age. It's an aggressive form. I know people don't like it but I think someone like Virat embraces that aggression. He likes playing against Australia because he enjoys that sort of cricket. The Indian guys as a rule have come to understand that and are not shy to exchange a few words. Once the game is over, I think players genuinely get on very well. That's part of the rivalry.
What's the difference between Virat's team and those of the past?
The big thing is India are a lot more aggressive with the way they play their cricket. There's more intent shown on the field... When I first played against Indian teams I got the feeling they played a lot softer game and there was never much verbal exchanges. They were lot more reserved. I think Sourav Ganguly injected a lot more aggressiveness into their cricket and Virat has taken it to another level... Not going to take a backward step, not let the Aussies ride over them in clashes in the middle. It's not any sort of nastiness since everyone knows what that sort of line is which you should never cross. But they get on well and there's genuine respect between them.
How much of role could bubble fatigue play?
I can't imagine me in a bubble. In Queensland, I haven't had to suffer much. There's been a little bit isolation and social distancing but we never had to wear a mask. It's going to be very difficult for the players living in a bubble — from Dubai to Australia. Families play a big role in the players' lives and it will be more now. If families travel with them it's good. It will be more about the mental fatigue not the physical aspect… Not being allowed to socialise or relax is what is disturbing. You are limited to the hotel, the bus, the ground and then back to the hotel. Doing that for months on end is hard work. That will be more difficult for the Indians. But living in a bubble will play a role for sure and who copes best will have an advantage.
What would you advocate for the cricketers in such a scenario?
You've got to think of ways to keep yourself entertained. If you go back in time, say when touring Pakistan, we had to be careful since you are not allowed to drink alcohol. You have come up with alternative ways to entertain than going out for a few drinks. We had card nights... You should have different activities and have some interesting characters. We had someone like Merv Hughes who would keep the mood light and the spirits high. That's what you need to keep the pressure away.l Are you betting on any youngster in the Australian line-up?
I'm not sure how much you have seen of Marnus Labuschagne but he has been a huge find for Australia over the last 12/18 months. He was a goodish first-class cricketer few months ago but he's now a world-class player with his performances. I'm expecting him to continue that run. He's good on the pitches here. He should handle India's attack, which is generally a fast bowling one. I'm hoping a kid called Will Pucovski gets a game for Australia. What he's done already — three double hundreds — is exceptional and he could be special. He has a burning desire to make big runs. Keep an eye out for him. Another kid I'm hoping to come good is Cameron Green. He bowls good pace when fit and is a quality batsman.
How much of an impact will the spinners make?
In Australia everyone is looking for another Shane Warne. But we've got this guy Nathan Lyon who has been a fantastic performer for us. Look at his stats. Pretty impressive for an off spinner in Test cricket! As the game drifts into days four and five, all pitches offer something for the slower bowlers. If I were an Indian, I would rather be looking at leg spin rather than off spin. Someone like Chahal, he's worth looking at. I know he plays the shorter versions but I think Australia are more vulnerable against leg spin at home. Ashwin is a quality spinner but I don't know if he's going to trouble our guys as much. Left-arm spin is a bit of a nemesis for Australian teams and Ravindra Jadeja could be useful.
Will pace attacks determine the outcome of the series?
Most cricket matches are generally won by the bowlers... Pains me to say that since batsman have to score runs to make the bowlers job easier but in Test cricket you must have an attack that can take 20 wickets. If you look at teams in the past that have dominated, they generally possessed bowling attacks. You look at the West Indies of the Eighties who had four fearsome fast bowlers you. You've to score enough runs and put pressure on the opposition. If Burmah fires like he did last time here, if Shami is on song and gets a bit of swing and Ishant can extract good pace with another quality spinner, it will put lot of pressure on the batting side. Whoever dominates against the opposition's batting will win this series. Last time India were very impressive in that area and the batting backed them.
Do you think Test cricket is threatened by T20 leagues?
Yes I do. It's sad in a way since I am a traditional cricket person and love Test cricket. But I am also a fan of the short forms and T20 format in particular. But I feel the long form of the game is under pressure because though Australia, England and India are still maintaining good contest, is it sustainable in Zimbabwe and Ireland? Is it viable financially and where is it headed? Five days of cricket is a hard sell. Lot of finances are driven through the short forms. I am worried and that's why this series is important. That's why I have so much time for Virat who is a Test match fan. A good Test series keeps the game alive and vibrant. But how far in the future is the million-dollar question given the strength of the IPL, Big Bash and other leagues. Test cricket is a slower burn since you get three hours of instant action and entertainment in T20s. I do fear for Test cricket.