India have edge: Jamal Bhuyan
Jamal also said Bangladesh would have a plan to thwart Chhetri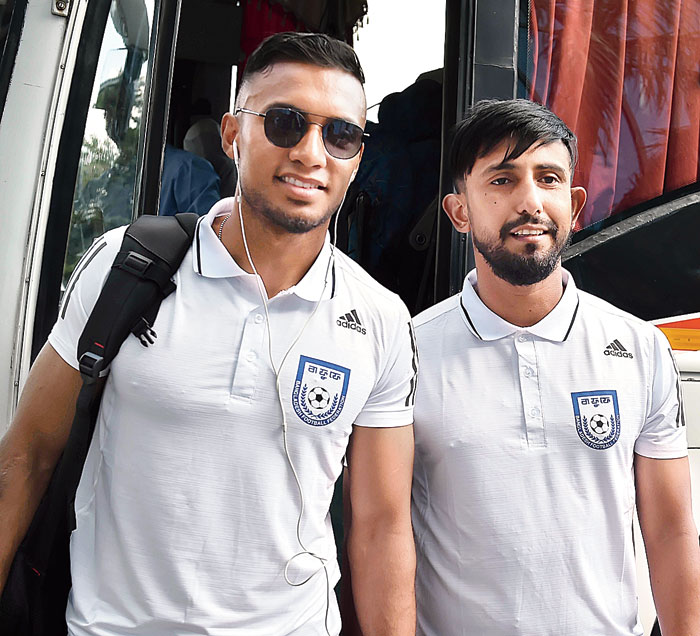 ---
|
Calcutta
|
Published 11.10.19, 08:23 PM
---
Bangladesh captain Jamal Bhuyan feels it's 55:45 in favour of India, for Tuesday's 2022 World Cup qualifier, to be played at the Salt Lake Stadium.
"It's 55:45 in India's favour and that's because of two factors. One is Sunil Chhetri and the other is the crowd. On Thursday, against Qatar in Dhaka, the crowd was behind us and that gave us confidence. With a little bit of luck we could have got a point from Qatar. And then you have Sunil. He is the India captain and has that penchant for scoring against us. He is a champion player," Jamal told The Telegraph on Friday afternoon.
Jamal, however, said Bangladesh would have a plan to thwart Chhetri. "In the next three days, we will work on how to stop him," he said.
Jamal feels Bangladesh's main problem is lack of goals. "We are not scoring goals. That's something we are worried about. We just need one goal to get our mojo back. And may be that will be on Tuesday," he said.
Born and raised in Copenhagen — his family moved to Denmark way back in 1963 — the 29-year-old said Bangladesh have improved under new coach Jamie Day. "He brought in the English mentality. Now we do not lose shape defensively that easily. We do not play football beautifully, but we are trying to play effective football. At the end of the day, a 1-0 win gives you three points and a 4-0 victory also gives you the same number of points," he said.
So what made him play for the Bangladesh national team? "At the age of 19, I got a chance to play for Bangladesh. At first I refused but after some coaxing I thought of giving it a try. Now I cannot think of anything other than Bangladesh football," Jamal, who was in Copenhagen three weeks back, said.
Jamal grew up idolising Zinedine Zidane, but once he started playing as a defensive midfielder he started watching players like Real Madrid's Brazilian Casemiro and Chelsea's Frenchman N'Golo Kanté. "I watch players who play in my position as defensive midfielder — how they retract, how they help in building up attacks."
Talking about the defensive shape, coach Day felt maintaining it is a tough task. "Team shape takes hours of practise. You have to use the same players and keep on reminding them not to disintegrate. Execution on the pitch is the most important part," he said
Day said there were a lot of positives to take from the Qatar match. "I think the boys played a fantastic game and gave Qatar a run for their money. We created some good chances and also defended well."
According to Day, Bangladesh have improved by leaps and bounds in the last 17 months. "I think over the past 17 months we have made huge progress. When I took over as the national team coach, in May last year, my target was to develop a younger squad with some experienced players to help. Now our target is to get within 170 in Fifa rankings," he said.
India will be without two key defenders Sandesh Jhingan and Rahul Bheke due to injuries, but both Jamal and Day did not read too much into that. "They still have some really good players," said the captain.
"I still believe India have all the advantages. They will be playing at home and are higher in the rankings," was Day's take.