India believe Motera will offer a turner again
Line of ball key to bat on turners, visitors to wait and watch before devising game plan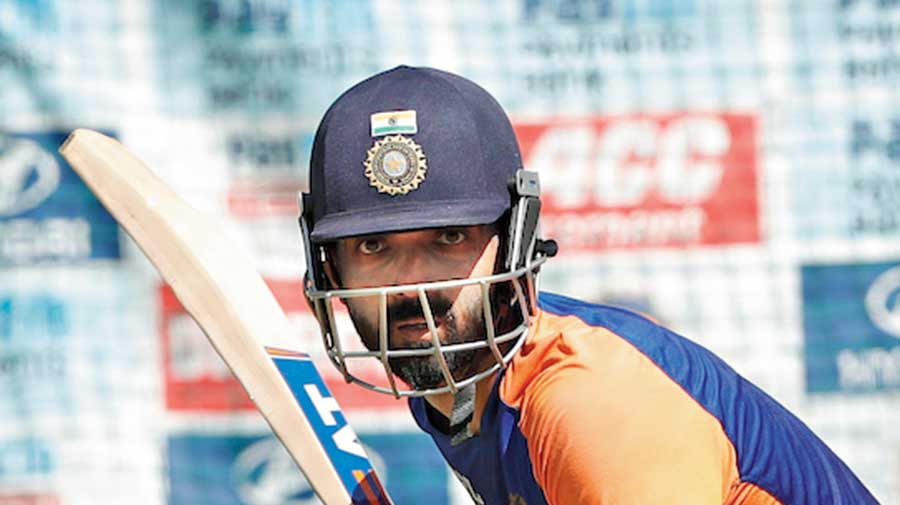 ---
Calcutta
|
Published 03.03.21, 02:51 AM
|
---
While the world is still speculating on what type of pitch will be used for India's fourth and final Test against England, Ajinkya Rahane thinks it will be similar in nature to the previous Test in Ahmedabad, or the one before that in Chennai.
"I think the wicket for this game will be similar to that of the third Test and the one before, in Chennai. It'll be a spinning track," Rahane said during a virtual media conference on Tuesday.
Having taken an unassailable 2-1 lead and in need of just a draw to win the series as well as qualify for the World Test Championship final, the Motera pitch should once again give India a clear advantage. But it's also a fact that the hosts' batsmen too have struggled to find their feet on turners. 
"When you play on spinning tracks, you have to play the line of the ball. We haven't played too many Test matches in India in the last two-three years, but whether you play on seaming or turning tracks, it's all about playing that line.
"If the ball is spinning too much, you don't have to think about it. It's about backing your defence and your ability which is the key, and that's what we follow," Rahane said.
"Now, footwork is also important, and so is how deep you can go inside the crease and play on the backfoot. Yes, each player has his own game, but footwork is equally important for all. Communication with the non-striker is important too," he explained.
Despite the pitch for the third Test inviting a lot of criticism, Rahane revealed that it had no effect at all on the Indian dressing room.
"The dressing room atmosphere doesn't get affected at all. When we travel abroad, we face seaming wickets and then there's talk regarding the Indian batsmen's technique. Also, overseas when the wicket is damp and up and down, it becomes dangerous. But we don't complain.
"Just like how you need to make adjustments while playing on seaming tracks, you need to do the same on turners," he said.
'Form not a concern'
So far in this series, Rahane aggregates only 85 with just one half-century (67), which indicates he isn't quite in the best of forms. The India Test vice-captain, though, appeared a tad irked when asked about his difficulties against spin, especially in the current series, and the current slump.
"You must be knowing my contribution whenever the team needed runs. So you need to focus on this fact and then come up with the question," Rahane shot back, adding: "You know, I am a team-man. Everyone knows that and whenever the team needs me to perform at a particular situation, I have always done that. So I'm not too concerned about it."
"Yes, as a player, I always look to learn and grow as a cricketer, which is important," he said.