In Oscar Wilde prison, Boris Becker's 6ft by 12ft court
Legend who once served to glory will serve sentence in 'noisy, vermin-infested' jail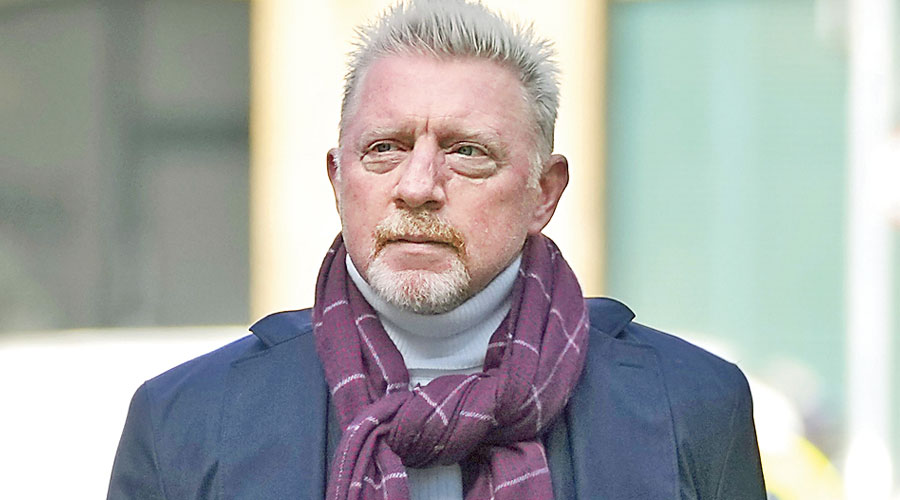 ---
Calcutta
|
Published 03.05.22, 12:32 AM
|
---
The Centre Court at Wimbledon has seen some of the finest moments of Boris Becker's life, starting with the final in 1985, when as a 17-year-old unseeded player winning the title he announced his arrival on the big stage.
Cut to 2022, less than 4km from the hallowed turf, the fallen icon finds himself incarcerated in one of Britain's worst jails, Wandsworth, which once had Oscar Wilde as an inmate. According to reports in the British media, in a recent inspection, the category B secure jail was described as "crumbling, overcrowded and vermin infested".
Definitely a far cry from the lavish lifestyle Becker had been used to before his life took a downturn and was hit with financial difficulties.
However, Wandsworth is also a remand prison used to temporarily detain criminals who may then be transferred to other facilities. Becker, whose offence is non-violent in nature, may be placed later in another lower security category jail.
One can only imagine what Becker — nicknamed Boom Boom for his big serves — must have felt when he stepped onto the premises of the prison which, according to a report by Charlie Taylor, chief inspector of prisons in England and Wales, "is blighted by drug abuse and mental health problems". Violence is rampant, with almost one attack every day among inmates in 2020-21.
According to British media reports quoting prison sources, Becker might have had to wait in a reception area, then told to strip and be searched for weapons or contraband. He would be placed in E-Wing, where new prisoners initially stay.
Chris Atkins, a Bafta-winning filmmaker who was sentenced to five years in prison in 2016 for a tax scam, had written about the brutal realities of life inside the jail.
"The first thing that hits me is the noise," he wrote about his arrival there in July 2016. "Yelling, banging, screaming, grunting… The reception wing looks like it last had a makeover in 1895 when Oscar Wilde was here... jailed for homosexuality… It's full of the most terrifying individuals I have ever seen."
Becker has been given his own cell, but may be moved to a shared one this week. It will be a six feet by 12 feet one with a concrete floor and a toilet with no seat or privacy curtain. The mattresses are made of blue.
According to reports, Taylor also found that the prison's education block had been unused since March 2020 and "gym sessions were regularly cancelled".
A former governor of the prison, according to reports, has said "the disgraced tennis star would make a good gym instructor, should he be interested in taking on a working role while in jail". Whether that role would interest Becker is not yet known.
Becker was sentenced to be jailed for two years and six months by a London court on Friday for hiding assets after he was declared bankrupt. He will serve half the sentence behind bars and the remainder on licence outside.
He was convicted last month of four charges under Britain's Insolvency Act. However, the fallen star has received support from family and peers.
World No.1 Novak Djokovic, who Becker had coached, said ahead of the Madrid Open: "Just heartbroken for him. He's a friend, a long-time friend, a coach for three, four years, someone I consider close in my life… as his friend, I'm super sad for him."
Anna Ermakova, 22, Becker's daughter who was born after the infamous broom cupboard encounter with a Russian model in a London hotel, said she was in shock.
She told German TV: "I'm really in shock. I will support him and I will visit him whenever I can. I hope that will help a bit to get through the time."