ICC Cricket World Cup 2019: Our freedom fighters have always been an inspiration, always will be says Mashrafe Mortaza
Bangladesh captain Mashrafe thanks Kapil, says 'Naam mone rakhai boro kotha'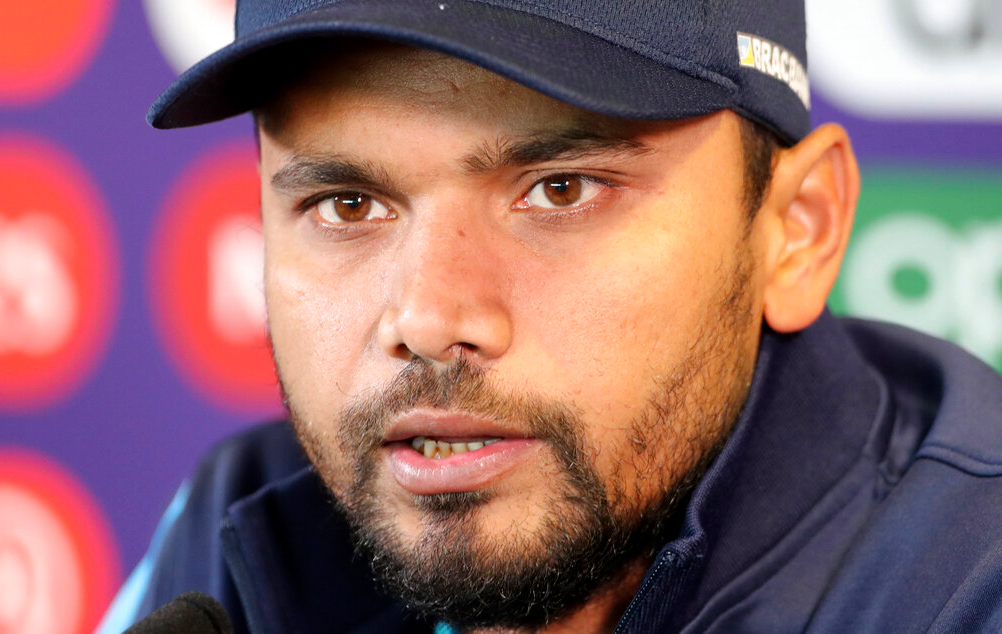 Bangladesh's captain Mashrafe Mortaza speaks at a press conference in Birmingham, England, Monday, July 1, 2019.
(AP)
---
Birmingham
|
Published 01.07.19, 10:57 PM
|
---
Mashrafe Mortaza, Bangladesh's long-serving ODI captain, continues to draw inspiration from his country's freedom fighters.
Bangladesh got independence in December 1971, thanks to India's full-fledged intervention in what was then East Pakistan.
"Our freedom fighters have always been an inspiration, always will be... They have a special place... I also draw inspiration from the support we enjoy as a team," Mashrafe told The Telegraph at Edgbaston on Monday afternoon.
The 35-year-old Mashrafe thanked legendary Kapil Dev for "remembering his name" when he'd recently spoken to this Reporter on the captains in the 2019 World Cup.
"Naam mone rakhai boro kotha, aami definitely khushi," Mashrafe responded.
Kapil's take on Mashrafe had been: "One should be proud of Mashrafe and of the way he plays. He has been dogged by troublesome knees, but has continued playing and kept the ODI team together...
"I have nothing but respect for Mashrafe."
Kapil's comments were published in these columns on June 5.
Earlier, Mashrafe had taken questions at a formal interaction with the Media ahead of Tuesday's match against India.
Mashrafe talks well and talks straight.
Excerpts...
Q If the position Bangladesh are in has surprised him?
A Not at all. We remain in the running for a semi-final berth... In a tournament like the World Cup, there's no point looking at where the other teams are, but we should look (only) to play at our best. That's important.
Q Bangladesh's top performer...
A Shakib-al Hasan... I hope he can continue contributing the way he has so far. Shakib has done everything.
Q Thoughts on India...
A We'll have to be at our best in all departments, India are very strong... We'll have to play hard cricket, give 100 per cent in batting, bowling and fielding... India have been the better team in the World Cups after 2007. We don't have a mental block, if we have fallen short against them, it's because of skill. Not owing to the psychological factor... We need to be positive and not go back to what happened in 2015 (controversy over Rohit Sharma) or in 2011.
Q Having turned in some impressive performances against India...
A Feels good, but I'm not emotional about not playing India in another World Cup... I'd like other players to contribute... I just hope our plans theek thaak jay.
Q Bangladesh's approach?
A We play to win... The pressure will have to be handled.
Q Whether the long break, of over a week, after the last match would be an advantage or a disadvantage?
A Could help... Don't know... While we haven't played after June 24, we've been thinking about what lies ahead of us. It has been there at the back of our minds.
Q India captain Virat Kohli having made somewhat of an issue of the short boundary on one side of Edgbaston after the defeat at the hands of England...
A The boundaries and the wicket will be the same for both teams.
Q On the likelihood of the match being played on Sunday's wicket...
A Most feel one should bat first on a used wicket, but India are known to be good chasers. They didn't get to 338 against England, but still got to 306 for five, which isn't a small total.
Q India's approach in the last 5 overs against England...
A I will not comment on somebody as experienced as Mahendra Singh Dhoni (and Kedar Jadhav)... At the start of the 40th over, India still had a chance, but Hardik Pandya's dismissal in the 45th again made it difficult. It was a tough chase and England bowled to a plan... The match brought all of Asia together, as all wanted India to win... That's the power of cricket, bringing people together.
Q What will have to be done to beat India?
A We have to get rid of the top order quickly, stay calm and not get carried away by the hype, control our emotions, learn from mistakes and minimise them.
Q If, in 15 years, he could be Bangladesh's Prime Minister?
A (Laughs) You want to kill me? Never.