ICC Cricket World Cup 2019: For former captain Sourav, 'it's 70-30 for India over New Zealand'
'Virat has looked more relaxed, appears to be in real good space'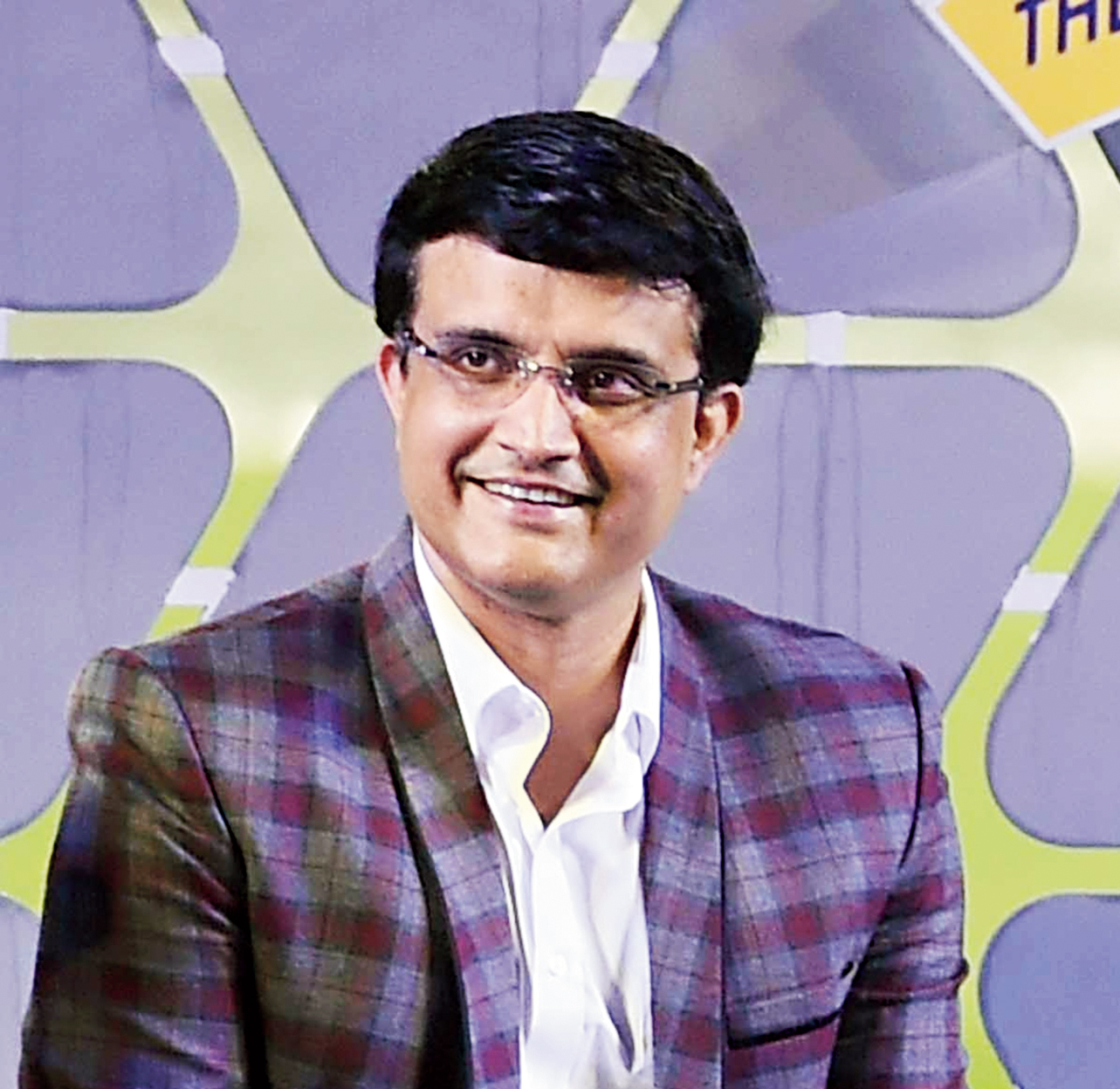 ---
---
Sourav Ganguly, a much-admired former captain of India, spoke to The Telegraph on Monday, his 47th birthday.
The interview focused on the ongoing 2019 World Cup.
Excerpts...
Q Extremely creditable that India finished at No.1 at the end of the league phase. Were you expecting this table-topping performance?
A Not surprised, actually. India, after all, began the World Cup as good as the best and better than most. India and England looked the best back then and both are in the semi-finals. Australia stepped up along the way... It has largely been All Blue, thanks to India.
Q On paper, it's better that India are facing New Zealand in the semi-final, not England...
A I agree with you. However, now, it's the knockout phase and anything can happen. After all, where you finished on the table has no relevance once the toss has taken place. It becomes a one-off.
Q But is there the fear of underestimating New Zealand?
A Don't think Virat Kohli will. If that was so, then India would have underestimated most teams in this World Cup. Or, all, with the exception of England.
Q You've captained India to a World Cup final (in 2003), does the mindset change when it comes to the semi-final and the final?
A Not the mindset, but the pressure definitely increases. You feel it.
Q What makes the difference in the knockout stages of a World Cup?
A Composure.
Q India's strengths?
A Rohit Sharma, the vice-captain... I'm sure he's been pinching himself to believe the incredible feat achieved — five hundreds already in this World Cup... Virat and KL Rahul have also been in form... Jasprit Bumrah and (Mohammed) Shami have been very good... Mitchell Starc and Mustafizur Rahman have got more wickets than Bumrah but, for me, he's been the best. In terms of impact, in terms of presence.
Q Is there an area where India, perhaps, need to work?
A Honestly, no. Virat and the boys have been outstanding.
Q New Zealand's pluses...
A The New Zealand attack is suited for conditions in England... Kane Williamson is a factor.
Q Chinks in New Zealand which India should look to exploit...
A Inconsistency in the New Zealand batting... The likes of Ross Taylor and Martin Guptill have to step up, it cannot all be left for captain Williamson.
Q Key men for both teams?
A The usual names, no point repeating. However, you have to include Lockie Ferguson as a key man for New Zealand.
Q Virat and Williamson are both top-class captains. How much of a factor will captaincy be?
A Captaincy is always a factor... I've repeatedly maintained a captain is only as good as his team. Virat has a better team, so that's also a reason why he looks better (as captain).
Q Some words specifically on Virat's captaincy...
A The first point I'd like to make is that Virat has looked more relaxed, appears to be in real good space. He has marshalled his bowlers well, been patient with them... Virat has been smart with field placements... And, consistent with his selections.
Q So, what's the probability of India making the final?
A It's 70-30 for India over New Zealand.
Q Ideal attack for India at Old Trafford?
A Two spinners, Ravindra Jadeja and Kuldeep Yadav, have to play.
Q In big matches, win the toss and...
A Bat. Let the pressure of the scoreboard tell on the other team.
Q Your take on the other semi-final, Australia vs England, at Edgbaston on Thursday?
A Should be a great match... If England win, it could be a terrific final, featuring India on the other side.
Q Will the advantage be with England in Birmingham?
A Looks like 50-50. The team having more composure will make it to Lord's on Sunday.
Q According to you, where does senior pro Mahendra Singh Dhoni stand right now?
A In a strong position... My view, and I've been consistent, is that Dhoni should leave when he himself wishes to.
Q Obviously, Rohit has stood out in this World Cup, who are the others?
A Randomly... David Warner, Aaron Finch, Jonny Bairstow, Joe Root, Shakib-al Hasan, Starc and Bumrah.
Q Surprised at the phenomenal manner in which Warner has announced his return to big-league cricket? Crucified, booed... Yet, what a performance (638 runs with three hundreds)...
A Not surprised because of the talent Warner has. Then, he was away from International cricket for a year only. The quality Warner produces is, well, so good.
Q Disappointed that Afghanistan didn't cause a single upset?
A No.
Q Why do you say that?
A A Because Afghanistan's batting was weak and their fast bowling didn't have enough potency too.
Q The West Indies and South Africa didn't turn on the heat...
A Both played as I'd expected... The four semi-finalists picked by me before the World Cup are all there. So, I haven't been left surprised.
Q Your thoughts on Pakistan, losing out on a semi-final berth on account of the NRR?
A The washout against Sri Lanka hurt them badly.
Q Mickey Arthur, Pakistan' head coach, made the point that if two teams finish the league stage on the same points, then the number of wins and head-to-head should first count... Had that been so, Pakistan and not New Zealand would have occupied the fourth semi-finalist's berth...
A That could be considered, could be the way forward.
Q The format in this World Cup has been most fair...
A Best format, which allowed the best teams to make the semi-finals.
Q No.1 memory?
A Rohit's five hundreds.
Q Last question... If you meet Virat before the toss, on Tuesday, what will you tell him?
A Good luck. Virat doesn't need to be told anything more or anything less!