Honour for pool pioneer
The legendary swimmer did not quite get the recognition he deserved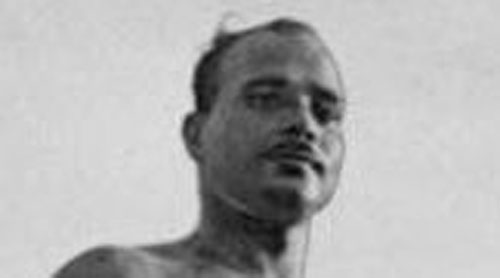 ---
Calcutta
|
Published 29.08.20, 03:30 AM
|
---
As a 10-year-old, he was literally in deep waters when he swam for his life, trying to escape being trapped in a police lathicharge on civil disobedience volunteers by jumping into the Ganges in Varanasi.
But that incident, in 1930, was just the beginning of Sachin Nag's bond with swimming. Nag went on to represent India at the 1948 Olympics, was a member of the Indian water polo team in the 1952 Olympics and was also a multiple medal winner, including a gold in 100m freestyle, in the 1951 Asian Games.
Yet, the legendary swimmer, who passed away in 1987, did not quite get the recognition he deserved. That would be corrected somewhat on Saturday when he posthumously receives the prestigious Dhyan Chand Award for lifetime achievement in sports. Nag's son Ashoke would receive the award on his behalf.
"We had been fighting for some form of government recognition for a long time and we are very relieved that he is finally being given the honour he deserved," Ashoke told The Telegraph.
Nag's eventful life's ebb and flow were intriguing.
He came to Calcutta in 1937 to sharpen his swimming skills. That too is an interesting story. He was spotted by Jamini Das, former swimmer and then an official of Hatkhola Club. Das took some trainees from his club to Varanasi to participate in a long-distance swimming competition. As it turned out, a raw Nag beat the highly trained Calcutta swimmers hands down. Das lost no time in advising the young man to relocate to Calcutta.
A year later, he came first in 100m and 400m freestyle in all Bengal swimming competition. Those days, such competitions would be held at the College Square.
His real aim, however, was to compete in the Olympics. Yet, in January 1947, barely a year before the 1948 Olympics, he met with a near-fatal accident. His femur was shattered when he was hit by a stray bullet. It's hard to piece together how exactly the accident took place, but, according to his son, it happened all of a sudden when he was walking back from a training session.
Nag's future as a swimmer was under severe threat. The surgeons advised him to rest for at least two years. But a stubborn Nag resumed training in six months.
Recovering from a major injury was a serious enough concern, but by no means the only one for Nag. He didn't have enough money to travel to London for the Olympics. Athletes representing the country those days had to bear a large part of their expenses themselves.
Never the one to give up, Nag took to washing goods vehicles at Burrabazar in the wee hours before training. But five months before the Olympics, he was still a few thousand rupees short.
A downcast Nag was finally about to give up on his long cherished dream when someone relayed the plight of this talented swimmer to the singer Hemanta Mukhopadhyay. Mukhopadhyay immediately arranged for a fund raising campaign, including a musical performance at the Uttara Cinema hall at Hatibagan in North Calcutta. That is how Nag realised his Olympic dream.
Nag's contribution to swimming was not only limited to his exploits in the pool. Arati Saha, who was the first Asian woman to cross the English Channel in 1959, was trained by Nag. He was also the chief swimming instructor at Calcutta Club for more than three decades. Nafisa Ali, national swimming champion of the early 1970s who was also crowned Miss India, too trained under Nag.
"He always wanted to groom the next generation. We, as a family, would like to follow that to honour his legacy. We are ready to help young talents and even set up an academy if possible," Ashoke said.
Nag, who would have been a centenarian this year, would approve.