Hockey World Cup: Fests keep up hockey cheer
Carnival mood adds shine to Cup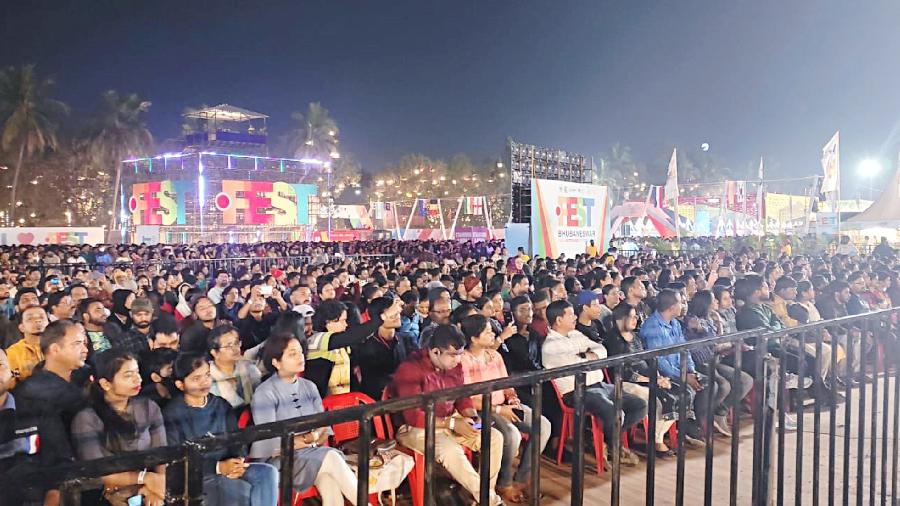 People attend the Bhubaneswar Fest at the Exhibition Ground on Tuesday
Picture by Ashwinee Pati
---
Bhubaneswar
|
Published 26.01.23, 03:08 AM
|
---
The hockey World Cup is back in Odisha for a second time but it's not all games, it's also food, entertainment and celebration of the spirit of the game. 
With Bhubaneswar being one of the match venues, the civic administration took up the opportunity to offer residents and visitors a carnival befitting the occasion. Keeping everyone engaged are the Bhubaneswar Fest at the Exhibition Ground, 4km from the Kalinga Stadium, and the rural fair Sisira Sarasa in Baramunda, about 2km away. 
The Bhubaneswar Fest, organised by the Bhubaneswar Development Authority and Bhubaneswar Municipal Corporation, and the rural fair are on till Sunday, the day of the final World Cup match. Now that India are out of the reckoning for the crown, attention has shifted to the visual spectacle on offer.
There have been performances by Udit Narayan, Alka Yagnik, Sukhwinder Singh, Pawandeep Rajan and Arunita Kanjilal, nature and food trails and more to enjoy. 
"The Bhubaneswar Fest is a mirror for visitors from across the globe into the grandeur, food, entertainment, stories and trails that comprise Bhubaneswar," said one of the organisers. "This will provide a wonderful opportunity for the tourists to engage themselves in the city's culture and history."
People have rushed to watch Sukhwinder, Pawandeep and Arunita perform these past few days. "We had a great experience," said 60-year-old Anusaya Mohapatra, after the live concerts ended on Tuesday. "I haven't gone for the World Cup matches but I am happy to be a part of the celebrations that are going on around it."