Hero's welcome for Novak Djokovic
'Nole, you are a king, you are an emperor, Nole is the greatest legend walking the earth, he is a living saint'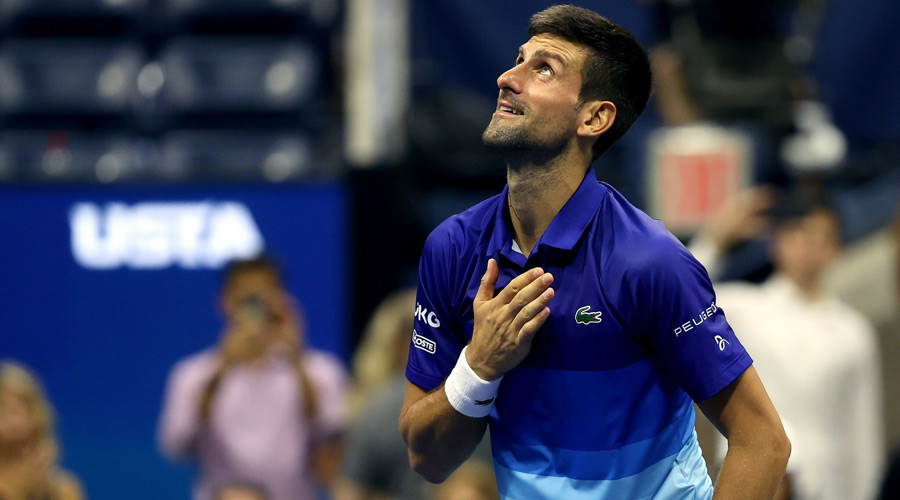 Novak Djokovic
File Photo
---
Published 18.01.22, 03:16 AM
|
---
Novak Djokovic returned to a hero's welcome in Serbia on Monday after Australia deported the world No. 1 for being unvaccinated against Covid-19, a stance jeopardising his quest for a record 21st Grand Slam title.
Most Australians had wanted him gone, but Serbian supporters waved national flags and lauded him on arrival at Belgrade airport. "You are our champion, Novak!" and "We love you, Nole!" they chanted, using his diminutive name.
Djokovic flew to Belgrade via Dubai after being twice detained in a hotel with asylum-seekers and then unceremoniously booted out by Australian immigration. "Whoever wins it now, doesn't really count," said Alek Drakoo, a member of the Australian Serbian community, disappointed to miss seeing him in Melbourne.
"I think he entered history as a hero, as a man and as a fighter against this evil which is called corona-circus," said Marko Strugalovic, 60, at Belgrade airport.
"Nole, you are a king, you are an emperor, Nole is the greatest legend walking the earth, he is a living saint."
Selfies at airport gate
Earlier, on the first day of the Australian Open, the world's best male tennis player was taking selfies with fans at a Dubai airport arrivals gate. Instead of warming up for his first scheduled match on centre court at Melbourne Park in front of thousands, Djokovic was 11,600km away, agreeing to photos with a handful of fellow travellers.
"Hey mate, sorry about what's happened," one man said as he lowered his face mask for a snap with Djokovic, who kept his own mask on as he waited just off the airbridge for his entourage to exit the plane.
The men's world No.1 flew out of Melbourne late on Sunday after the Federal Court upheld a government decision to cancel his visa, capping days of drama over the country's Covid-19 entry rules and his unvaccinated status.
The ruling dealt a final blow to Djokovic's hopes of chasing a record 21st grand slam win at the Australian Open, which started on Monday. Djokovic was escorted to Melbourne Airport by Australian Border Force officials, who formed a guard around the player in an airport lounge before taking him to the door of the plane.
While his coach Goran Ivanisevic and two others in his entourage were seated in business class, Djokovic was afforded the privacy of first class for the overnight 14-hour Emirates flight.
His arrival in Dubai early in the morning was far more low key. Djokovic stood alone, wearing a blue tracksuit top, jeans and trainers, carrying a tennis bag and holding his passport, as he waited for his three companions to also exit the plane.
The player agreed to a handful of fan photos before demurring and allowing airport officials to move people along.
A few hours later, instead of gearing up for his scheduled first round match against compatriot and world number 77 Miomir Kecmanovic, Djokovic was escorted by airline staff on a terminal buggy to the departure gate for a flight to Belgrade, where he checked in alone.