Have highest respect for Anand: Magnus Carlsen
"It has been an honour to play against Anand so many times and also practise with him," Magnus Carlsen said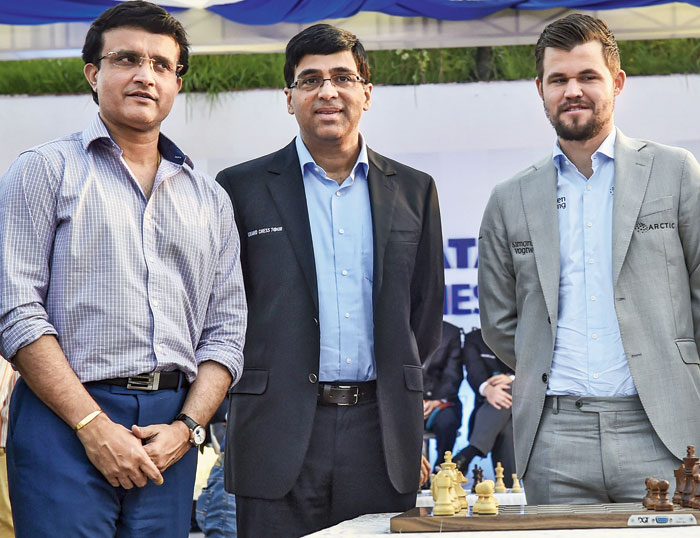 ---
|
Calcutta
|
Published 21.11.19, 09:18 PM
---
Thursday was a busy day for Magnus Carlsen. In town — his maiden visit to Calcutta — for the Tata Steel Chess India Rapid & Blitz, the world chess champion attended the mandatory draw of lots ceremony, made the first move against Sourav Ganguly (the BCCI president got some help from Viswanathan Anand) and obliged umpteenth requests for photos.
"I have the highest respect for Anand. It has been an honour to play against Anand so many times and also practise with him," Carlsen told The Telegraph.
"You know, when I was younger I had the privilege of training with Anand a few times before his World Championships. I could not say I was a very good player at that time. But in 2008, when I was just 17 and considered myself one of the best in the world, there were a few moments when we were playing blitz games and I told to myself this guy is so much better than I am.
"I think it's something you do not realise before you actually play against Anand. It's not just a tournament I am talking about. But a series of matches you play and then analyse those matches. I have a huge amount of respect for what Anand has done for chess and what he is still doing."
This is a huge compliment from someone who has played Garry Kasparov and Anatoly Karpov at a very early age.
Anand is one of the senior most players on the circuit now and when asked if he would play chess at 50, Carlsen said: "I see no reason why I should not continue as long as I am playing well and staying motivated. Motivation and confidence are very fragile things.
"And whenever that goes it would become difficult to continue. But for now I can say I see myself playing for a long time," the 28-year-old said.
Carlsen revealed that had he got an opportunity to play against chess players from the bygone era, it should be Russian Mikail Tal and American Bobby Fischer.
"It's very difficult to answer who I would have loved to play from the past. Because there are so many fantastic players. But then it would have been interesting to play Bobby Fischer at his best.
"I would also have loved to play Mikhail Tal when he was at his best. He won the World Championships, beating everybody with his swashbuckling attacks and I would have loved to see if I could counter his attacks."
Carlsen is considered by many to be a genius. But the man himself doesn't think so. "I do not see myself as a genius. I see myself as someone who is very good. Someone who can do his job in a well planned way," he said.
Every time Carslen sits to play the 64-square game, he is termed the favourite. He said the tag doesn't put pressure on him. "I would say it's been a long time now that I consider myself a favourite. Every time I play I strive to win. I aim for the first place but there is no pressure in that way. My goal is clear… To play well and see how far it can take me.
"Whatever pressure is there, I do not feel that from outside. The pressure is mostly about myself. And quality of play I would like to show to the world.
Carlsen has recently cancelled his membership in the Norwegian chess federation. But the man was not ready to talk much about it.
"I would say that was a stand mostly taken in principle. I did not want to make a big commotion about it and I also did not want to cause too much trouble. I still have a contract with the federation and we are trying to work together."
The conversation obviously veered towards his favourite Real Madrid. "The team is not doing well but there are some signs which show they are improving. I am confident that Madrid will bounce back," the articulate champion said with a broad smile.