Guardiola Pep played one of the most important roles: Ruben Dias
The 23-year-old Portuguese international scored his first goal for Man City during the 2-1 win over West Ham United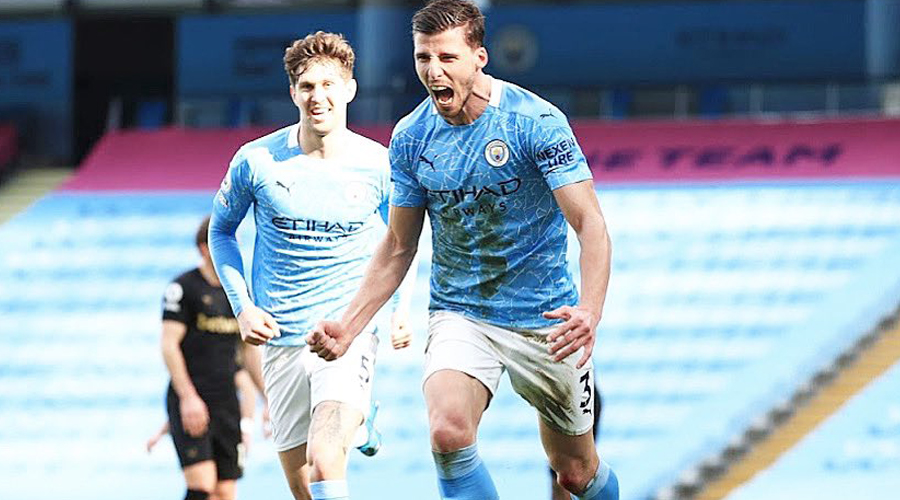 ---
|
Calcutta
|
Published 06.03.21, 02:00 AM
---
Manchester City coach Pep Guardiola, in a bid to shore up the defence, roped in Ruben Dias from Benfica in the summer of 2020. The 23-year-old Portuguese international in his first season has been rock-solid at the back. The English Premier League runaway leaders have conceded just 17 goals in 27 matches and much of the credit should go to Dias.
City's 4-1 win over Wolves last Tuesday also helped them to equal their club-record run of 28 games unbeaten in all competitions, set between April and December 2017. Dias says it was possible because they took one game at a time.
"The other day, I was just thinking of how many times I keep saying one game at a time.
"And the thing is just to have that in your bones. Because if you actually don't believe it, I think you could not ever make like 20 wins in a row, 30 wins in a row. So I think you apart from saying it, you actually need to believe in it. I think that's the right mentality," Dias said.
Dias scored his first goal for Man City on February 27 during the 2-1 win over West Ham United. "It felt really good. It would have felt better if we had fans. On the moment that was running, I was like I want to just throw myself but then there was no one in the stands. And it was not an easy game, and the goal at that moment was very important for us, even though we ended up conceding the one after, but still, it felt really good."
Dias also credited Pep for City's brilliant form, the last Premier League defeat coming against Tottenham Hotspur back in November last year.
"Pep has definitely played one of the most important roles. The way he makes us believe in his game, the solutions he uses so that we can explore our opponents. Obviously, that will always be the turning point because of the quality of the players we have in our team, they are smart enough to understand what he wants."
Dias is being compared to City favourite Vincent Kompany for his leadership qualities. But he remains modest.
"It's unfair to compare myself with Vincent because of all that Vincent did for the club and I have just arrived. Obviously, I'm very happy that things are going well. But still, Vincent was here for many years and he did incredible things.
"He won almost everything. The things I do is just what I feel and how I've raised myself, how I've made my game better individually to help my team. I'm just trying my best."
> Tune-in on Sunday as Manchester City take on Manchester United at 10 pm only on Star Sports Select