Gritty Sutirtha yearns for more
The simplicity and modesty in her behaviour and conduct amplifies the surroundings that don't seem to be too concerned with glitz and glamour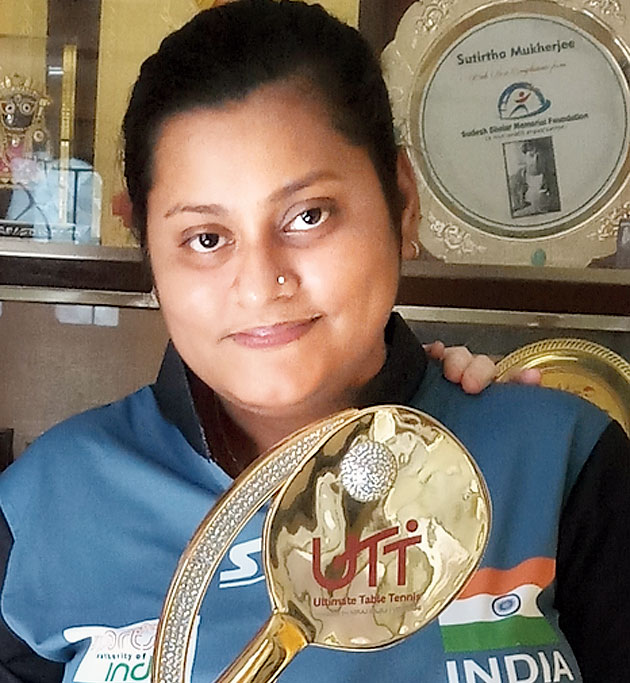 ---
|
Calcutta
|
Published 01.09.19, 09:04 PM
---
Away from the hustle and bustle of city life, in a quiet, serene locality at Naihati, one comes across 'Sutirtha'. Not too big from the outside, but a spacious enough home of paddler Sutirtha Mukherjee and her parents.
The simplicity and modesty in Sutirtha's behaviour and conduct amplifies the surroundings that don't seem to be too concerned with glitz and glamour.
But after just a few words with Sutirtha, one can gauge her confidence, grit and determination of making it big in the world of table tennis. She may not be a household name yet, but considering her performances over the last couple of years, she is certainly one of India's top table tennis hopes.
If she does qualify for Tokyo 2020, quite a fair bit of expectations will also rest on her shoulders as far as India winning a medal in table tennis is concerned.
Her story, though, didn't start on as inspiring a note as it has become now. It was in January 2015 when darkness threatened to engulf Sutirtha, especially after she and three other Bengal paddlers were suspended for a year by the TTFI for allegedly fudging their age records.
But the strong character that Sutirtha is, she fought darkness and eventually prevailed over it.
"That phase was really tough. I went through a very difficult time, but I continued practising… I wasn't sitting and grumbling or brooding over the decision that kept me out of the game...
"I continued practising. Never stopped… And thereafter, I became the India No. 1 (in 2017). I had won the nationals then," recalled Sutirtha, during an interaction with The Telegraph.
For guiding her through that tumultuous and difficult phase, Sutirtha thanks her parents and her childhood coach Mihir Ghosh.
"My motivation level never took a beating. Quite a few people were there to motivate me, which for sure helped a lot. Of course, my parents are always there as my mentors. Besides, Mihir Sir, under whose guidance and supervision I used to play here (at Naihati), supported me a lot during that period. Mental trainer Chandan Bhattacharya also gave me some support and so did others.
"So yeah, all of that have been invaluable," Sutirtha, now training under Arjuna Award winner Soumyadeep Roy, emphasised.
"With help from all of them, she fought off the demons in her mind," her mother Nita added.
"When players go through such bad phases, their family, coach and people close to them need to keep cheering them... I just made Sutirtha practise more and more and kept telling her, 'You have a great future, so never back down. You can do even better'," said Ghosh.
"When she couldn't play tournaments, we would organise matches at our local club and create tournament-like situations. If anyone could beat her, the individual would be given a prize. In these ways, we tried our best to cheer her up and kept motivating her."
Apart from winning the nationals two years ago, Sutirtha was one of the players to watch out for in this year's UTT where she finished unbeaten, representing U Mumba TT.
In UTT, she even upset Germany's Petrissa Solja. Playing the Pro Tours seem to be adding to her confidence level. The mental space she is in at present, coupled with her strong backhand and change in game strategy, Sutirtha does stand a fair chance of qualifying for the Olympics.
And if she does make the cut, you could well be in for a surprise. "Winning an Olympic medal in table tennis is one of the hardest things to accomplish. But the way we are training, we can certainly hope. Winning (the women's team) gold in the Commonwealth Games last year has instilled in us the belief.
"At the same time, the more Pro Tours I play, the more improved player I become," she pointed out.
Sutirtha and her India teammates will be going to Chengdu, China, for a week-long camp before heading for the Asian Championships in Yogyakarta, Indonesia.
"The facilities are so, so good in China. Getting to play and train with their players help to enhance your game. At the same time, the inputs from Chinese coaches, too, matter a lot,' she said.