Gower for 'fun element' in cricket
'For some, winning at all costs is the only way... I'm not entirely from that school'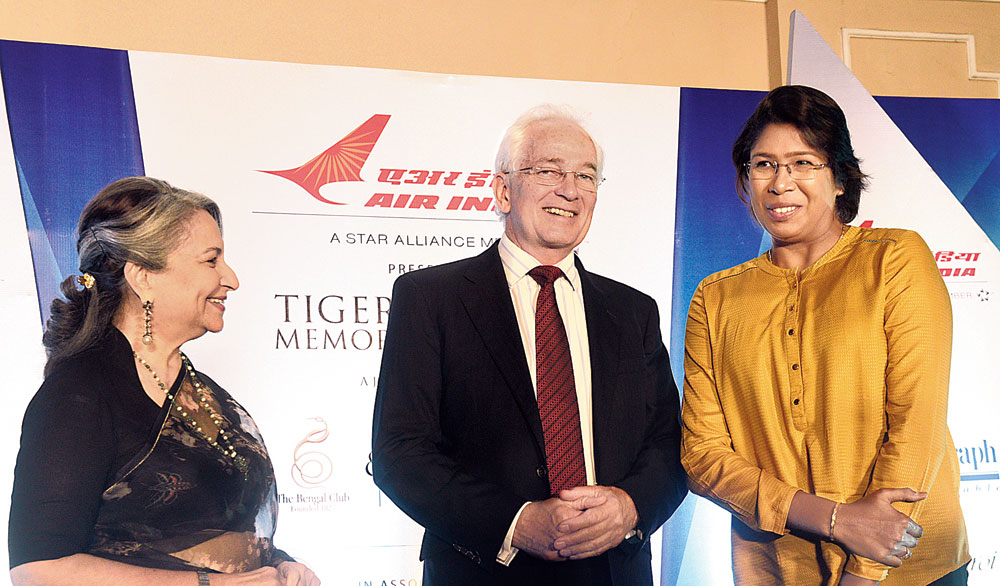 David Gower with Sharmila Tagore and Jhulan Goswami at the Oberoi Grand on Wednesday
Picture by Rashbehari Das
---
Calcutta
|
Published 27.03.19, 10:25 PM
|
---
As a cricketer, David Gower's batting evoked phrases that reflected on his style — languid brilliance, casual panache and lazy elegance.
On Wednesday, at the Air India presents Tiger Pataudi Memorial Lecture, a joint initiative by The Telegraph and the Bengal Club in association with the Oberoi Grand, Gower held the packed audience captive for nearly an hour with his aura and charm.
The theme for the evening was 'Fun, Style and Excellence' and Gower dealt with every aspect in detail drawing anecdotes from his playing days while also dwelling on the current generation of players.
In the end, he concluded that "there is excellence and style around" and the fun part should never be left out.
The evening began with a welcome address by Sumit Joshi, general manager of the Oberoi Grand. The vote of thanks was given by Dr Tapas Raychaudhury, president, Bengal Club.
Among those present were former Test cricketers Pronab Roy and Devang Gandhi and, former India captain Jhulan Goswami. Bruce Bucknell, British deputy high commissioner, was also in the audience.
"The game has evolved, grown and has moved on. It's more professional," Gower said. Stressing on how IPL has changed the contours of cricket, Gower said. "We know the difference IPL has made to the BCCI, the franchise owners and may be the entire nation as well. Money is not everything we know that, but the game is prospering. But it's not just about money, also look at things like fitness…
"Look at the man who I think is the best player in the world currently. None other than Virat Kohli... If you look at Virat, he has set new standards of performance… That is based on new standards of preparation and fitness."
Gower felt the virtues that make a great player remains the same. "What makes a great player? Talent, determination and ambition... What defines them is probably how they play the game… There are ways of doing it which might be entirely different.
"There are many who walk out there at Lord's or SCG or MCG or Eden Gardens, still play with a smile and are seen to be enjoying their work. That to me is the epitome of what one should be doing...
"The sheer love of competition and ability to put those love and passion across to those who come to watch… That is the way of promoting the game. There are other ways too,.. For some winning at all costs is the only way. I'm not entirely from that school. The name of David Warner springs to mind… I would simply want to state that there are ways of winning games that do not need sand paper. "
He dealt on the mental aspect of sport, citing the example of former England captain Alistair Cook, and how it could help one to deliver the results.
"There is a man called Alastair Cook… He has been awarded the knighthood. The reason for that is his productivity. Talent is not just about how you make contact with cricket bat or cricket ball but how you arrange your mind… How your mind allows you to be the best you can be at all times. I couldn't be the best I could be at all times.
"The difference is very much obvious in statistics — 12,472 runs at an average of 45.35. David Gower 8,231 runs at 44.25, a shortfall of 4231 runs. That's why he is Sir Alastair!" Gower said amid peels of laughter.
Gower also gave an insight into how his one-time rival and now a fellow commentator Michael Holding judged Cook.
"Michael Holding gave us a lot of trouble at the other end in the 1980s. There were others too, Joel Garner, Andy Roberts, Colin Croft, Malcolm Marshall, Sylvester Clarke… Mikey has an extraordinary voice and rocks women.
"One of the things he has stood by is the man (Cook) can't bat... Eventually he has had to concede that there was a combination of some talent and strong mind for the man who can't bat to score 12,472 runs… He has conceded a little bit now.
Showering praise on Kohli, he picked Viv Richards as the most exciting of his time.
"You can't just ignore Virat Kohli. He has immense talent, fitness. He seems to have absorbed pressure, thrived on pressure… Anyone who has captained India knows he has to meet the expectations of three billion people and things must go well. That's it. End of the story…
"And I should pick Viv Richards the most exciting and entertaining batsmen I played against. "
He also discussed about talent and the best in this T20 or T10 age of cricket. "Chris Gayle, the man who calls himself the universe boss, is nothing but being modest. We have a man like that who can hit the ball several miles. A killer presence but with huge talent…
"Kane Williamson who is fit and strong but not the size of Gayle. He has the technique, style and skill to manoeuvre a ball into various parts of the ground just as effectively as anyone else…
"AB de Villiers is a man for all seasons… One artist I should mention is Mahela Jayawardene. Not a muscle man but he could prosper in all formats. You had to admire his silky skills and he could master every bowler...
"But again you have the man who bridges all gap… Kohli who could make hundreds for fun itself in virtually every game he plays."
With excellence not missing in today's generation, Gower reflected on the style element. "Style reflects how you play the game… how you get things done, how you are in the process of being a sportsman. Style is also how you behave."
Not missing on the fun element during his playing days, Gower recalled the infamous Tiger Moth flight episode on the third day of England's tour match in Gold Coast against Queensland in 1991.
Gower and John Morris hired a Tiger Moth and buzzed the Carrara Oval, where Robin Smith had just returned to form with a hundred.
"Fun element has to be part of cricket... The more you have, the better you get," he said.
England were down 0-2 and captain Graham Gooch was not a happy man.
For Gower it was half an hour of "sheer fun" but the management took a "dim view". Eventually he was fined £1000 and was told that "tax would be deducted at source".
"Quite a chunk in those days," he quipped.