'Feeling more sad than usual', Rafa after French Open win
Nadal's plain talk throughout this year of the Covid-19 pandemic has been a model of humility, empathy and perspective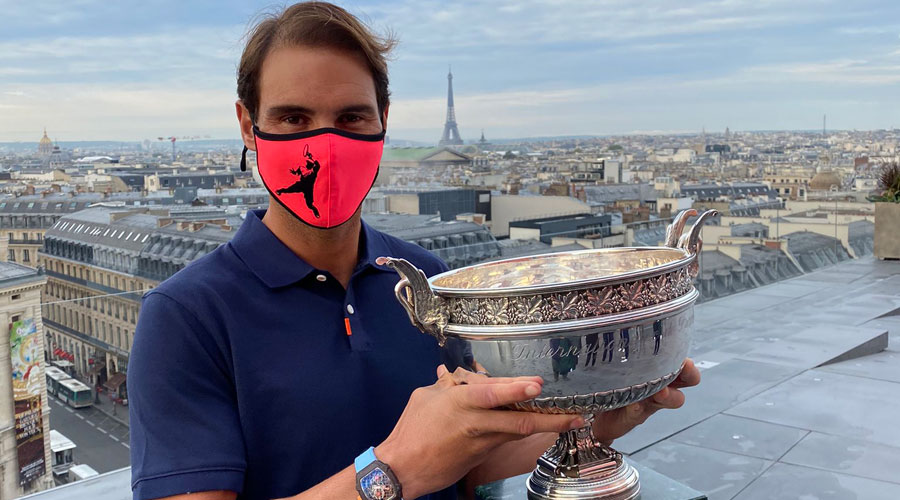 ---
|
Paris
|
Published 13.10.20, 04:04 AM
---
Playing to his Paris audience, Rafael Nadal usually speaks in French for his on-court interviews at Roland Garros, where his astounding success on the red clay has afforded him abundant practice at polishing his sentences. But on Sunday, after winning his 13th French Open singles championship, Nadal, usually so unrelenting in his routine, dispensed with this particular habit.
With a mask covering his face to protect himself and others from the coronavirus, Nadal had more on his mind than the straight-sets victory over Novak Djokovic that earned him his 20th Grand Slam title, tying him with Roger Federer for the men's career lead.
Playing to a much greater audience than the corona condensed crowd of roughly 1,000 people, he chose a more commonly spoken language, English.
"We are facing one of the worst moments ever," Nadal said. "Keep fighting. We will get through this."
At that moment, the world saw Nadal as his fellow players do, as someone with more depth than his baseline groundstrokes. As his march to victory played out over two weeks, the weather was cold and grey, the grounds were ghostly quiet and the cafes, boutiques and monuments that normally charm the players were blurred images from their courtesy car windows.
"I'm going to be honest here," Ons Jabeur of Tunisia, the 35th-ranked woman in the world, said in the tournament's early days. "I was like, 'Why are we playing?'"
And then, like an oracle delivering a message from on high, a voice rang out on Philippe Chatrier Court.
"The feeling is more sad than usual," Nadal said in English after his first-round victory against Egor Gerasimov. "Maybe that's what it needs to feel like. It needs to be sad. Many people in the world are suffering."
Every flock needs a clear-eyed thinker, and tennis is blessed to have Nadal, whose plain talk throughout this year of the pandemic has been a model of humility, empathy and perspective. When Nadal talks — in his native Spanish, English or French — his fellow players listen.
The Tao of Rafa resonated with Jabeur, who said, "If he's a champion and he doesn't complain, I mean, who am I to complain about it right now?"
Nadal's 13 French Open titles are a reality-defying accomplishment, or as Federer himself proclaimed on social media within minutes of Nadal's ace on match point, "one of the greatest achievements in sport".
Nadal, 34, was touched by the praise from Federer. "I think he's happy when I'm winning and I'm happy when he's doing the things well," he said.
In his virtual post-match news conference on Sunday, Nadal said: "You can't be always unhappy because your neighbours have a bigger house than you or a bigger boat or have a better phone. You have to live your personal life, no? Personally that's the things that I did during all my career. Just try to follow my road, try my best every single day.
In an interview in May with the Spanish daily La Voz de Galicia, Nadal was more expansive, as he tends to be in his native tongue. "Even if Federer or Djokovic finishes with more Grand Slams than me, it won't affect my happiness 10 years from now," he said.
Yet the Tao of Rafa is not just talk, as Nadal demonstrated by not losing a set in seven matches on his way to the title.
Was it easy? Nadal only made it look that way. Did he harbour doubts? Of course.
"For me, doubts are good because it means that you don't consider yourself too good," Nadal said on Sunday.
His words also show his journey with English, which he didn't speak 20 years ago. Though fluent now, he prefers to conduct interviews in Spanish.
Yet the Tao of Rafa is often more poignant in English. Nadal's self-conscious self-editing strips all the verbiage until all that remains are the kernels of wisdom.
"Of course it is an important day for me, but I'm not stupid, no?" Nadal said on Sunday. "Is still a very sad situation worldwide. If you ask me what's my feeling, of course I am superhappy. On the other hand, I am not that happy as usual because the situation is tough for most of the people around the world."
New York Times News Service