Laldanmawia Ralte eyes India berth
'Language is a problem. I am not comfortable in English or Hindi'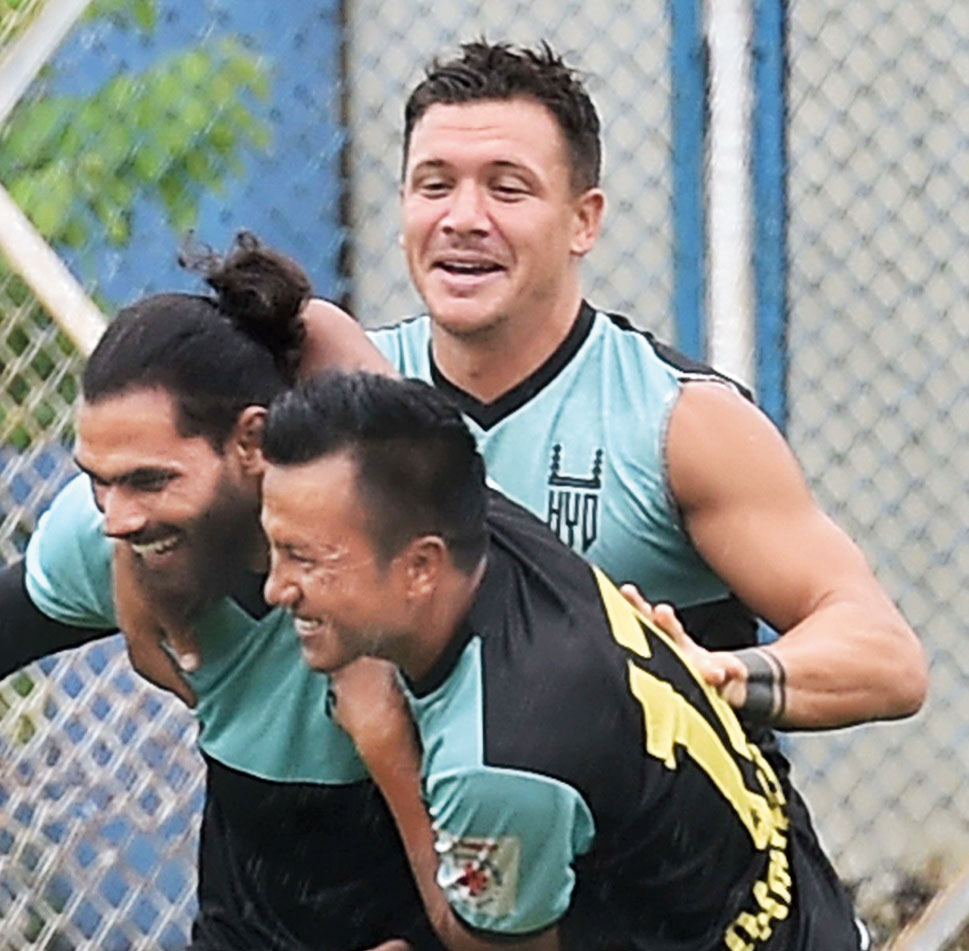 Laldanmawia Ralte of Hyderabad FC shares a light moment with Adil Khan (left) as Marko Stankovic looks on during a practice session on Thursday.
Picture by Santosh Ghosh
---
Calcutta
|
Published 24.10.19, 08:18 PM
|
---
Laldanmawia Ralte hasn't changed much since joining Hyderabad FC this August.
He is still averse to talking to reporters and if you turn on the recorder he goes into a shell. "No recording... only writing," he told The Telegraph in broken English on Thursday evening.
"Language is a problem. I am not comfortable in English or Hindi," the shy-looking Mizo midfielder adds.
Last year — when he was playing for East Bengal — whenever Danmawia, as he is known, came for a media conference his statemates Brandon Vanlalremdika or Lalrindika Ralte would accompany him as an interpreter.
Danmawia though doesn't have any problem in understanding what his new coach Phil Brown wants. "My new coach is very good. I am learning everyday and working hard," he says. Hyderabad FC assistant coach Mehrajuddin Wadoo has only good things to say about Danmawia. "Very sharp and extremely hardworking. He is a natural right-footer but very comfortable playing in the left," was his take.
The attacking midfielder now has three targets. First — to help new ISL franchise Hyderabad FC to win the title this season. "Second is to score as many goals as possible and third is winning back my place in the national football team," he said.
The 26-year-old made his India debut during the Intercontinental Cup final against Kenya under new national coach Igor Stimac. "I came on in the last minute," he tells you.
He could be seen in action on Friday evening against ATK in an ISL VI match at the Salt Lake Stadium, a venue where he played some memorable matches.
"I have only good things to say about Calcutta. I miss this city. The people, the fans… And then Brandon and Lalram Chullova who were just like my family. Now this happy family is broken," he says. Incidentally, all three were part of Khalid Jamil-coached I-League-winning Aizawl FC squad and played and stayed together since joining East Bengal.
While Brandon is still with the red-and-gold, Lalram Chullova switched allegiance to Mohun Bagan. "For a professional footballer, moving on is part of life," he said. But is there anyone in Hyderabad FC from Mizoram? "Yes there is Jakob Vanlalhlimpuia with whom I spend time. PUBG and Fifa on Playstation are our favourite games."
Last season, Danmawia scored two goals against Mohun Bagan in the first I-League Derby and obviously one thought that would be his most memorable match. "No it's not. Some years back, Mizoram were playing Manipur in a Santosh Trophy qualifying match and we needed a win to advance. I scored in the last minute and Mizoram advanced to the main round. That year Mizoram went on to win Santosh Trophy for the first time. Till date that is my most memorable match. Not the Derby you are talking about," he said.
Danmawia was adjudged East Bengal's Player of the Year for his fantastic performance last season. But he did not turn up to take the award. Reason? "I was at my native village Sialhawk which is around 190 kilometres from Aizawl. I got a letter from the club a day before the function. So, it was impossible for me to come to Calcutta at such a short notice. I did not want to show any disrespect to the club," he signed off.