Dhoni my first choice 'keeper for 2019 Cup: Farokh Engineer
Farokh 'hurt' at being ignored for CK Nayudu Award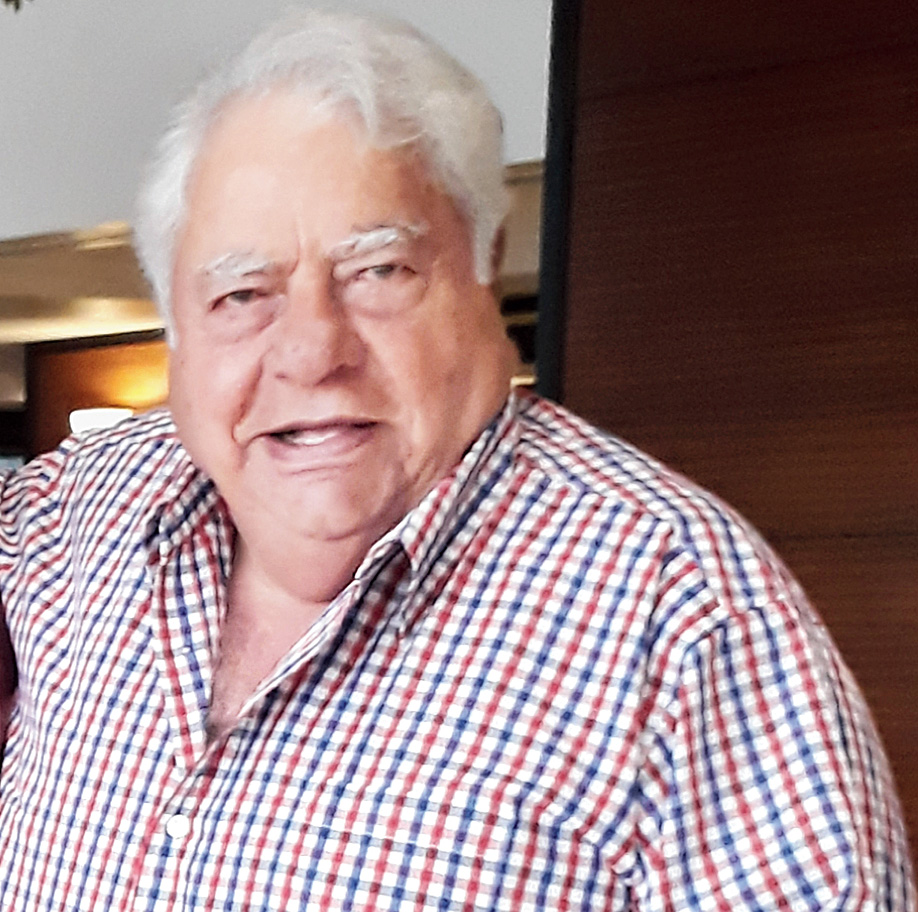 ---
|
Calcutta
|
Published 08.12.18, 11:08 PM
---
Farokh Maneksha Engineer, India's most flamboyant 'keeper ever, has thrown his weight firmly behind former captain Mahendra Singh Dhoni.
Basically, that Dhoni should be in India's squad for the 2019 World Cup. Unless, of course, there's a fitness issue.
Champions in 1983 and in 2011, India went out in the semi-finals of the last edition, in Australia-New Zealand, three years ago.
"If Dhoni's fit, there's no reason why he shouldn't appear in his fourth World Cup. In any case, from what I've gathered, Dhoni is among the fittest around and is himself highly passionate about fitness...
"I don't see Dhoni exclusively as a 'keeper, for he definitely adds value in other ways as well...
"Right now, there's nobody with more match experience than Dhoni, so why focus on his age (37)? That apart, I believe he still has that fire and hunger and I wouldn't go by his scores/strike rate in recent ODIs alone...
"You don't judge a great on the basis of a couple of series only...
"Also, let's not forget that, like all good 'keepers, Dhoni serves as an adviser to his captain, Virat Kohli...
"From what has been on view, Dhoni practically marshals the field. He's a package...
"I don't mean to offend Parthiv Patel or Dinesh Karthik, or even young Rishabh Pant, but Dhoni would be my first choice 'keeper for the biggest event in 2019," Farokh, currently in Mumbai, told The Telegraph.
Some have made it their business to keep discussing Dhoni's future. That he wasn't selected for the recent T20Is against the West Indies, at home, excited that lot even more.
Farokh, by the way, observed that Pant (India's No.1 Test 'keeper at this point in time), needed to "improve" his work with the "big gloves."
Pant's arrival on the biggest stage has made many forget Wriddhiman Saha, arguably India's most technically accomplished 'keeper till injuries and surgery on his right shoulder kept him away for all but one Test this year.
Farokh, however, hasn't forgotten Saha.
"Just what has been Saha's injury? So bad that he only plays one Test in an entire year? One? I can't understand...
"I like Saha's 'keeping and his approach to the game. I hope he recovers soon and my good wishes go out to him," Farokh said of the 34-year-old whose career coincided with Dhoni's many years of absolute dominance.
The Board of Control for Cricket in India won't ever admit it, but a common enough belief is that Saha's rehab at the National Cricket Academy in Bangalore/initial diagnosis of the shoulder problem was, in all probability, botched up.
Royally too.
Saha first suffered a hamstring injury, then a fractured right thumb during the IPL and, finally, a mysterious shoulder injury.
Meanwhile, moving away from the India 'keepers, Farokh emphasised that he was "hurt" at being overlooked for the CK Nayudu Lifetime Achievement Award, instituted by the Board in 1994.
"I did get a special award from the Board, which included a purse of Rs 15 lakh some years ago, but I'm not a Lifetime Achievement awardee...
"Nobody suggested the special award was in lieu of the one named after CK Nayudu. If I'd been informed on those lines, I would have declined and requested that I be favourably considered for the one which carries the most recognition...
"Look, it's not about the money. If that's an issue, let the Board deduct the Rs 15 lakh I got with the special award and give the remaining Rs 10 lakh with the CK Nayudu Lifetime Achievement award...
"I wouldn't like to take names, but my contribution to Indian cricket isn't any less than most of the Lifetime Achievement awardees. I'd go to the extent of saying I deserve more than some of the recipients...
"Indeed, I'm hurt at the manner in which I've been treated by my Board. I'm already 80, you know," Farokh pointed out, emotionally.
Farokh certainly has a point and the ball is, well, in the Board's court.
Postscript: No connection, but Farokh has also received a purse of Rs 5 lakh — because the Union government stopped India from playing in CBFS-conducted tournaments in Sharjah after the match-fixing scandal of 2000. Others too, who lost out after being named a major/minor beneficiary, got compensated by the Board.