Euro 2020: Spain in must-win clash, Poland pin hopes on Lewandowski
The Poles face a tough side in Sweden, who are yet to concede a goal in the tournament; La Roja set to bring in Busquets as they take on Slovakia; Portugal meet France; Germany take on Hungary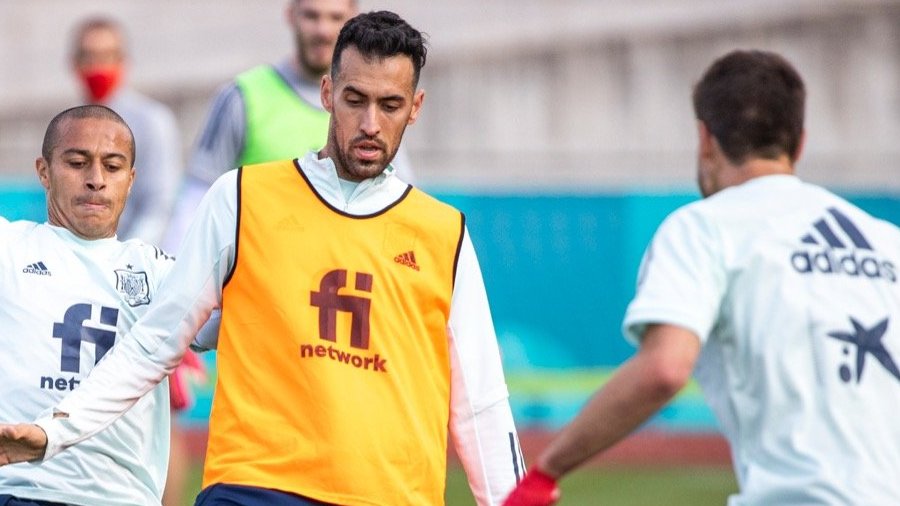 Sergio Busquets during training with Spain.
Twitter/@FCBarcelonaFI
---
Published 23.06.21, 12:25 PM
|
---
The focus now shifts from Raheem Sterling and Luka Modric to Sergio Busquets and Robert Lewandowski. La Roja, who haven't won a single match in the Euro 2020, will look for a last-gasp victory to make it to the last 16. The return of Sergio Busquets will give Luis Enrique hope, while the Poles will rely heavily on Lewandowski for a turnaround of fortunes against Sweden. Poland are bottom-placed with only one point in Group E, and coach Paulo Sousa will treat the Sweden game like a summit showdown. "For us, this is a final and we need to focus as if it was a final. We want to have the same mentality everywhere, when we play at home, when we play abroad," Sousa told reporters on Tuesday.
Here's what's in store for tonight:
Sweden vs Poland (9:30 pm, IST)
Venue: Krestovsky Stadium
Robert Lewandowski is on the brink of another early exit from a major international soccer tournament. Unless Poland can find a way past one of the tightest defenses at the European Championship. Beating Sweden is Poland's only route to the knockout stage of Euro 2020 and that's something no team has managed in seven games in 2021.
FIFA's reigning player of the year recovered from an underwhelming display in Poland's 2-1 loss to Slovakia in Group E by scoring the equaliser in a 1-1 draw with Spain to effectively keep his team in contention at the tournament.
It was a classic striker's finish, too, using his strength to hold off his marker, Aymeric Laporte, and directing a header from a cross into the bottom corner for his 67th international goal.
Lewandowski had to feed off scraps against Spain and the same could be the case against Sweden, an ultra-pragmatic team whose attacking ambitions might be even more limited than normal at Saint Petersburg Stadium on Wednesday.
Sweden, after all, has four points from its opening two games in Group E a 0-0 draw against Spain and a 1-0 win over Slovakia and was assured of qualifying for the round of 16 because of the results of Monday's games. A win would secure a first place in the group. Then again, so might a draw.
Sweden is one of three teams yet to concede a goal at Euro 2020, along with Italy and England. Given that stat, and the team's inclination to defend compactly and in numbers especially when it doesn't need to attack, it explains why Poland is facing such a tough task.
Lewandowski has only advanced from the group stage once in three appearances at either a World Cup or a European Championship with Poland. That was at Euro 2016, the first time the continental tournament had been expanded to 24 teams.
While 67 goals in 121 games for Poland is a amazing record, the Bayern Munich striker is often starved of quality service at major tournaments when the standard of opposition increases. He has only three goals in 13 games at a World Cup or European Championship.
Players to watch out for:
Poland could be without defender Jan Bednarek and midfielder Jakub Moder because of injury. Hopes, as we said earlier, will be pinned on Lewandowski. Sweden coach Janne Andersson may decide to change his lineup, and give some game time to fringe players. Dejan Kulusevski could return for Sweden after being left on the bench against Slovakia. And Alexander Isak will be expected to take charge up front once again.
Spain vs Slovakia (9:30 pm, IST)
Venue: Estadio La Cartuja, Seville
Spain may summon their most experienced player for their most important match at the European Championship. Sergio Busquets is set to return for the match against Slovakia, when La Roja face the possibility of an embarrassing elimination in front of their fans.
Only victory for Spain will be enough to ensure a spot in the round of 16 at Euro 2020. A draw may be enough, but only if Poland doesn't defeat Sweden in the other Group E match.
The 32-year-old Busquets, the only player left from Spain's World Cup-winning squad in 2010, didn't play in the team's first two matches after testing positive for the coronavirus. "We missed him," Spain defender Cesar Azpilicueta said. "We tried to make up for his absence, but Sergio is a key player for this team and we are happy that he is back."
Rodri Hernandez played in Busquets' position in the first two matches, a 0-0 draw against Sweden and a 1-1 draw against Poland. The 25-year-old Manchester City midfielder didn't play poorly but didn't excel either.
Spain coach Luis Enrique hasn't confirmed Busquets as a starter, but he had said the player was ready to play from the moment he rejoined the squad. The Spanish soccer federation said Busquets was picked to speak alongside Luis Enrique at the team's pre-match news conference on Tuesday.
Jordi Alba had taken over as captain in the absence of Busquets. The national team's longtime captain, Sergio Ramos, was not called up after playing sparingly in the final part of the season with Real Madrid because of injuries.
The decision to leave him out of the squad even though he would have been fit to play by the time Euro 2020 started drew a lot of criticism against Luis Enrique, with many saying the team was left without a true leader.
"There are a lot of young players in this group who are playing in a tournament like this for the first time, and they are learning," Azpilicueta said.
Spain, playing all of their group matches in Seville, are two points behind leader Sweden and one behind Slovakia, which surprised with an opening 2-1 win over last-place Poland before losing to Sweden 1-0.
Slovakia need a draw to guarantee a spot in the next round. They are making their second consecutive appearance after debuting at Euro 2016. Both Slovakia and Spain were eliminated in the round of 16 in 2016. Spain last missed the knockout round in 2004.
Players to watch out for:
While Pedri has had two good outings with La Roja, there will be expectations from the midfielder. And if Sergio Busquets takes the field, things might change for the better. Slovakia will rely on Marek Hamsik and Milan Skriniar once again.
Portugal vs France (12:30 am IST, Thursday)
Venue: Ferenc Puskas Stadium
France goalkeeper Hugo Lloris remembers well the sinking feeling he had after conceding the goal that gave Portugal the European Championship title five years ago. The two teams have met since then, as recently as last November when France won in Lisbon to clinch a spot in the Nations League finals, and meet again on Wednesday in their last group game at Euro 2020.
But the context of their showdown at Euro 2016 was so different. It was a delicate and poignant time for a French nation recovering from a wave of deadly terror attacks that killed 130 people in Paris in November 2015.
It was the final of a Euro, with everything it had produced in terms of emotion throughout the whole tournament, Lloris said Tuesday.
Yes, it is a painful memory because there was this defeat in what was a difficult time for the French.
Wanting to win the trophy for a suffering nation trying to heal, Les Bleus beat Germany to reach the final.
Backed by a vocal home crowd waving red-white-and blue flags they were favored to win the final on July 10 at Stade de France, especially when Portugal forward Cristiano Ronaldo limped off injured midway through the first half.
France dominated but missed chances. Then, in the last seconds of normal time, substitute Andre-Pierre Gignac hit the post.
After that, the game started turning and unheralded substitute Eder's long-range strike in the second half of extra time bounced just out of Lloris' outstretched hand and crept inside the post.
Eleven minutes later, France's players sank to the ground with their dreams of a third European title over, while the injured Ronaldo hobbled with delight.
It took time for France to recover from the loss on home soil, but Lloris thinks it ultimately helped motivate the players two years later.
On the back of it we were able to build our success at the World Cup in Russia, and the two things are most certainly linked, he said.
Now France faces Portugal with two World Cup stars sewn onto its jersey above the national team emblem, while Portugal has none. Ronaldo has 107 international goals but has never scored against France.
France has already qualified for the round of 16 at Euro 2020 with four points and can win Group F with a victory. Portugal has three points and guarantees progress with a draw.
Lloris, who is captain and stands to make his 128th international appearance, said the players have no intention of easing up just because they have advanced.
"You can't step onto the field with this frame of mind. You must always want to win," he said.
We'll be up against a big team, the defending champions. It will be a tight contest and it's important to finish the group stage with a good result."
Players to watch out for:
For Portugal, the eyes will obviously be on Cristiano Ronaldo, who is on a record-breaking spree. And for France, all eyes on N'Golo Kante, Paul Pogba and Kylian Mbappe. 
Germany vs Hungary (12:30 am, IST, Thursday)
Venue: Allianz Arena
Both Germany and Hungary are trying to avoid early elimination from the European Championship.
The Hungarians need to win, the Germans don't. The match will take place following a request to light the stadium in rainbow colours to protest what the Munich city council said was the "homophobic and transphobic legislation of the Hungarian government".
UEFA turned down the council's application. It previously gave the go-ahead for Germany goalkeeper Manuel Neuer to continue wearing a captain's armband with the rainbow colors considering that it was promoting a good cause, i.e. diversity.
It will be the first competitive match between Germany and Hungary since the Miracle of Bern in the 1954 World Cup final, when the West German team came from behind to defeat a Hungarian side considered to be the best in the world 3-2.
Hungary coach Marco Rossi's current team can't be compared to the Mighty Magyars of yesteryear, but it can still reach the round of 16 after defender Attila Fiola scored in a 1-1 draw with World Cup champion France.
Hungary lost to Portugal 3-0 in its opening game. Germany bounced back from its opening loss to France with a 4-2 win over Portugal.
France leads Group F with four points ahead of its final group game against Portugal. Both Portugal and Germany have three points, and Hungary has one.
"We have by far the most difficult group and of course Hungary is part of that," Germany midfielder Leon Goretzka said. If you look at the two games, they produced a remarkable performance against Portugal. They defended very, very well for a really long time, playing with a lot of passion, as it has to be.
Goretzka is likely to make his first start amid injury worries for Germany coach Joachim Low.
Influential forward Thomas Muller is doubtful with a knee injury sustained in the win over Portugal and defender Mats Hummels had a tendon problem in his knee. Both were recalled to the squad specifically for the tournament because of their experience and they've had a major impact.
Other players with minor injuries Ilkay Gundogan, Toni Kroos and Robin Gosens took part in Tuesday's final training session, when Muller and right back Lukas Klostermann were the only players missing.
Whoever Low opts for will have to contend with a well-drilled defence.
"We will watch how they defended in the first two games and find solutions," Goretzka said.
"Our clear goal is to win the game. Then we don't need to start looking at anything like other group games or I don't know what. We just want to win our game and continue this positive trend that we started against Portugal."
Hungary will have to do without a full stadium of support for the first time. Both its previous games took place in Budapest, the only venue at the tournament to allow full capacity.
"That we're playing away is an extra motivation, Hungary midfielder Adam Nagy told broadcaster M4 Sport. It's obviously great to play at home, but it also provides a great feeling and a boost when you walk out onto the pitch away from home, and the fans whistle us."
Hungary captain Adam Szalai, who went off after receiving a blow to his head against France, has been cleared to play.
Players to watch out for:
Germany have found their mojo back. And they will again rely on Kai Havertz to fuel their charge versus a very defensive Hungary. The Hungarians will bank on Roland Sallai to lead the attack.