Wembley win unites divided country
The players landed shortly after dawn to find many fans were still celebrating with the smell of fireworks lingering in the streets and flags flapping out of car windows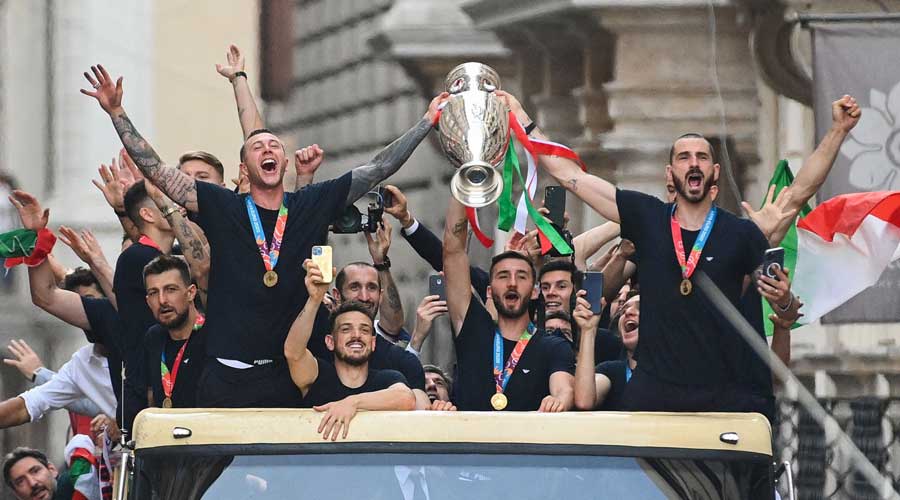 The open-top bus parade
Twitter / @azzurri
---
Rome
|
Published 13.07.21, 03:14 AM
|
---
After 18 months of pandemic hell, Italy revelled in some football heaven on Monday after its national team brought back the European Championship trophy for the first time since 1968 following victory over England at Wembley.
Led by coach Roberto Mancini, the players landed shortly after dawn to find many fans were still celebrating in the early morning cool, with the smell of fireworks lingering in the streets and flags flapping out of car windows.
"We really needed to get together again, to celebrate, to have a shared moment. We really needed it," said Rome resident Sara Giudice.
In the afternoon the squad were guests of honour at the Quirinale Palace of President Sergio Mattarella, before making the short journey through central Rome to be received by Prime Minister Mario Draghi.
The blue and white team bus moved at walking pace through streets lined by cheering, flag-waving fans, before a ceremony in the courtyard of the 16th century Prime Minister's office.
"You have excited us, moved us, given us joy and hugs," Draghi told the team, which was accompanied by tennis player Matteo Berrettini, the first Italian man to reach the final at Wimbledon, where he lost to top seed Novak Djokovic on Sunday.
Stadium chaos
England's Football Association (FA) will conduct a full review into security breach at Wembley Stadium ahead of the final, chief executive Mark Bullingham has told BBC.
Fans clashed with each other and officials, breached security cordons and charged into the perimeter area of Wembley before the start of the match.
"We will do a full review and we will work with the police to catch anyone involved and make sure we can prevent it ever happening again," Bullingham said on Monday.
The Metropolitan Police said they had made 86 arrests connected to the incident and that 19 of its officers were injured as they confronted "volatile" crowds.