Is it coming 'home' or is it going to Rome
t2 previews the biggest game in European football as England take on Italy at Wembley in the Euro 2020 final tonight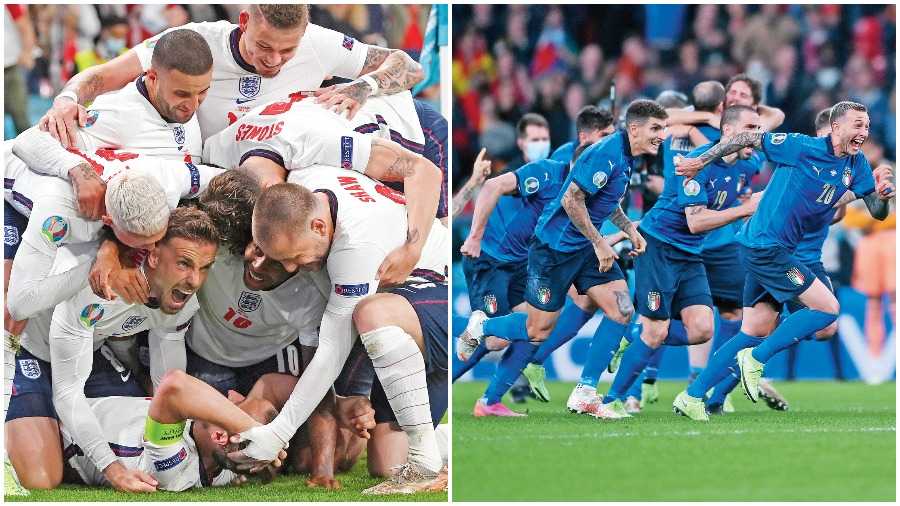 (L-R) England and Italy after winning their respective semi-final matches in Euro 2020
---
Published 11.07.21, 01:31 AM
|
---
CAN ITALY SUSTAIN A HIGH TEMPO?
For large parts of a riveting semi-final against Spain, the Italians were second best — outrun, outpaced, and outpassed. It is a testament to their resilience that they still managed to retain their shape and clinch the tie on penalties. However, come the final, Italy must return to the high-tempo style that served them so well in the opening matches of the competition. This means that Roberto Mancini has to use his resources judiciously, rest tired legs, and drill into his squad that they have to get off the blocks quickly in what will surely be the most high-profile encounter of most of their lives.
CAN KANE OUTWIT DONNARUMMA?
Gianluigi Donnarumma has lived up to its reputation of being the immovable object in the Italian goal at the European Championship. Not quite the unstoppable force in terms of recent form, England's star man Harry Kane has nonetheless got back his scoring touch of late and is bound to have his opportunities to get the better of Donnarumma. The real question is whether Kane can make those opportunities count. Over the years, Kane has had a tendency to shoot low and wide when put clear one-on-one with the keeper, a habit that might just unnerve the tall Donnarumma for whom bending low is not among his favourite saving options.
WILL THE REAL IMMOBILE TURN UP?
It has been a tournament of two halves for Italy's goal-scorer-in-chief Ciro Immobile. After the enterprise and efficiency of the group stages, the Lazio forward has begun to drift in and out of the knockout games. While his runs to open up space have still been vital, Immobile has hardly bothered opposition goalkeepers in recent matches. If Italy are to clinch the trophy, the real Immobile — the one who won the European Golden Shoe in 2019-20 with his prolific finishing and minus the playacting — will have to turn up in place of its more subdued and sullen version.
CAN GREALISH BE ENGLAND'S TRUMP CARD?
There has been a strange sort of afterglow around Jack Grealish this summer. Despite not starting most of England's matches, Grealish is seen in many quarters as the saviour for the island nation, not unlike a certain David Beckham in his prime. Grealish definitely made the difference after coming on against Germany, and should the stars align once more, it is anybody's guess what this special midfielder can conjure up against a fortress of an Italian defence.
WILL WE SEE ANOTHER INSIGNE CURLER?
So often blowing hot and cold for club and country, Lorenzo Insigne has put his foot down and made Euro 2020 his own, not least with his signature curling shots into the top corner. His dribble and shot against Belgium was one of the goals of the tournament and Kyle Walker at right-back for England will have to be wary of Italy's machine gun cutting inside on his rocket of a right foot and letting fly. Even if he does not find the net, Insigne is always a threat with his magnificent ball-control and penetrative runs, a threat that England will have to neutralise at the earliest.
STERLING OR CHIESA, WHO LOVES WEMBLEY MORE?
Both have scored monumental goals at Wembley at Euro 2020, both have silenced their critics in becoming a mainstay of their respective line-ups, but only one can have the last laugh. Raheem Sterling and Federico Chiesa are not just speed merchants with a knack for scoring spectacular goals, they are also men driven by a compulsive need to grab the spotlight when it matters most. On Sunday, the two will go head-to-head in one of the most mouth-watering individual contests on the field.
CAN RICE AND PHILLIPS STIFLE VERRATTI?
Stop Marco Verratti and you can stop Italy from dictating football matches. It may sound simple enough, but actually carrying it out is far harder. Declan Rice and Kalvin Phillips have been industrious and impressive in whatever they have done so far and their potential double act on Verratti cannot be any different. With time and space at his disposal, Verratti can run England ragged and the two English defensive midfielders should try their best to shadow the diminutive maestro all game long.
WHICH BENCH WILL MAKE THE GREATER IMPACT?
Substitutes have come up with glory— seizing goals on numerous occasions in the history of the Euros, and should that trend continue, both teams have enough talent on the bench to produce a decisive effect. On paper, England have more attacking options whereas Italy have more positional depth, players who can fill in defensively as well as while going forward. Mancini has not been shy of deploying substitutes at Euro 2020 and will use all his experience to shuffle his pack as and when required. As for Gareth Southgate, picking among names like Phil Foden, Jadon Sancho and Marcus Rashford is a pleasant headache, one he hopes to resolve smoothly come crunch time.
WHO HAS THE EDGE ON PENALTIES?
Considering how closely matched the two sides are, there is every chance that the final will go all the way and some more, bringing in the dreaded penalties to separate winners from losers. Neither Italy nor England are without their historical penalty woes, but both nations have a refashioned mindset with which they will take to the pitch. England have the best group of penalty researchers in international football and should, in theory, have the advantage, but the Italians have something that no amount of data can make up for — the instinct to know how and when it is done.
CAN THE WEMBLEY ATMOSPHERE MAKE A DIFFERENCE?
Is home advantage in a major tournament a curse or a blessing? One of football's timeless questions will have another iteration with an almost packed Wembley Stadium cheering on the Three Lions as they seek to become European champions for the first time in history. But as seen in the case of France in 2016, playing at home also brings with it enormous pressure, and the Italians will be poised to capitalise on any jangling nerves in the English camp. Not always known for its feverish ambience, Wembley should make an exception and be the loudest place in London on Sunday night. Pictures: Agencies
Quiz
1 Which is the only country to have scored two goals in a Euros final en route to losing? (Hint: They were the defending champions going into that final)
2 Who scored the only goal of the 2016 Euros final in extra time as Portugal went on to beat France? (Hint: The player was a substitute who came on to the pitch after 79 minutes of normal time)
3 Which German player scored a brace the last time the Euros final was played in the city of London? (Hint: He is the current national team director of the German Football Association)
4 Who is the last player to score a golden goal in a Euros final? (Hint: He featured in the inaugural season of the Indian Super League with Pune City)
5 Which year saw the lowest turnout of fans for a Euros final? (Hint: That year the final was played in Paris)
6 Which team has recorded the biggest victory margin in a Euros final till date? (Hint: The losers on the occasion were Italy)
7 This player scored the solitary goal of a Euros final in the same year in which he finished third in the FIFA World Player of the Year rankings. Who is he? (Hint: He is also a World Cup winner)
8 Michel Platini starred for France in the 1984 final, scoring one of two goals as the French swept to victory on home soil against Spain. Who scored the other goal of the game for France? (Hint: He scored just one other goal for his national team besides his strike in the 1984 final)
9 Which Euros winner was not initially part of the tournament they went on to win but had to be invited to participate when another country was expelled from the competition? (Hint: This country went on to win the final 2-0)
10 Which is the only Euros final to have had a replay, after the first final finished all square at 1-1? (Hint: The country that lost this final no longer exists)
Answers
1. West Germany in 1976
2. Eder
3. Oliver Bierhoff
4. David Trezeguet
5. 1960 final between Soviet Union and Spain with an attendance of 17,966
6. Spain, by beating Italy 4-0 in 2012
7. Fernando Torres
8. Bruno Bellone
9. Denmark in 1992
10. Italy vs Yugoslavia 2-0 in 1968