Endgame: Knights make moves beyond the board
Chess doesn't give you financial security, says Grandmaster Thipsay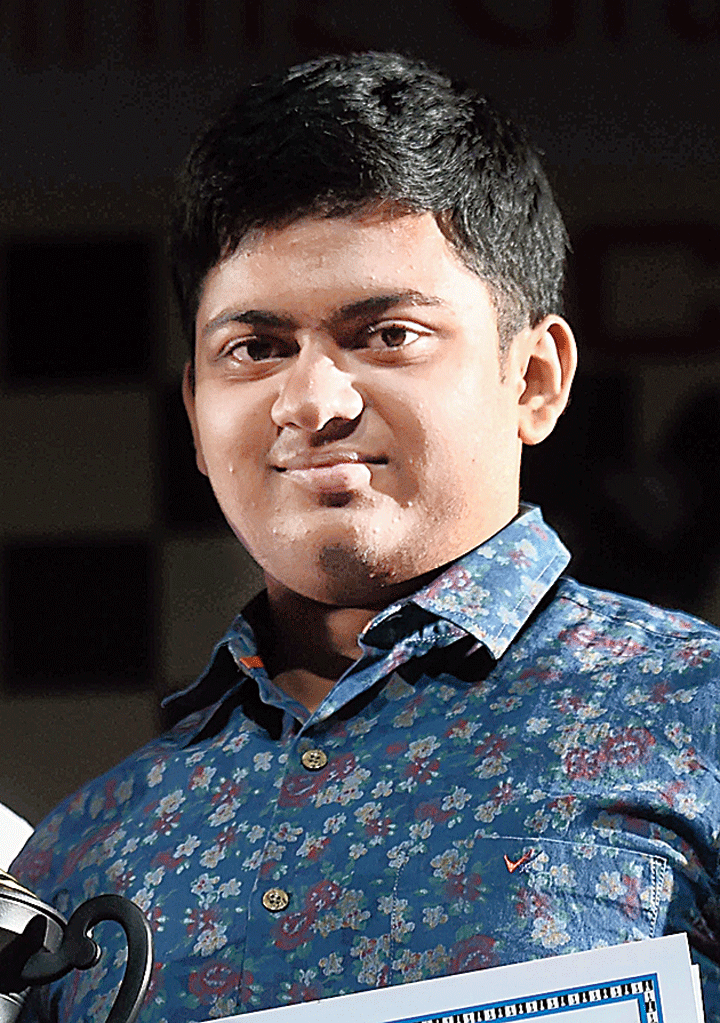 ---
Calcutta
|
Published 16.11.19, 08:04 PM
|
---
India is witnessing a chess boom. Sixty-five Grandmasters and none other than Vladimir Kramnik saying India is the next superpower in the 64-square game.
But amidst all the glitter, there is gloom too. Monotony and lack of financial security have forced some to either quit the game or seek other avenues. Like Grandmasters Parimarjan Negi or Diptayan Ghosh.
Take 21-year-old Diptayan for example. To break away from monotony, he is doing Masters in Economics from the highly-acclaimed Delhi School of Economics.
"If you keep on doing something it can become monotonous. Chess was becoming less exhilarating for me. So I decided to complete my Masters in Economics. I could have got myself enrolled in Jadavpur University or Madras School of Economics too. But Delhi School of Economics is the best," Diptayan told The Telegraph from New Delhi.
But Diptayan hasn't put chess on the backburner completely. "I will be playing in the Nationals (to be held in Mazitar, Sikkim from December 9-19). Yes, I get less time for chess these days."
Diptayan will not be in Calcutta when the city welcomes Magnus Carlsen and Viswanathan Anand for the Tata Steel Chess India Rapid & Blitz, a part of the Grand Chess Tour to be held from November 22 to 26. "My exams start from November 26," he said.
Parimarjan Negi, a Grandmaster from the capital, though has left chess for good. He is doing his PhD in computer sciencefrom Massachusetts Institute of Technology after completing his graduation from the Stanford University.
"It was a complicated decision back then and many factors went into it. Mostly, giving up on some of my ambitions in chess was hard — but by then, it seemed to me that I could become a very strong player, but not have the potential for being among the best. And I didn't like chess enough by itself — for me it was all about the competition.
"Thus, I did not see much point in continuing with the game," Negi said from Massachusetts.
Diptayan said it was a conscious decision to do his Masters and not something when you find yourself at the crossroads "Chess is always there. If after Masters I find studies are getting monotonous, I will fall back on the game," he clarified.
Dibyendu Barua, the city's first Grandmaster, also said something similar. "Yes, that is also there. If you think you want to comeback, the option is always there."
Before Diptayan and Negi, Pravin Thipsay had taken a break to complete his MSc in organic chemistry and antibiotics. That was in 1980s.
"I just went a bit slow on the game. After I completed my MSc, I could have done my PhD, but decided to take chess as a career," Thipsay said. He became a GM years after completing his MSc.
"The problem now is chess doesn't give you security. That's why in India we have only Anand as professional chess player. Others are all working in government organisations. I am sure Diptayan and Parimarjan weighed the pros and cons," he said.
Bharat Singh Chauhan, the All India Chess federation secretary, doesn't see Grandmasters going on break as a trend. "It's a personal choice. May be, Diptayan wants financial security," he said.
Chess though is helping the two Grandmasters in a life away from 64 squares. "Chess teaches you patience as well as time management," Diptayan, a product of Telegraph Schools' Chess, revealed.
Negi was more philosophical.
"I don't think chess helps with anything explicitly. But it has been a huge influence in my life, and certainly those experiences shaped my worldview."