EB will never settle for 80:20, says official
Debabrata Sarkar does not agree that the pressure would now be on East Bengal to join the ISL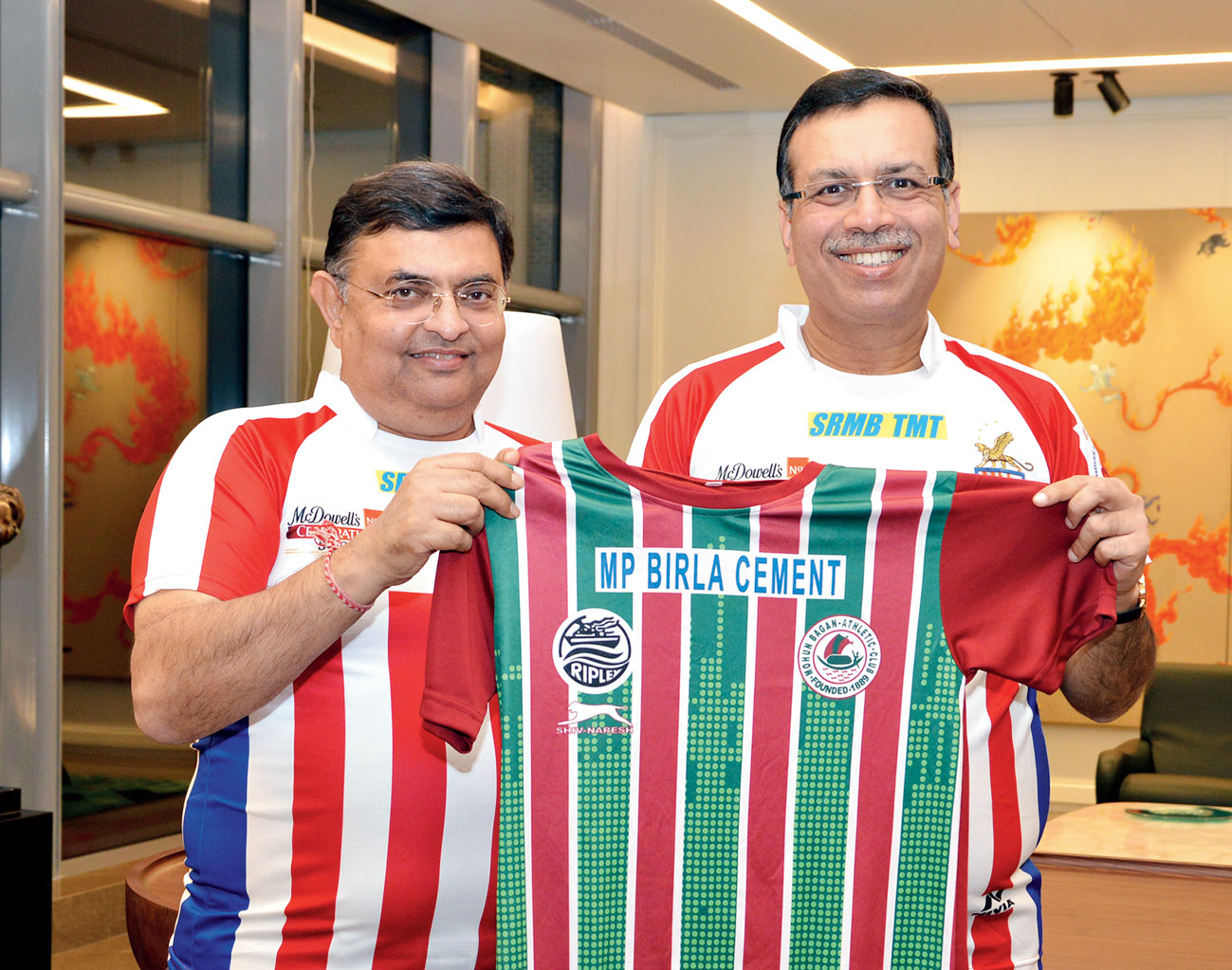 Wearing ATK shirts, co-owner (left) Utsav Parekh and principal owner Sanjiv Goenka hold up the Mohun Bagan jersey on Thursday
(Picture: Facebook/Mohun Bagan)
---
Calcutta
|
Published 16.01.20, 10:05 PM
|
---
Mohun Bagan have gone for 80:20, but East Bengal official Debabrata Sarkar on Thursday said that his club would not settle for anything less than a "50:50" stake sharing with any prospective investor. "We would not go for anything less that 50:50," Sarkar told The Telegraph.
He was reacting to Mohun Bagan Football Club (India) Private Limited's decision to merge 'perpetually' with ISL franchise ATK where the latter's parent company RPSG will have an 80 per cent stake and Bagan just 20 per cent. The merger will see ATK-Mohun Bagan playing in Indian Super League from next season onwards.
"At this point in time we have an investor (Quess Corp). If they leave then we will be looking for another investor. But before doing any agreement in future, we will keep the supporters' sentiments and club's history in mind," he added.
For the record, Quess has the majority stake in their deal with East Bengal, which was inked in the summer of 2018. The relation between the investor and the club has never been cordial and they are all set to part ways after the end of the ongoing season.
Sarkar, however, doesn't believe that by using ATK as a prefix, Mohun Bagan have diluted their tradition. "I do not think so. Tomorrow we can be Kerala Blasters-East Bengal or Liverpool-East Bengal. That won't be wrong.
But the important part is what you are getting from the deal," he said.
Sunday's clash between the arch-rivals will be the penultimate I-League Derby. "Yes that's true. But if someone thinks Derby clashes will lose its charm when East Bengal play ATK-Mohun Bagan, he would be wrong. The very mention of Mohun Bagan will keep the adrenaline flowing amongst the East Bengal fans."
Sarkar, though, did not agree that pressure would be on East Bengal now to join the ISL bandwagon. "We would always keep our dignity," he said.
Mohun Bagan assistant secretary Srinjoy Bose, meanwhile, refused to believe that the club has lost its identity by signing a deal with ATK. "No. We are a supporter-based club and we would not do anything which would embarrass our supporters," he said.