A passion secretly longed that never took shape
Dilip Kumar, who passed away in Mumbai at the age of 98, played football and hockey with ease and nursed an ambition to make a career in professional football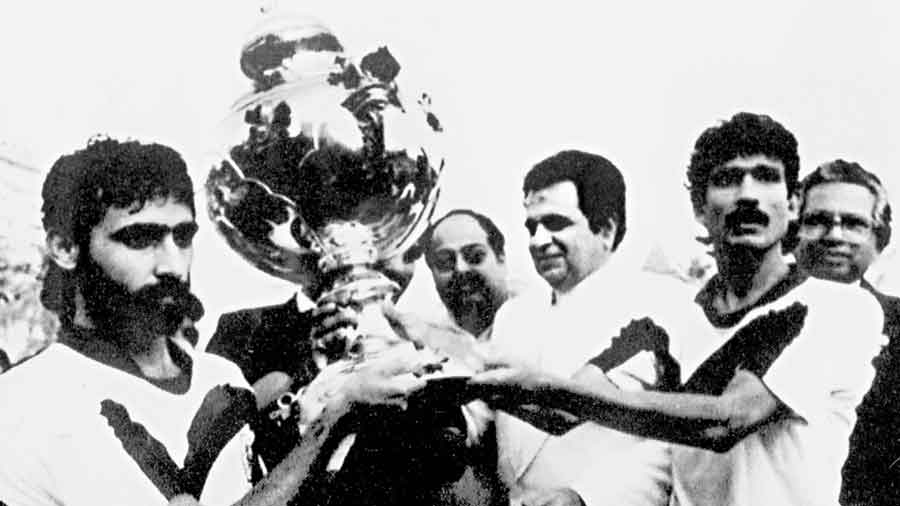 Mohun Bagan's Achintya Belel and (left) Amit Bhadra receive the Rovers Cup from Dilip Kumar after defeating Mohammedan Sporting in 1991
Library picture
---
Calcutta
|
Published 08.07.21, 03:33 AM
|
---
Dilip Kumar, one of greatest actors of all time and a legend of mainstream Indian cinema, who passed away in Mumbai at the age of 98 on Wednesday, used to be very keen about sports all his life.
He had summed up his early life as a story of "the young graduate Yousuf Khan who had excelled in school and college sports" looking for employment. "If there was anything impressive about me during my early 20s," he later recalled, "it was my performance in sports and my acquaintance with Urdu and English literature."
He played football and hockey with ease and nursed an ambition to make a career in professional football. He would spend all his pocket money in buying expensive sports shoes and tickets for football matches at the Cooperage ground in Mumbai.
He was an enthusiastic cricketer too and a regular winner in 200m in college meets. His father (Lala Ghulam Sarwar) wished for him to become a civil servant or lawyer, but Yousuf Khan — who later won hearts as 'Tragedy King' Dilip Kumar — secretly longed to be a professional footballer or cricketer.
Later in life, he even kept an open house for sportsmen and cricketers. There would be occasions when an entire cricket team would drop in for lunch and his wife Saira Banu would serve a fancy menu.
His extended family and domestic staff would often enough form teams and play cricket at home.
When he bought a car, the first place where he took it to was the Brabourne Stadium, where a cricket match was already on. Vijay Merchant and administrator NKP Salve were his good friends.
Talking of Dilip Kumar's love for football, he was a regular at the Rovers Cup. "If I close my eyes, I can still see Dilip Saab giving a pep talk before the 1980 Rovers Cup final between Mohammedan Sporting and East Bengal," former India striker and veteran coach Shabbir Ali told The Telegraph from Hyderabad.
"I was playing for Mohammedan Sporting then. He said he wanted us to win the game. If someone of his stature said something, it meant a lot."
"I have had family relations with him and his wife. I feel fortunate to have known him personally. His demise is a great loss not only for the film fraternity, but for the sports community as well," Shabbir added. 
Prasanta Banerjee too was a part of that Mohammedan Sporting squad. "I can't forget that day. He was a very simple human being and we were so lucky to have seen him. I also have a picture with him.
"I still remember the way he spoke to us before the final. It was as if a fan was pouring his heart out for his favourite club," the former Mohun Bagan and East Bengal striker recalled.
"When we were with him at the team hotel, we could very easily gauge his love and passion for football. He knew all the players by their names and he was aware of their playing positions as well," Banerjee added.
Tulsidas Balaram, another Indian footballing legend, said Dilip Kumar loved watching skilful players, especially someone like Chuni Goswami. "He was a big fan of Chuni. Being a regular at Rovers, he used to come to the Airport Hotel and interact with the players," Balaram said.
Former India and Bagan defender Subrata Bhattacharya too has been fortunate to meet the legend. "He had also come for the Santosh Trophy final in Kashmir (in 1978-79).
"I had met him a few times at the Himalaya and the Nataraj Studios. He introduced me, saying: 'He's an important player, plays for India. Let's find him a place to sit.' That certainly touched my heart," he said.