Dhoni's appeal to corporates, PSUs - India 'keeper seeks support for emerging cricketers
Read more below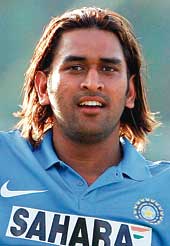 ---
Lumpur
|
Published 23.09.06, 12:00 AM
|
---
Kuala Lumpur: Mahendra Singh Dhoni has urged both the corporate world and Public Sector Undertakings (PSUs) to support emerging cricketers by fielding more teams.
"Besides what was instilled by my parents, Pan Singh and Devki, my innings with Central Coalfields Limited (CCL) in Ranchi taught me the importance of discipline... I played for them from 1998-2002 and punctuality, for example, was a feature of that experience... I'm thankful to the PSU and the organisation's Mr Debal Sahay," Dhoni told The Telegraph.
He added: "It's a matter of regret, though, that CCL doesn't field a team any more... In fact, some other organisations have also taken their hand away from cricket... Personally, I don't think this is a step in the right direction and both corporate bodies and PSUs must give youngsters the opportunity to grow as cricketers..."
Dhoni said that he would "enjoy" the outstation trips with the then CCL team. "We didn't play only in Jharkhand or Bihar... It used to be fun..."
He remarked it was beyond the resources of clubs (no matter how committed the officials) to provide the same facilities as corporates or PSUs. "They can't provide for turf wickets... Can't ensure an unlimited supply of new balls... There are other things, too."
Will somebody take note?