Defeat to New Zealand no big deal, says Virat Kohli
India lose by 10 wickets to New Zealand, their first defeat in the World Test Championship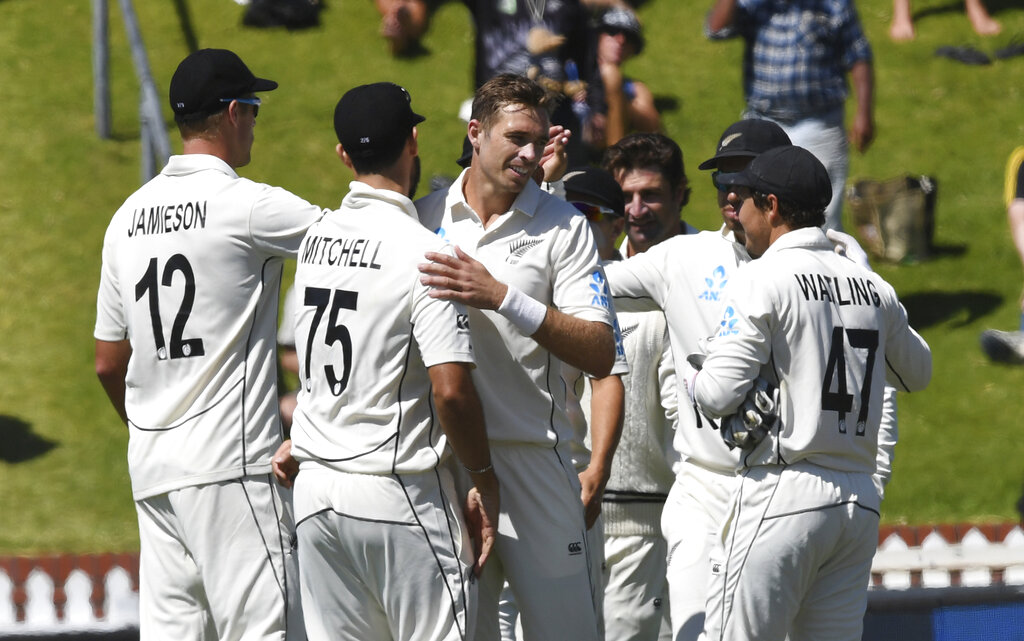 New Zealand's Tim Southee, is congratulated by teamates after taking the final wicket of India's Jasprit Bumrah
(AP)
---
Calcutta
|
Published 24.02.20, 08:05 PM
|
---
India lost the first Test versus New Zealand by 10 wickets and Virat Kohli has no qualms in admitting that his boys were outplayed. But the India captain insisted that not much should be read into the result because one loss doesn't make them a bad team.
Starting the day on 144 for four, India were all out for 191 in 81 overs in their second innings. This was a shade better than their dismal 165 in the first innings.
Trent Boult (4/39 in 22 overs) and Tim Southee (5/61 in 21 overs) exposed the Indian batsmen's flaws in adverse conditions. The required target of nine runs was knocked off by New Zealand without much ado for their 100th Test win.
"We know we haven't played well, but if people want to make a big deal out of it, make a mountain out of it, we can't help it as we don't think like that," Kohli said at the post-match media conference.
This was India's first defeat in the World Test Championship.
"Some people might want it to be the end of the world but it's not. For us, it's a game of cricket we lost and we move on and keep our heads high," Kohli said.
He spoke of the importance of accepting defeat as that defines the character of a side. "We understand that we need to play well to win, also at home. There's no cakewalk at the international level as teams will come and beat you. You accept it and that defines our character as a side."
If he had given credence to the "outside chatter", Virat said, the team wouldn't have been where it is now. "That's why we have been able to play this kind of cricket. If we would have paid attention to the outside chatter, we would again be at No. 7 or 8 in the rankings. We don't really bother about what people are saying on the outside," the skipper said.
One defeat can't make a team, which has been winning a lot, "bad overnight".
"If we have lost then we have no shame in accepting that. It means we didn't play this game well. It doesn't mean that we have become a bad team overnight. People might want to change our thoughts, but it doesn't work like that."
The self-belief is intact and Kohli was confident the
team would come back stronger in the second Test, to be held in Christchurch in four days' time.
"We will work hard and, after four days, play just like we have played all these years. Just because we have lost one match in between all the wins, doesn't mean that the belief is gone. The dressing room thinks differently and team atmosphere is different."
Kohli felt that there is a very thin line between being ultra-defensive and over-attacking, something that his team didn't get right in this Test match.
"New Zealand got into the mind of the batsmen and made the batsmen do something that they didn't want to. There's a very thin line and a very delicate balance of when to attack and when to put bowlers under pressure, which we failed to do in this match and there is no harm in accepting that."
"That has got to do with partly good bowling from New Zealand and partly us not pressing that momentum on to them when required. "It was perfect for them because they bowled well and we allowed them to bowl well for longer periods rather than doing something about it in a partnership."
High on self-belief
Besides India's loss in the ODI series and now in the first Test, individually too Kohli has not been having a good tour.
That, however, doesn't worry the master batsman. 
He feels that analysing too much can unnecessarily clutter his mind.
This time in New Zealand, Kohli has scored only one half-century so far in nine innings across three formats.
His sequence of scores read 45, 11, 38, 11 (T20s); 51, 15, 9 (ODIs) and 2 and 19 (1st Test). So how does he assess his own batting performance?
"I am absolutely fine. I am batting really well. I feel that sometimes scores don't reflect the way you are batting and that's what can happen when you don't execute well what you want to," Kohli said.
For one of the world's busiest international cricketers, a lull of three-four innings shouldn't be a cause of concern.
"Look when you play so much cricket and you play for so long, obviously you will have 3-4 innings that don't go your way. If you try and make too much out of it, it'll keep piling on," the captain explained.
Like he doesn't pay too much attention to how people react to a defeat, Kohli follows the same philosophy when they talk about his batting.
"I think it's about staying in a good space and I know the chat on the outside changes with one innings. But I don't think like that. If I thought like people on the outside, I would probably be on the outside right now," Kohli said with a hint of sarcasm.
According to him, making an honest effort every time one goes out in the middle should be the priority.
"I think it's all about doing the basics right and putting the hard work in practice. You can't really walk in thinking that I have to do it every time. You want to do it. But if it doesn't come off, then you don't have to beat yourself up too much."
At the Hagley Oval in Christchurch, Kohli will be happy to even score a 40 if that helps the team win the Test match. A century in a lost cause is irrelevant as far as he is concerned.
"I am looking forward to contributing in a win in the next Test. It doesn't matter what I do. It's never been about my performance on tour or about how many runs I score. It's all about if the team wins, even a 40 is good. If the team loses, then even a 100 is irrelevant for me, and I'm going to stay in that mindset," he stated.