Dean of innovation, doyen of grit
The former Australian cricketer died of a cardiac arrest in Mumbai on Thursday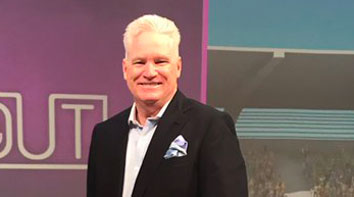 ---
---
Dean Jones, a trend-setting one-day cricketer whose career defining innings was, however, a double hundred in treacherous conditions in the Madras Tied Test in 1986, died of a cardiac arrest in Mumbai on Thursday. He was 59 and is survived by his wife and two daughters.
Jones was part of the Star Sports commentary team for the IPL, a tournament he never played in but one he would possibly have excelled in given his range of power shots, ability to improvise, quick running between the wickets and electrifying fielding.
Jones, it is learnt, had breakfast in his hotel on Thursday morning and attended a pre-match briefing session with his fellow pundits. He is believed to have suffered the cardiac arrest in the lobby.
Brett Lee, the former Australia fast bowler, attempted to revive Jones. His death was later confirmed at a hospital in south Mumbai.
"It is with great sadness that we share the news of the passing away of Mr. Dean Mervyn Jones AM. He died of a sudden cardiac arrest," Star Sports said in a press release.
Jones played in 52 Tests for Australia between 1984 and 1992, scoring 3631 runs at an average of 46.55 with 11 centuries. But it was as an innovator in one-day cricket that Jones, his lips lined with zinc cream, will perhaps best be remembered. He pioneered an aggressive, fleet-footed approach to batting that fetched him 6068 runs in 164 matches at an average of 44.61 with seven hundreds and 46 fifties. He was also part of Australia's 1987 World Cup-winning team.
Jones burst on to the cricketing centrestage in the first game of the World Championship of Cricket in February 1985 when he, along with Robbie Kerr, put on an entertaining 157-run partnership for the fourth wicket to take Australia to victory against England. Kerr scored 87 not out and Jones made a 94-ball 78 that was marked by powerful shots all around the wicket at the MCG, dancing down the pitch to fast bowlers, and quick running, traits that were still alien to many in ODI cricket of the time.
But his most famous moment would come a year later in the historic Tied Test at Chepauk in Chennai (then Madras), where he battled extreme heat and physical exhaustion to notch a memorable 210 in over eight hours.
So severely dehydrated was Jones that he threw up on a few occasions while batting and had to be admitted to a hospital during the course of the match for intravenous drips.
Allan Border, then Australia's captain, paid tribute to Jones as "one of the greatest natural cricketers" who, he said, "revolutionised" the game.
How Border had spurred on Jones, a proud Victorian, during the Chepauk innings is also part of cricketing folklore.
When Jones was clearly struggling during his epic knock, Border, batting at the other end, suggested that Queenslander Greg Ritchie — the next batsman in — would be better equipped to handle the stifling conditions.
"I knew Greg Ritchie was in next, and I knew there would be some easy quip I could make to fire him up, so I said, 'Yeah well that's okay mate, if you want to go off now we'll get someone out here tough, we'll get a Queenslander out here'," Border would later recall.
"He did stay on… and the legend was born."
Jones was more or less a fixture in the Test team from then until 1992, an integral part of Australia's evolution from frequent humiliation to the cusp of global domination. He notched up his highest Test score of 216 against Viv Richards' West Indies, which had a bowling attack comprising Marshall, Ambrose, Walsh and Patterson, in Adelaide in 1989. A year later, he hit a hundred in each innings (116 and 121 n.o.) against Imran Khan's Pakistan at the same venue.
His prowess in one-day cricket continued as Jones became arguably one of Australia's most beloved and popular entertainers, never more so than at his beloved MCG. But somewhere along the way his Test career suffered and he was dropped for the first Test against the West Indies at the Gabba in November 1992, a place he was never to regain.
In January 1993, Jones was engaged in a duel with Ambrose when he asked the big pacer to take his white wristbands off during an ODI at the SCG. Ambrose retaliated by bowing one of the most fiery spells in cricket in that match and in the subsequent games.
A year later, in 1994, Jones played his last ODI.
In his post retirement life he performed the role of a cricket analyst for various channels, primarily in South Asia — India and Pakistan, where he was immensely popular. One of the Indian news channels named him "Professor Deano", a moniker that stuck with him and was also his Twitter handle. He could polarise opinion and would often get trolled, even on Wednesday he had a social media exchange with a critic of his commentary. He also once courted controversy for calling Hashim Amla "terrorist" on air, a light-hearted comment but the racist undertone forced the particular broadcaster to take him off air. Jones later admitted it was a "silly and insensitive" comment to make.
Jones also had two spells coaching teams in the Pakistan Super League, winning the title in 2016 and 2018 with Islamabad United.
Among a raft of past and current players to pay tribute on social media, former India batsman Sachin Tendulkar said he was heartbroken. "A wonderful soul taken away too soon," Tendulkar said.
Ramiz Raja, who worked with Jones as a co-commentator, said the news had left him in complete shock.
"One of a kind you were Deano and how lonely and helpless you must have felt on your own in that hotel room - a death we commentators fear the most, and likely to meet, helpless and gone in that hotel room... RIP my friend," Raja tweeted.