Daniil Medvedev loses top spot, faces greater concerns
The 26-year-old Russian's third-round loss to Gael Monfils on Monday will allow Novak Djokovic to reclaim the No. 1 ranking next week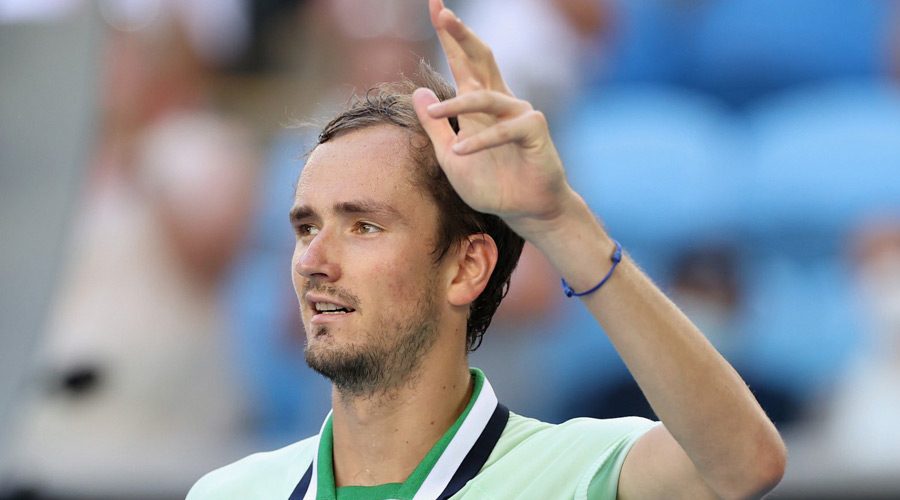 Daniil Medvedev
File Photo
---
Indian Wells
|
Published 16.03.22, 12:09 AM
|
---
Daniil Medvedev's reign as the No. 1 men's tennis player will not last long — at least, not this time. Medvedev, a 26-year-old Russian, took over the top spot for the first time in his career last week from Novak Djokovic, but his third-round loss to Gael Monfils on Monday will allow Djokovic to reclaim the No. 1 ranking next week.
Djokovic will ascend even though he was unable to play here because of the vaccination requirement for non-American visitors to the United States.
Medvedev, who is fully vaccinated against Covid-19, did make the journey to California, although some of his peers believe he also should not have been allowed to compete at Indian Wells because of Russia's invasion of Ukraine.
Russian athletes have been banned from most international team competitions and some individual events, including World Cup competitions in biathlon and skiing and the recently concluded Beijing Winter Paralympics.
Marta Kostyuk, a rising Ukrainian star, said at Indian Wells that she did not think Russian tennis players like Medvedev should be allowed to compete. But after lengthy debate, tennis's governing bodies have decided to preserve players' right to compete individually as neutrals.
Medvedev is grateful to keep his job, but all too aware that these are fluid, deeply sensitive circumstances. "First of all, it's definitely not for me to decide," he said. "I follow the rules. I cannot do anything else. Right now, the rule is that we can play under our neutral flag."
But the war certainly changes the optics of matches like Monday's.
Monfils, a Frenchman, recently married Elina Svitolina, Ukraine's biggest tennis star, who was watching from his player box on Monday as the Ukrainian flag flapped in the breeze in its new place of honour atop the main stadium at the Indian Wells Tennis Garden. The flag was installed there this year next to the American one in a show of support for Ukraine.
Monfils, ranked No. 28 at age 35, said he did not view Monday's match — or his surprising, 4-6, 6-3, 6-1 victory — through a political lens, but a personal one.
"I'm not very political in general," he said in French. "I'm a support for my wife. I try to do the maximum to support her in whatever she chooses to do."
Monfils said that it had been difficult to see the distress of his Ukrainian in-laws. "It's not easy to see my wife a couple weeks ago crying every night," he said in English. "Still quite a lot of family still there."
Kostyuk, beaten in the second round here, said she was upset that more Russian players had not approached her to apologise directly for the invasion, but many of the Russian and Belarusian stars, including Medvedev, have called for peace. But with the war, it is prudent for Russian stars to maintain a low profile.
"I don't think you should ask them to be more vocal about it, because they have family to consider, and now, you know, they can get 15 years in prison for talking about the war," said Martina Navratilova, the former top-ranked player who defected in 1975 to the US from Czechoslovakia when it was part of the Soviet bloc.
Medvedev, who has been based in southern France or Monte Carlo since his early teens, said that in his view, "tennis is a very individual sport". But though both the men's and women's tours have reiterated their support for the current approach, Medvedev knows there are no guarantees.
"Let's see how the situation evolves," he said of permitting Russian athletes to compete.    
(New York Times News Service)