Achinta Sheuli: Deulpur rejoices at success of their own champion
Life has never been a bed of roses for the CWG gold-medal winner, read on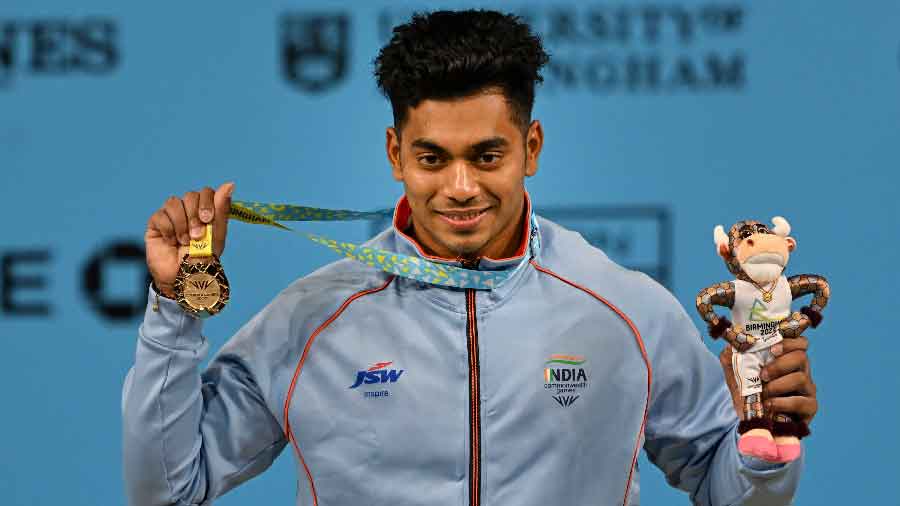 Achinta Sheuli
File image
---
Calcutta
|
Published 01.08.22, 04:14 PM
|
---
Needless to elaborate, he is the toast of the nation - yes weightlifter Achinta Sheuli who bagged India's third gold medal at the Commonwealth Games 2022, is the cynosure for sure. 
Congratulations are pouring in from Prime Minister Narendra Modi, President Droupadi Murmu and West Bengal Chief Minister Mamata Banerjee.
And it is all about celebrations in Seuli's native Deulpur village. There was no dearth of enthusiasm as not a single person was in any mood to sleep on Sunday.
And the excitement in the family and neighbourhood is palpable.
Alok Sheuli, his brother, told ABP Live, "My brother's success is an extremely happy moment for us. Hard work has paid off. He had to fight a lot."
Sheuli was not born with a silver spoon. Son of a van driver, his family had to slog hard to make two ends meet.
Alok added, "Our father died of heart attack at the age of 38. It was a difficult time for us. Achinta was only 11 years old back then. Our financial condition was so bad that we couldn't perform her last rites. We could cremate him by borrowing money from others. I was also hooked to weightlifting. Achinta followed in my footsteps and it was during that time that we lost our father." 
The Alok-Sheuli equation reminds us of the bonding Master Blaster Sachin Tendulkar shares with brother Ajit. And add to it Tendulkar's coach Ramakant Achrekar.
Fast forward,  Achinta has Alok and coach Ashtam Das.
"After my father's death, my two brothers and I used to work as a lacemaker with our mother to earn our livelihoods. Weightlifting requires nutritious food but we did not get any. To get one plate ghugni and one hardboiled egg at the end of the day, Achinta used to work at the paddy field. He earned Rs. 700 after visiting a national camp. That was a huge deal for us," said Alok.
Alok regrets that they didn't get any support at the administrative level. He said, "In 2020, he received an award from the government. However, no one looked for him after that." 
Achinta's coach, Astam Das said, "I knew that Achinta would win gold. He is extremely hard working. He came to me for training when he was only 10 years old. His brother also practiced weightlifting. However, soon after Achinta started practising, he lost his father. I don't take charges from anyone. I train people for free. He belongs from a poor household. He didn't get proper nutricious food. He used to attend school in the morning, used to practice weightlifting in the afternoon and used to earn wages in the evening. He used to buy eggs with that money. He used to practise for almost three hours everyday."
Well, all that relentless perseverance has definitely yielded results.