New Zealand Test captain Tim Southee backs his Kolkata Knight Riders teammate Umesh Yadav to come good in the World Test Championship final at The Oval beginning on June 7.
Southee feels Umesh has enough experience to exploit the conditions at The Oval when India and Australia clash in the decider. Umesh, a senior pacer himself, would surely have an important role to play, especially in the absence of India's bowling spearhead Jasprit Bumrah.
"Conditions will obviously be different in the UK. Also, Umesh has played enough Test cricket and he will be looking forward to the chance of playing in a Test Championship final in conditions that should suit his type of bowling," Southee told The Telegraph at the Knights' team hotel on Tuesday.
"He is an exciting bowler who bowls at a good pace and can swing the ball. So hopefully, he'll do well in those English conditions."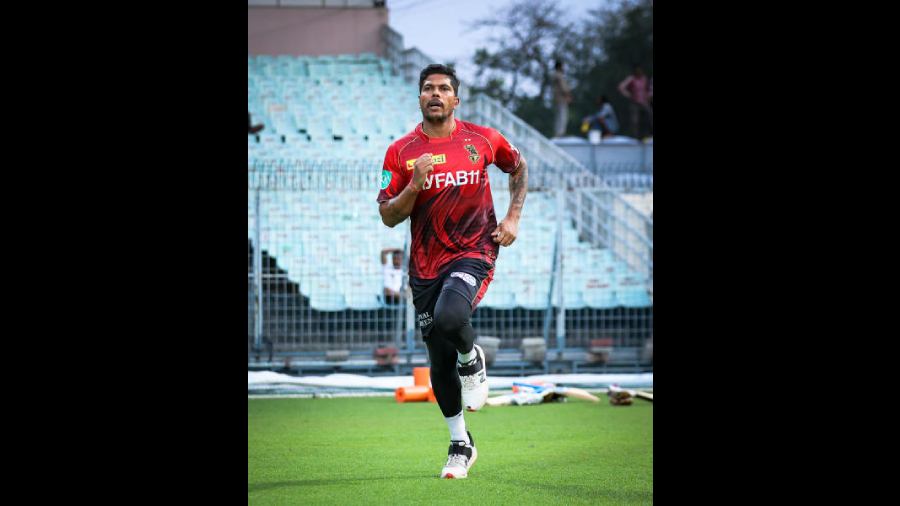 Umesh Yadav during training Picture courtesy KKR
The last time India played a Test at The Oval, in September 2021, Umesh did have an impact with a match-haul of six wickets (three wickets in each innings) with the then Virat Kohli-led side winning the game by 157 runs. In England's first innings, he had bowled a peach of a delivery to clean up Joe Root, who was in excellent form then.
So, for Umesh to have a similar impact against the Australians, will Southee offer any suggestions or advice? "Umesh doesn't really need any advice as such as he has played enough cricket.
"I think it's only natural when you play in these environments, you talk at training and around the hotel about cricket. That's one thing I really enjoy in the IPL, that you get to talk and learn from other people.
"Hopefully, I can walk away learning something from the likes of Umesh and the other bowlers as well," Southee replied.
Cup preparation
With India hosting the ODI World Cup later in October/November, this IPL is one way to acclimatise with the conditions and adjust one's game accordingly, Southee acknowledged. "Yeah, I guess so.
"Any time that you get a chance to play in these conditions only adds to your experience of playing in this part of the world. It's a tough place to play in and the more the guys have that experience, the better for our World Cup preparation.
"There are quite a few guys from New Zealand here (in this IPL) and that's a positive to have those guys gaining experience of playing in these conditions, though it's a different format. But it's still the experience of playing in India, which counts," Southee, with 370 Test, 210 ODI and 134 T20I wickets so far, emphasised.
It's not even a fortnight ago when Southee was captaining the Black Caps against Sri Lanka at home in conditions drastically different from that in India. Talking about the adjustments a pacer has to make and the approach needed to bowl in Indian conditions, the 34-year-old said: "Around the world, wickets for T20s and one-dayers are pretty good nowadays.
"I guess we would call on the experience of beating India a number of times, while we've also played in the IPL a number of times where every ground has its different characteristics. It's about adapting to those conditions and trying to do so as quickly as you can.
"Every ground here is different, be it Chennai or Bangalore or Eden Gardens. They have different sizes and the dimensions are different, so you have to be adaptable to the conditions on the day.
"Also, when you are playing for a long period of time, you have to move on with the times. As a bowler, you have to keep changing and keep trying to improve and evolve your game."
Ben Stokes will not bowl
Ben Stokes will be available only as a speciali­st batter for Chennai Super Kings in the early stages of the IPL, according to a ESPNCricinfo report, to manage his knee injury, for which he has taken a cortisone injection — an anti-inflammation medicine.
The four-time IPL champions had picked up the England Test captain and star all-rounder for Rs 16.25 crore. The 31-year-old has, however, been hampered by recurring injuries to his left knee, with the most recent coming during the tour of New Zealand.
CSK batting coach Michael Hussey confirmed that Stokes might not bowl at the start of the IPL but said he had been "hitting the ball really well" since arriving in India. "The bowling might be wait-and-see," the Australian said.