State funeral for Shane Warne after Thailand autopsy
One of the finest bowlers of all time whose talent and personality transcended cricket, died at the age of 52 on Friday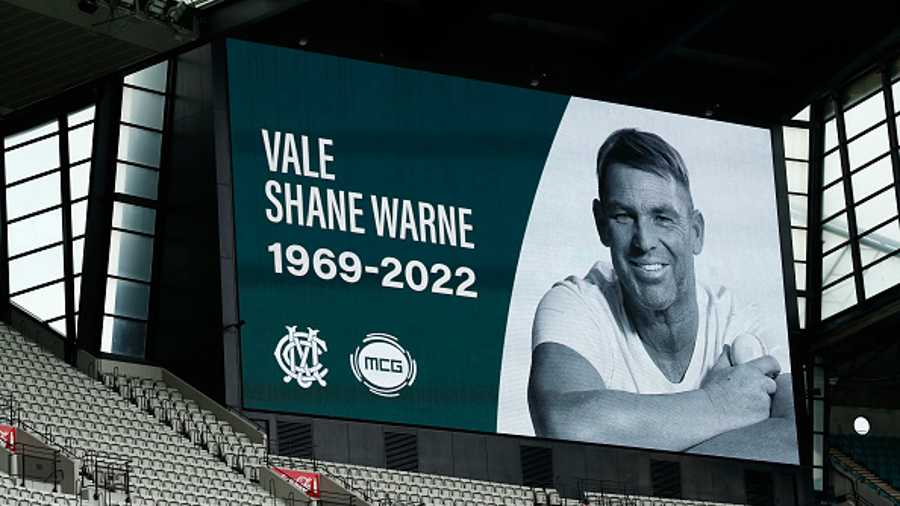 he M.C.G. scoreboards pay tribute to Shane Warne at Melbourne Cricket Ground on March 05, 2022 in Melbourne, Australia. Former Australian cricket player Shane Warne passed away overnight aged 52.
Getty Images
---
Melbourne/Koh Samui
|
Published 06.03.22, 03:16 AM
|
---
Australians laid tributes of flowers and beer bottles at a statue of Shane Warne in Melbourne on Saturday, after the country woke to the shocking news the cricket great had died from a suspected heart attack while on holiday in Thailand.
As many in the sporting world and beyond expressed grief, Australian Prime Minister Scott Morrison offered Warne's family a state funeral for the sportsman known to his compatriots simply as "Warnie".
"Shane was one of our greatest cricketers of all time ... but Shane was more than this to Australians. Shane was one of our nation's greatest characters," Morrison said in a statement.
One of the finest bowlers of all time whose talent and personality transcended cricket, Warne died at the age of 52 on Friday, shortly after arriving on the island of Koh Samui for a vacation.
Thai police said on Saturday they were not treating his death as suspicious and Warne's body would be transferred to the mainland for a full autopsy to determine the cause of death.
Warne had travelled to Koh Samui on Thursday with friends and was staying at the Samujana Villas resort.
His final Instagram post was a now-poignant message to his followers in which he wished them "good night" from the luxurious villa with an image of the island and the villa's infinity pool.
His long-time manager James Erskine was quoted as saying in the Australian media that Warne had not been drinking before he was found by his friend Andrew Neophitou, an executive producer on his recently released documentary, who had gone to the former cricketer's hotel room before a planned dinner.
He was found unconscious with the Rawalpindi Test match between Australia and Pakistan playing on the television. "They were meant to meet some people at 5pm. Neo was next door, he's always on time," Erskine said.
"He realised he wasn't well. He tried to give mouth-to-mouth, tried to resuscitate him, he (Warne) had no heartbeat, the ambulance came 20 minutes later and an hour and a bit later he was pronounced dead (at the Thai International Hospital)."
Warne was last seen about two hours earlier, according to Erskine. "He was on holiday, having a lie down, siesta, he hadn't been drinking, he'd been on this diet to lose weight," Erskine was quoted as saying.
Warne had experienced chest pain, had asthma and some heart issues, Thai police said on Saturday, citing information from Warne's family.
"He had asthma and had seen a doctor about his heart," Yuttana Sirisombat, superintendent at the Bo Phut police station on Koh Samui, told reporters.
Asked about any illnesses before his death, he said: "We learned from his family that he had experienced chest pain when he was back home in his country."
Warne's death dominated Australian media on Saturday, pushing news of devastating floods on the east coast of the country and the war in Ukraine off the top of news bulletins and websites.
On social media, tributes from fellow players were joined by celebrity fans such as rock stars Mick Jagger, Elton John and Ed Sheeran.
Martin Pakula, sports minister of Warne's home state Victoria, said the Great Southern Stand at the Melbourne Cricket Ground (MCG), where the spinner took his 700th wicket on Boxing Day 2006, would be renamed the "SK Warne Stand". The new moniker references the cricketer's first and middle name, Keith.