Shikhar Dhawan's secret behind positive mindset: Spirituality
Indian batter thinks learning to play the flute during the lockdown helped him stay calm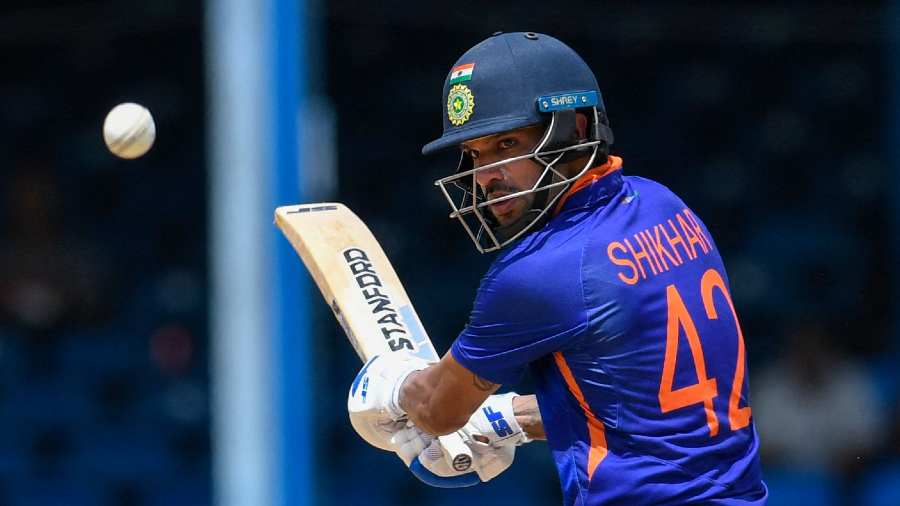 Shikhar Dhawan.
File picture
---
Calcutta
|
Published 17.08.22, 04:10 AM
|
---
A week before the Indian team's departure for Zimbabwe, it was decided that Shikhar Dhawan would lead in the three-match series.
Things, however, changed quickly once the BCCI medical team certified that KL Rahul had recovered fully from a surgery for sports hernia followed by Covid-19 and was fit to tour.
The national selectors handed over the captaincy to Rahul since he is the regular vice-captain of Team India. Dhawan is happy to see Rahul back. Rahul will be returning to competitive cricket for the first time since the IPL.
"It's very good news that KL is back in the side," Dhawan said.
"He's one of the main players of the Indian team and with the Asia Cup coming up, it's going to be a good outing for him. I'm sure he'll gain a lot from this tour. It's sad that Washington (Sundar) is out, it is part and parcel of sport. These things happen. Hope that he recovers soon."
Dhawan has no qualms about being ignored for the T20Is and has learnt to take life as it comes. He thinks learning to play the flute during the lockdown helped him stay calm.
He has also embraced spirituality, which he believes has opened his eyes to a world of positivity. "I learnt it through spirituality," Dhawan said, when asked how he has accepted the several highs and lows in his career.
"You need to practise (having a calm mindset) just like you practise cricket. "It's something I try and pass on to the youngsters as well. As cricketers, we are all living our dream and if you don't live happily (despite that), what's the point? It's small things like these... I don't try and let negativity seep in. I try to be positive always."
The opener "loves the 50- overs game" and wants to continue his good work from the Caribbean, where he led India to a 3-0 sweep in the ODIs. He scored 168 runs, including two half-centuries, in the West Indies.
Dhawan hopes the upcoming series will bring him runs on what he thinks are "great batting wickets". He was part of the tour in 2013 and struck a match-winning 116 in the second ODI. He, however, is not taking Zimbabwe lightly and feels their 2-1 victory over Bangladesh recently will put them in good stead. "It's good they won against Bangladesh," Dhawan said.
"I'm sure they're playing good cricket. It's good for us, because it will keep us on our toes. We can't take anything for granted or lightly. We're here to perform against a good team. It's always about the process."
Dhawan didn't know much about the current Zimbabwe side, apart from Sikandar Raza, who he feels is a "good player who has been doing well for many years now."
"We don't play that much cricket (against each other), but we have all the data. From there, we find out the opponent's strengths and weaknesses. "I guess that is where technology comes in handy. In one game, you get to know the patterns pretty quickly. Even before that we use technology to get going with our planning."
He felt the upcoming threematch series was an opportunity for Zimbabwe to showcase their talent.
"It's good for world cricket that we're playing each other. It will give them confidence. Our young boys will get opportunities in different conditions. It's only by playing that Zimbabwe will also get better, especially against quality sides. That's how they will also learn."