IPL: Dwaine Pretorius casts his game in MS Dhoni mould
The 33-year-old, donning Chennai's colours this season, could have an important role to play for the Proteas in the upcoming five-match T20I series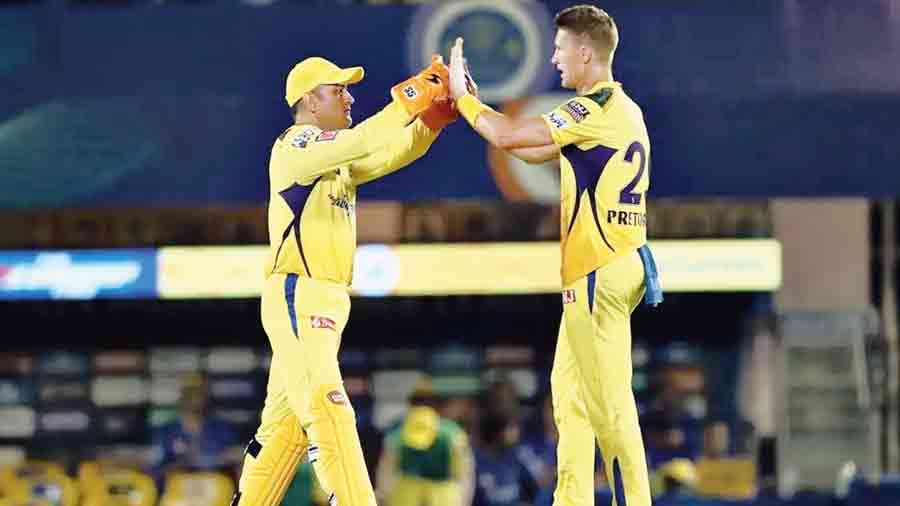 Chennai Super Kings' Mahendra Singh Dhoni with (right) Dwaine Pretorius during IPL 2022
Sourced by The Telegraph
---
Published 07.06.22, 01:20 AM
|
---
Captain Mahendra Singh Dhoni stood out in a game or two with his bat, though Chennai Super Kings finished second from bottom in this year's IPL. Irrespective of how the Super Kings fare, Dhoni's influence is something that's a constant, feels South African all-rounder Dwaine Pretorius.
The 33-year-old, donning Chennai's colours this season, could have an important role to play for the Proteas in the upcoming five-match T20I series that begins at the Kotla in New Delhi from Thursday.
Looking forward to the series, Pretorius is keen on emulating Dhoni's calmness and self-belief, which he feels could drive him to win games for his team from any situation. "The biggest thing I learnt from Dhoni is how calm he is at the crease, how much he tries to take pressure off himself and put it on to the (opposition) bowler," Pretorius, who has so far played in three Tests, 24 ODIs and 22 T20Is, said at a virtual news conference on Monday.
"He made me realise that it's actually the bowler who's under more pressure than the batter. You can still lose the match if you have to defend 18 off the last three balls, but as a batter, you can actually win it.
"Besides, he always has a fresh mindset. He doesn't get too excited and doesn't get too down on himself either. And what I love about him is his optimism and the belief that he can do anything.
"In my game too, I want to bring in that calmness and self-belief to win any game from any position," Pretorius emphasised, adding: "Also, seeing how commanding Brand Dhoni is in India shows you how big he is and what he has done for the sport in this country."
He made only six appearances in IPL 2022, while his figures (six wickets and 44 runs) weren't outstanding either. Yet, Pretorius feels the overall experience he has gained by just being a part of the IPL and the Super Kings set-up bodes well for him going into the series versus India.
"The IPL was a great experience and I enjoyed every moment of it at CSK. The franchise has got a very performance-based set-up, where you get a lot of responsibility as a player and to prepare like you want to, come up with plans you believe will work and making sure you execute your plans," he said.
Cup preparation
The five T20Is will very much be a part of South Africa's preparation for the T20 World Cup, which will be held in Australia this October-November.
"India are a very strong T20 side. So obviously, if we do well, we can measure ourselves against one of the best teams in T20 cricket. To see where we are and what we need to work on before we get to the World Cup..." Pretorius said.
"I believe conditions in India may be changing slightly. We know those in Australia have a bit more bounce, but the wickets here are quite true and are good wickets as well.
"So yeah, it's a great opportunity for us to beat the Indian team and there are a lot of benefits we could have from this series."