India vs Sri Lanka: Mohammed Siraj finds rhythm in seam
Pacer swings away from beaten track; batter pat for throwdown experts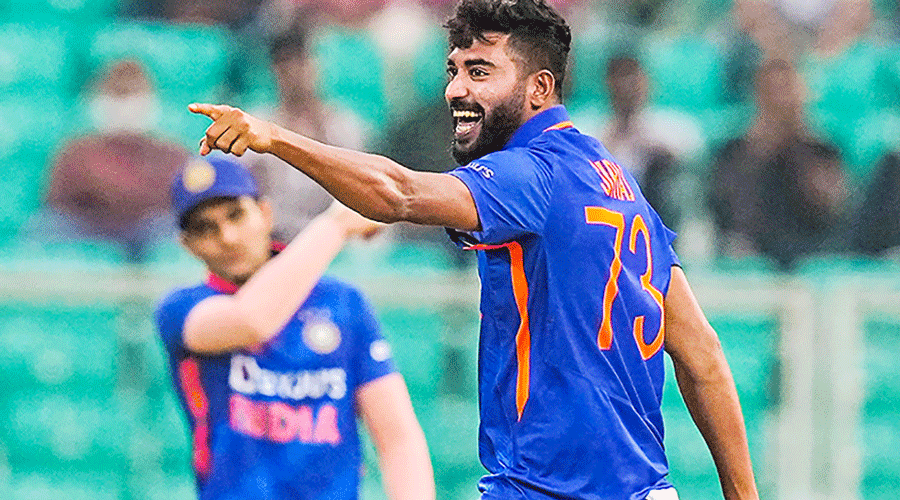 Mohammed Siraj celebrates after dimissing Sri Lanka's Avishka Fernando in the third ODI in Thiruvananthapuram on Sunday.
PTI picture
---
Calcutta
|
Published 17.01.23, 02:42 AM
|
---
Mohammed Siraj has finally come out of the shadows of Jasprit Bumrah and Mohammed Shami in the one-day format.
While Bumrah has struggled with his fitness, Shami has been inconsistent and profligate. Siraj, on the other hand, has shed his predictable nature and added new variations to his armoury.
The results have shown in his success and ability to provide early breakthroughs. In the first ODI against Sri Lanka, he picked up two wickets with the new ball. In the second, he took one, and in the third, his four for 32 hastened Lanka's downfall in Thiruvananthapuram on Sunday.
India have definitely used the new ball more effectively when Siraj has been around in the 50-over format. In his bid to develop the outswinger, he lost out on his natural inswinging delivery. He got predictable with his deliveries which led him to experiment with the wobble seam. He would tilt the seam towards fine leg while attacking the stumps and keep the batsman guessing.
"The biggest advantage with the wobble seam is neither me nor the batter can guess how much the ball will nip back," Siraj said after the third ODI. "Sometimes it will come back in appreciably... at others, it will go straight. Whatever success I got, I got it through wobble seam. It's very effective and has proved to be successful for me and I trust it."
Picking Dale Steyn's brain during the last IPL also help the pacer.
"I used to get natural inswing but I lost it, so I developed outswing and worked on the wobble seam delivery... It took a lot of time to be effective and for me to get confident about it. I practised a lot in the nets and during the IPL I got the confidence that I can bowl it. I also spoke to Dale Steyn during the IPL when I wasn't getting good outswing, so wobble seam helped me then too.
"When I didn't have a good IPL, I thought that I should also work on my white-ball skills. So I did that and when I got through a couple of good matches, I got the confidence. Now I have stopped thinking about performance and that has helped me."
There has been a change in the mindset too.
"Even if I don't get wickets now but bowl the right line and length, I am satisfied," he said.
During this series, my plan was to swing the new ball and pick up early wickets. It didn't matter if I got hit for two-three fours, because if I can pick up a couple of wickets, it will push the opposition on the back foot."
His bowling has also helped him earn his captain's confidence.
"He is a rare talent," Rohit Sharma said on Sunday. "The way he has come up in the last couple of years, the way he has gone from strength to strength, that is good for Indian cricket. We tried all sorts of things (for his five-for), unfortunately, it didn't happen. But the four wickets he got were brilliant to watch, and the fivefor will come.
"The way he is bowling at the moment, the confidence is there. You can see it in the way he is running, trying to swing the ball upfront. And you can finally see the rewards coming through. Then he has got a few tricks up his sleeve for the middle overs as well, which he is working on."
His performance in the series against Sri Lanka where he finished as the most successful bowler has also helped him gain confidence.
"This series went very well. My plan was to pick wickets with the new ball and put pressure on the middle order. I was trying to swing the ball and I didn't mind being hit for boundaries," Siraj said.
A five-wicket haul though wasn't meant to happen in Thiruvananthapuram. Mohammed Shami bowled a standalone over to let him swap ends and Shreyas Iyer rolled his arms over but nothing happened.
He even managed to trap Kasun Rajitha on the back pad but DRS turned down the umpire's decision.
With the World Cup only a few months away at home, his success on subcontinent wickets will go a long way in sealing a place in the squad. Once Bumrah is back to his best, Shami regains his rhythm and Siraj continues executing his skills, India's pace attack will prove to be quite effective.