India vs New Zealand: Rachin Ravindra beats spin & noise
More than technique, the 22-year-old Wellington-born player banked on a calm head, which enabled him to tackle India's spinners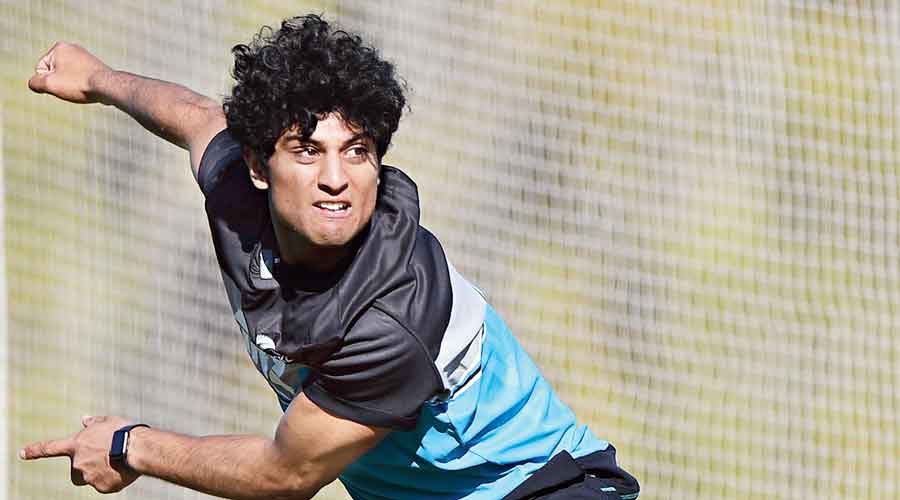 Rachin Ravindra.
File Photo.
---
Published 01.12.21, 02:31 AM
|
---
For a debutant, Rachin Ravindra did extremely well in handling pressure from multiple fronts to help his team earn a nerve-wracking draw versus India in the first Test. Now a Test old, Rachin savours "the stuff of dreams" after his unbeaten 18 and the unbroken 52-ball resistance with his "bowling mentor" and New Zealand No.11 batsman Ajaz Patel saved the game for the Black Caps.
More than technique, the 22-year-old Wellington-born cricketer banked on a calm head, which enabled him to tackle the opposition spinners, who were enjoying the upper hand and, egged on by the home crowd, were threatening to give India a win at the Green Park stadium in Kanpur.
"It was a pretty incredible moment, I think, taking in the crowd and how loud they were and all the fielders around the bat," the Indian-origin Rachin said in an interview to New Zealand Cricket on Tuesday.
"It's the kind of stuff you dream about as a kid. You watch Test matches like that, and that's where your heroes and your idols are made. It's the stuff of dreams being able to take in the crowd."
One can certainly gauge the amount of pressure that would be there on a batsman on a last-day wicket with quality spinners operating from both ends and as many as seven close-in fielders around.
"I was trying not to look at the scoreboard and see how many overs were left. I know my processes, so I was just thinking ball after ball and trying to forget about all the external factors," Rachin said, explaining his approach during those last 8.4 overs of the Test.
Work ethic
Glenn Pocknall, Rachin's coach at Wellington Firebirds, underlined his ward's work ethic and his awareness about what he needs to do to be at his peak when he plays as the qualities that set him apart.
"I first saw Rachin as an 11-year-old at an indoor centre in Wellington, when he was training with his dad (Ravi Krishnamurthy) and local coach Ivan Tissera. My first impressions were, 'Wow, this kid has some great skills for such a young age'.
"He came into our professional environment at the Firebirds as a 17-year-old-rookie and worked extremely hard on all aspects of his game with former Black Caps internationals Bruce Edgar (former opener) and Luke Woodcock (former all-rounder), and turned himself into a good all-rounder very quickly.
"He has incredible work ethics and learnt over time to be able to balance the demands of his training with rest and recovery in order to be at his peak when he plays," Pocknall, who was New Zealand's head coach when they toured Bangladesh in September, told The Telegraph.
Flexibility key
Courtesy the red soil of the Wankhede pitch, spinners are likely to get more turn and bounce in the final Test in Mumbai. Rachin's task against the likes of Ravindra Jadeja, Ravichandran Ashwin and Axar Patel could then become tougher, but flexibility in his batting style could bail him out of trouble, Pocknall hoped.
"The key will be having flexibility based on what the surface is doing," Pocknall said, adding: "He's more than capable of playing in those conditions even if there's extra bounce or turn."