India vs New Zealand: Lack of runs does not worry Ajinkya Rahane
Going into this two-Test series, the Indian captain has been in fine rhythm with four 50s in five matches for Mumbai in the just-concluded Syed Mushtaq Ali T20 Trophy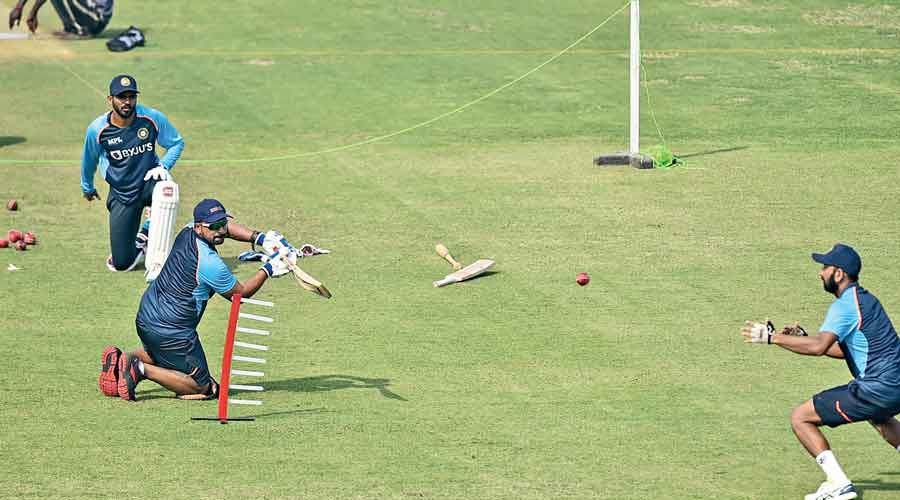 ---
Published 25.11.21, 02:46 AM
|
---
Since the Boxing Day Test versus Australia last December, where he hit 112, Ajinkya Rahane has been able to score just two half-centuries in 19 innings. The numbers certainly reflect Rahane's struggle with the bat. But India haven't been too affected by it, largely due to their disciplined, relentless bowling along with Rohit Sharma and KL Rahul doing a commendable job at the top of the order during the England tour.
On his part, however, Rahane doesn't seem to be too bothered about his form. "My job is to contribute as much as possible for my team, and contribution doesn't mean that you need to score 100 in each game.
"Scores of 30-40, 50, 60 and 70 per innings are also important contributions and I focus on that," the stand-in captain said on the eve of the first Test versus New Zealand in Kanpur.
Agreed, he has had a tough time in Test cricket over the last 11 months. But going into this two-Test series, Rahane has been in fine rhythm with four 50s in five matches for Mumbai in the just-concluded Syed Mushtaq Ali T20 Trophy.
Though it's a different format, these runs should be keeping Rahane in good stead and taking care of his mindset as well before the two Tests against a bowling attack that cannot be taken lightly irrespective of the conditions. For Rahane, what matters is staying in the moment.
"You just don't think about yourself. It's an honour to lead the country instead of bothering too much about what's going to happen in future. "Whatever has to happen in future will happen and I have to stay in the moment," he stated.
Talking about balancing the aspects of carrying out his duties as a captain and as a batsman, Rahane said: "When I'm batting, it's only batting that remains my focus. And when batting is over, captaincy comes in then. It's as simple as that.
"When we are bowling, I'm only thinking about what sort of game plans, field placements and strategies we need to have."
Dravid support
In the absence of Rohit, Rahul and Virat Kohli, the onus will be on Rahane and Cheteshwar Pujara to bail the team out in case the New Zealand bowlers make early inroads.
What augurs well for the experienced duo is head coach Rahul Dravid egging them on to back their strengths and trying to ensure they avoid complicating matters by over-thinking. "Rahulbhai told us to back our strengths and keep it very simple. He's always supporting guys who aren't getting enough runs," Rahane said.
Home advantage
"Happy" with the Green Park wicket on offer, Rahane asserted that India will continue playing on spin-friendly tracks, keeping in mind the World Test Championship, which is in its second cycle. "You have to make the most of your home advantage since the WTC is on.
"In India, we're going to play on spin-friendly wickets in future too as we back our bowlers to take 20 wickets. As for batsmen, they'll have to apply themselves," Rahane made it clear.