India vs New Zealand: Eden Gardens expects big crowd, demand for tickets high
Only 70 per cent of the stadium capacity has been allowed for the third T20I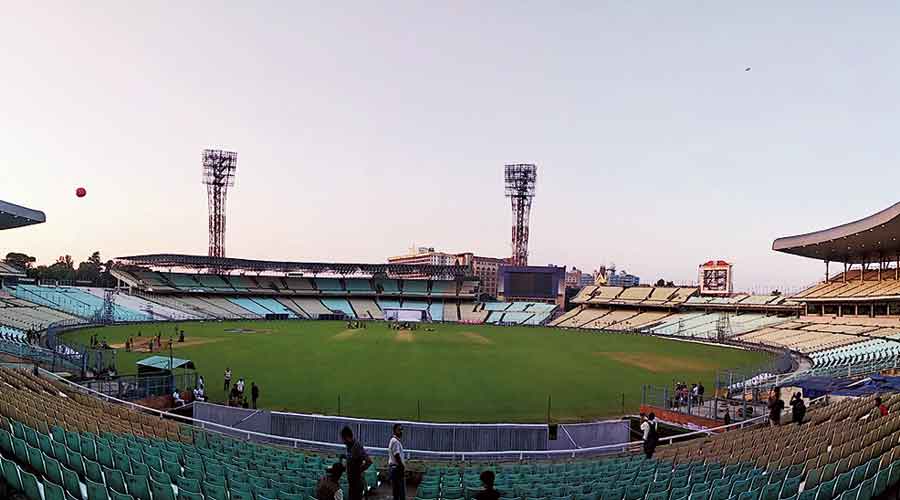 Eden Gardens.
File Photo.
---
Published 17.11.21, 02:33 AM
|
---
With Eden Gardens staging an international game after two years, expect an impressive turnout when India and New Zealand face off in a T20I on Sunday evening.

No wonder the Cricket Association of Bengal (CAB) premises were buzzing with top officials and office-bearers holding regular meetings to ensure things are in order for the game. In fact, that has always been the case whenever the iconic venue has hosted any international game, regardless of the format.

But what can certainly be counted as a positive is that the demand for tickets hasn't taken any beating whatsoever even in this pandemic situation. Online sale of tickets began on Monday, while the association distributed tickets for its members on Tuesday, with the clubs and affiliated units due to get their share on Wednesday and Thursday.

Quite a few members, after having collected their tickets, were greeted with the very familiar request, "Extra hobe? (Any extra ticket?)", which is a regular occurrence every time the Eden hosts a game of cricket involving India. That hints at the kind of interest the game has generated and make no mistake, most of the seats — even though only 70 per cent of the stadium's capacity has been allowed — will be filled up even if the match, the third and final one of the series, turns out to be an inconsequential one.

"We had released around 1,500 tickets for online sales. But within just 15 or 20 minutes, all of them were sold. So you can certainly imagine how the response has been from the fans," CAB treasurer Debashish Ganguly said.

"Given the current scenario, it will be very surprising if not all of the allotted (47,000) seats are filled up. The respective clubs have also already picked up 30 per cent of the tickets reserved for them," Ganguly added.

Chief minister Mamata Banerjee is also on the list of dignitaries invited to attend the game.