We can't be complacent, says unbeaten captain Kohli
'The more basic you can keep things in a tournament like the World Cup, the better chances you have of being one up against the opposition under pressure'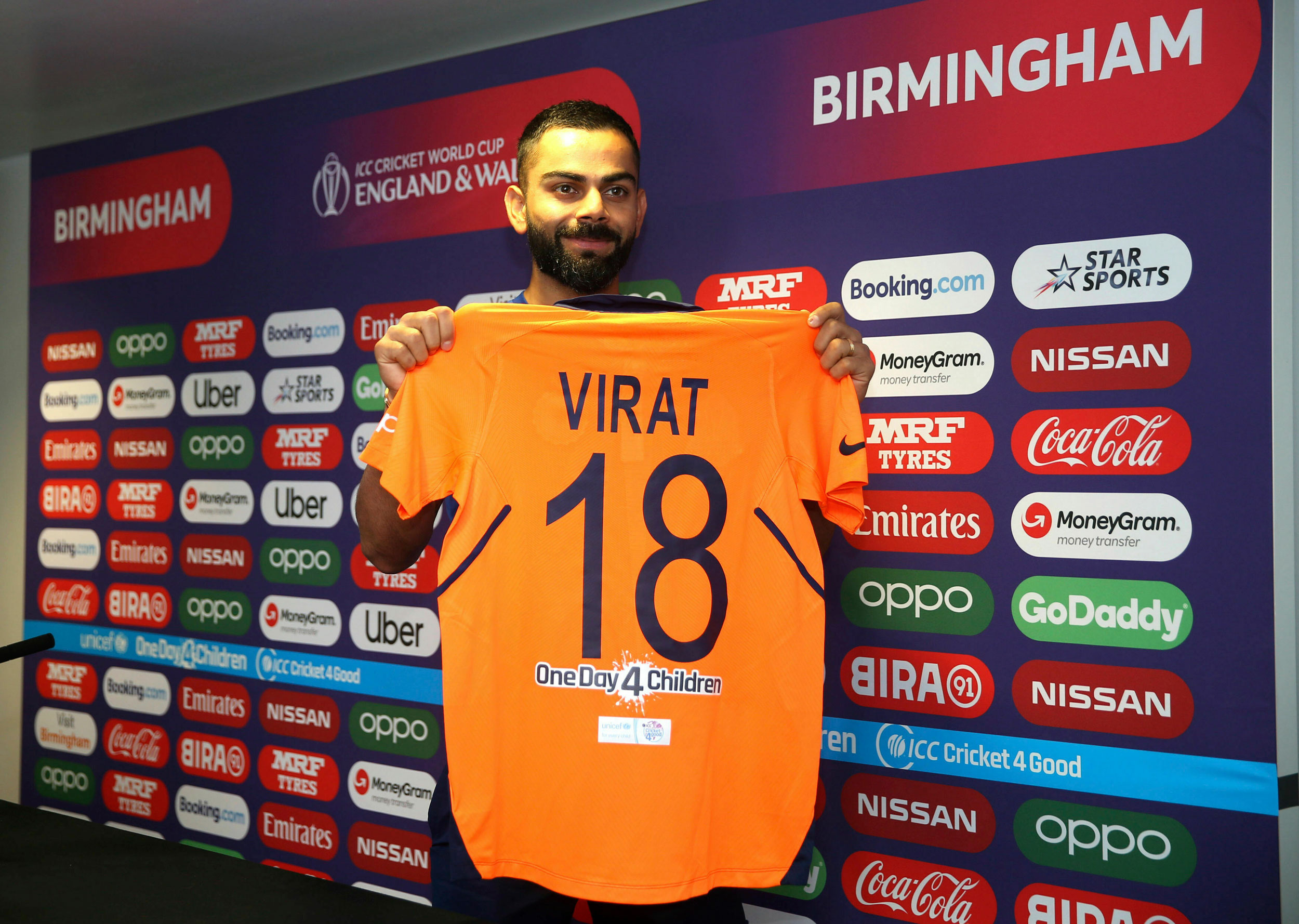 Virat Kohli holds up the new India jersey during a press conference at Edgbaston in Birmingham, on June 29, 2019. India will play in new a new team shirt Sunday to avoid a clash of colours when they play England in the Cricket World Cup.
(AP)
---
Calcutta
|
Published 29.06.19, 08:56 PM
|
---
India are still unbeaten in the ongoing World Cup, but on the eve of the big match against England, in Birmingham, captain Virat Kohli has reminded his team that they can't be complacent.
"I said at the beginning of the tournament that pressure is going to be a massive factor... So anyone can beat anyone on the day. We got a scare from Afghanistan, and another low-scoring game against the West Indies. So you can't take anything for granted. Although we haven't lost a game until now, we still can't be complacent as a side. The reason why we won all the games is because we've been very professional and precise in pressure moments," Kohli said at a media conference.
Explaining how the Indian team and he himself handles pressure, Kohli said: "Well, the focus is basically to do individually what we have been selected to do, what we have been doing for years. The more basic you can keep things in a tournament like the World Cup, the better chances you have of being one up against the opposition under pressure. The more you attach emotion or excitement or too much pressure to an occasion, you can't make good decisions."
One of the big questions on the Indian front for Sunday's match is whether Bhuvneswar Kumar has regained his match fitness and if yes, would be a part of the playing XI. From what Kohli said, it was unclear if Bhuvi is 100 per cent fit. But the captain did make it clear that he is very happy with how Mohammed Shami has bowled in Bhuvi's absence.
"Bhuvi's been a world-class bowler, and he's a permanent starter for us in the shorter formats. (Mohammed) Shami, in the last year-and-a-half, has come around amazingly well. As I said before, I've never seen him fitter, more hungry to take wickets, and he knows how to pick wickets. Even in the last game, the way he was bowling with the new ball on a pitch that was dry, that was amazing.
"Bhuvi is recovering very fast. When he gets fit, it's going to be a bit of a headache for us to see what we're going to do, but we'll take the best call for the team at that moment, and I'm sure everyone will understand."
"All these people are professionals. Sometimes in cricket these things happen because of injuries and niggles. But at this particular moment, all I can say is I'm very happy with the way Shami is bowling. Bumrah, I don't think we even need to discuss him anymore because he's separated himself from everyone else at the moment. But, yeah, very, very happy for Shami."
Another issue is the No.4 position in the batting order, in which Vijay Shankar has played in the last few matches. Asked for his assessment of Vijay, Kohli said: "I personally felt he has looked really solid… There's not much that needs to be tinkered.
"Sometimes in cricket you just need a bit of luck to get over from 30 to 60, and then you play a defining knock for the team. He's very close to that, and we're very confident he's going to end up playing that kind of knock for us.
"He's in a good head space as well, but sometimes in cricket these things happen where you don't necessarily feel you've committed any mistakes until the time you get out, and that's it. So you do need a bit of luck, especially in the shorter format, to sort of take that risk and get over the line."
About the Indian middle-order, which has looked a bit shaky in the last couple of matches, Kohli said: "That discussion is always going to go on because we've had such a strong top order that these guys have hardly had a chance to bat. When they bat, out of four times, if once or twice it doesn't come off, then we feel like, 'oh, it's not a strong middle order', but we overlook the times that it has come good.
"We're very, very comfortable and happy with how everyone is playing. Everyone is very, very keen to contribute, and that's all you can ask of all your players," Virat said.