ICC Cricket World Cup 2019: Pakistan ad mocks pilot Abhinandan, draws sharp reactions in India
A section of fans are upset that a pilot was dragged into a World Cup ad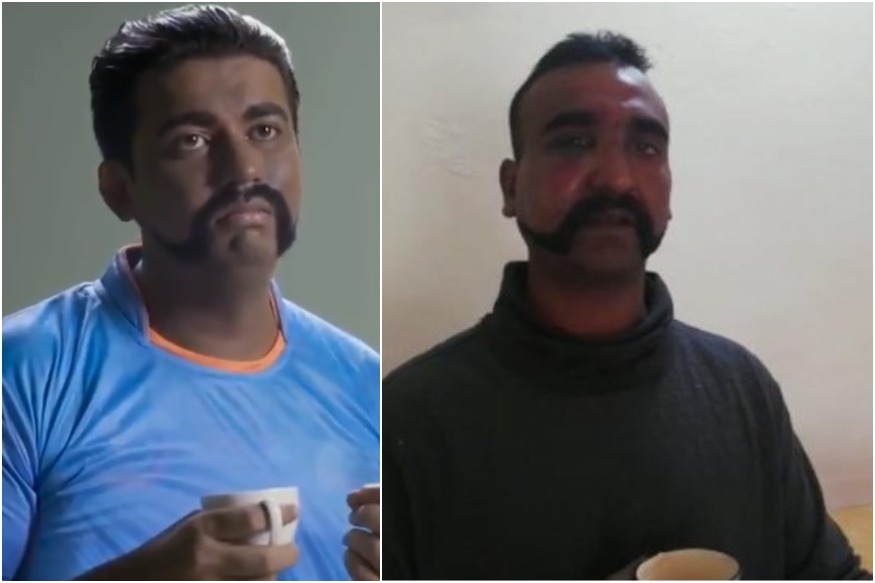 ---
---
A few still managed to find humour in the dose of insults from the other side, saying "such is our hero's (Abhinandan's) personality that no one can remain untouched by it".
Shameful for Pakistan to mock our hero #Abhinandan ahead of #INDvsPAK World Cup cricket game. We need to retaliate! pic.twitter.com/BQcLxyQPvH

— Harsh Goenka (@hvgoenka) June 11, 2019
The immensely entertaining 'Mauka Mauka' ad from the 2015 World Cup has returned to Indian TV channels for this edition of the Cricket World Cup. On the other side of the border, a Pakistan TV channel has come up with its own campaign that parodies the capture of IAF Wing Commander Abhinandan Varthaman by Pakistan in February.
The video by Pakistan's Jazz TV was released keeping in mind the match between Pakistan and India at Old Trafford, Manchester, on June 16.

The advertisement has an actor parodying Abhinandan. He is not named but sports a handlebar mustache and is in a blue jersey like the Indian cricket team.
He is heard repeating the pilot's lines from the video that was released by Pakistan defence forces after Abhinandan's capture.
The actor can be seen saying: "I'm sorry, I am not supposed to tell you this" to questions about Indian cricket team's strategies.
However, unlike the Indian braveheart's calm expression throughout the questioning, the actor in the ad looks frightened and jumpy. The actor mimicking Abhinandan also appears to have a blackened face, pointing to racist undertones.
While he is being questioned, the video shows the actor with a cup of tea in his hand.
The 33-second video ends with the faceless interrogator pulling back the actor when he gets up to leave after the questioning.
He is heard telling the actor parodying the pilot: 'Ek second ruko! Cup kahan leke ja raho ho? (wait a second! Where are you taking the cup?),' hinting at the World Cup trophy. The ad has attracted some reactions from Indians.
Businessman Harsh Goenka, chairman of the RPG Group called the ad shameful for Pakistan and asserted on the need for India to retaliate.
Did you guys watch the new Pakistan ad where they mocked our indian officer abhinandan? Well, we all make ads and try to put each other down especially when sports is involved. All I have to say is, just get it back India and show them who we are! ♥️ #worldcup pic.twitter.com/eoyzp4tTou

— Taniyaa Mehta (@Taniyaamehtaa) June 11, 2019
Meanwhile, others questioned International Cricket Council's silence on this.
The India-Pak cricket rivalry has been one of the most intense and intensified sports rivalries. The ad campaigns surrounding the battling Indian and Pakistan cricket teams that harp on hatred bear testimony to this.

India has defeated Pakistan six times in the World Cup.
A few took the insult as a challenge and chose to encourage Team India to defeat Pakistan in the match.
Jazz TV advt on #CWC19 takes the Indo-Pak air duel to new level. It uses the air duel over Nowshera and Wing Co Abhinandan Varthaman's issue as a prop. @IAF_MCC @thetribunechd @SpokespersonMoD @DefenceMinIndia pic.twitter.com/30v4H6MOpU

— Ajay Banerjee (@ajaynewsman) June 11, 2019
This is the our hero's personality, no one can remain untouched. But next time plz use some good actors. Btw #ShikharDhawan exclusion must be a relief for many competitors #CWC19 #abhinandan pic.twitter.com/mrBFLFLh2d

— Megha Jain🇮🇳 (@i_meghajain) June 11, 2019
Dear @icc what happens to your moral code of conduct when @TheRealPCB mocks india AIF pilot abhinandan with their tv advert. Or only your special focus was only on @msdhoni @BCCI ? @Ra_THORe kindly acknowledge please, this is utter disgrace pic.twitter.com/QJLJu5l1r6

— Abhiemanyu Tyagi (@abhiemanyu) June 11, 2019
Mauka Mauka was one of the most innovative ads ever. Didn't bring religion, army anything - the ad just showed the cricket rivalry.

But bringing in an armyman #Abhinandan in an ad is totally uncalled for. You can't insult a soldier, irrespective of which country he belongs to.

— Jayesh Kumar Dey (@dey_jayesh) June 12, 2019