ICC Cricket World Cup 2019: Indians stay relaxed, Aussies take confidence from win in ODI series
Early wickets will be key to stop India, says Aussie captain Finch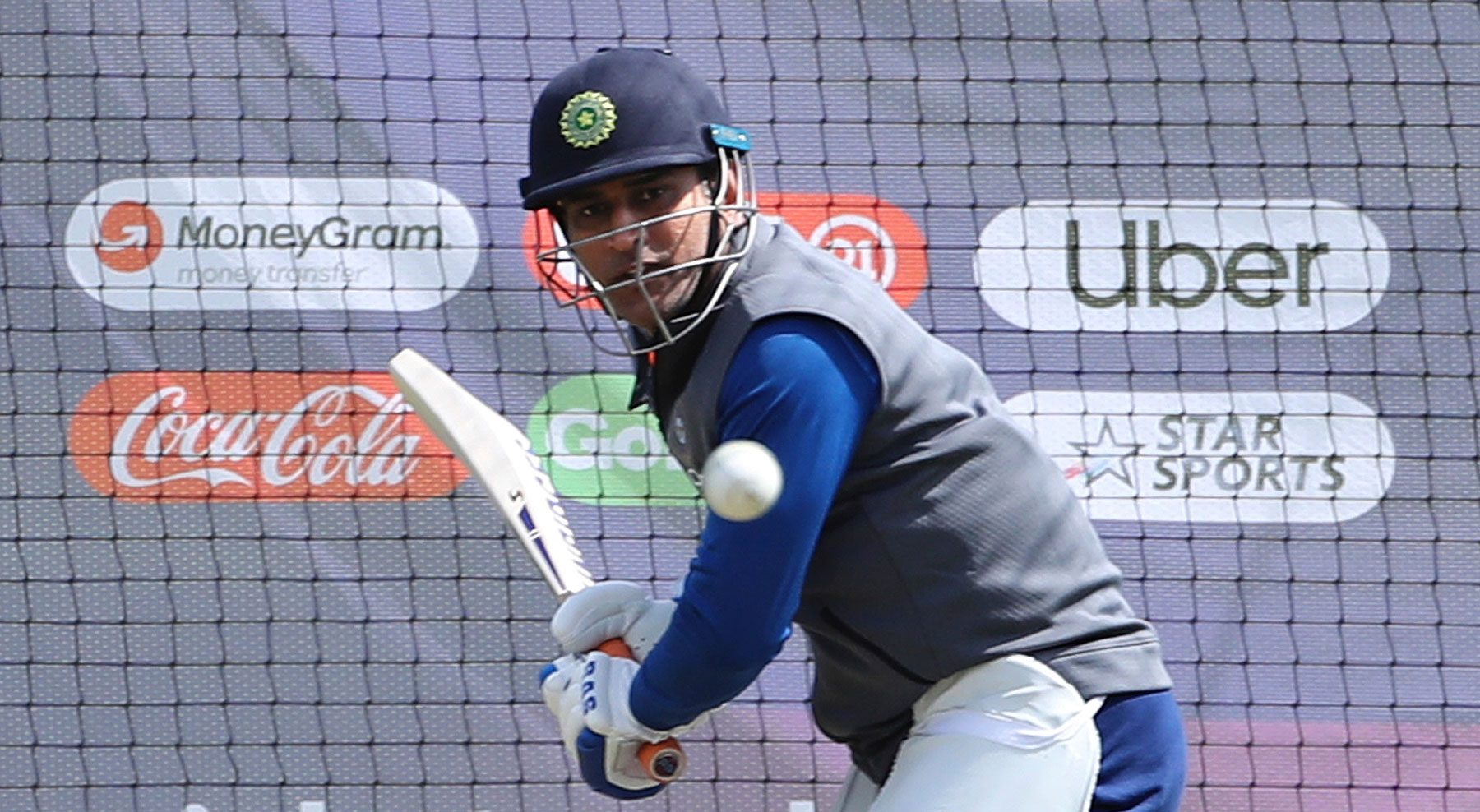 Mahendra Singh Dhoni at The Oval on June 8, 2019.
(AP)
---
London
|
Published 08.06.19, 09:45 PM
|
---
It was after 2'o clock that the Indians emerged out of the dressing room on a cloudy and chilly Saturday afternoon for a net session at The Oval here. It was optional practice with Virat Kohli and Jasprit Bumrah being the featured absentees.
An hour and a half later the Indians decided to wind up. If it was about staying relaxed for the Indians, the Australians certainly showed more josh and discipline during morning training.
So much so that David Warner was at his lethal best at nets and one of his ferocious drives struck a net bowler of Indian origin — Jaykishan Plaha — on the head. The Australian was left "shaken" though the medium pacer was "doing well" after a precautionary visit to a hospital.
An India-Australia contest in recent times has always been preceded by a war of words. An opportunity to prevail in a psychological warfare is never missed and the Australians revel in such a role.
Strangely, such a build-up has been missing this time. May be the occasion has played its part but cricketing overtures have certainly gained precedence over the mindless talk that added to the hype and fervour.
Australian cricket too has gone through troubled times. The atmosphere though is far removed from the sombre days of the ball-tampering scandal and tear-filled admissions of guilt. The days of ridicule have given way to a more relaxed atmosphere.
Possibly there biggest test was the integration of Warner and Steve Smith into the side which been successfully achieved. Whether this chilled-out mentality has restored the belief in the players is a matter of debate but it certainly is reflecting on their performance. They have won both their matches and despite the sandpaper boos reserved for Warner and Smith, they have triumphed the odds with their steely determination.
In conditions that are expected to favour seam and swing bowling, the opening overs could decide the contest. If Jasprit Bumrah sent shockwaves though the South African ranks, Mitchell Starc has also sounded a warning saying that it would be foolish to ignore his potential.
The batting depth too could play its part. Rohit Sharma averages over 60 against Australia while Virat Kohli is a tad above 50. Shikhar Dhawan has showed that he has a special liking for the steep bounce and pace that the Australians deliver.
Warner has been in ominous form since his re-admission while Smith just loves the challenges that World Cup brings. There's Aaron Finch and Glenn Maxwell waiting in the wings to supplement their efforts. Finch sounded a warning saying the come from behind series victory in India has given them confidence and were looking at early wickets to stem the flow of runs.
"Having played India so much recently, we sometimes let Virat get off to a bit of a flier and let them get off the hook early," said Finch. "Once he gets into a rhythm he's so hard to stop and you can't afford to play catch up against great players and Rohit is the same.
"He's so destructive when he starts to really put the pressure on you. You can't afford to give them too much freedom but we can't focus on just two players either, look at the rest of their batting line up," said the Australia captain.
"Those first 10 or 15 balls it's about making them take a risk and early wickets will be a real key. Winning those last three games in India gave us some self-belief we can beat this side in their home conditions and that gives us real confidence coming into a game like this. It comes down to seizing the key moments. You have to believe you can beat them..."
Times have changed and the Indians know that if the Australians are planning to unnerve them with chin music, they have the ammunition to retaliate too.
"If the batsmen are finding it uncomfortable, we will welcome them with some short stuff," Rohit said.
"Even the best batsmen will find it difficult against short-pitched bowling and we've definitely got the attack to do that."
Rohit spoke about the Australians' never-say-die attitude and their will to fight, making them "a threat" that can never be ignored. But he didn't wish to dwell much on past performances.
"Past is past," he said. "What has happened before means nothing, it's about being better on the day, nothing else.
"I will not look back… It gives you confidence but it's just about tomorrow, not the history," Rohit said.
This approach will drive the Indians on Sunday.