IPL 2022: Full & final, back to the old normal
Last year's final and that of 2020 had seemed just another game, with empty seats all around leading to a rather disappointing look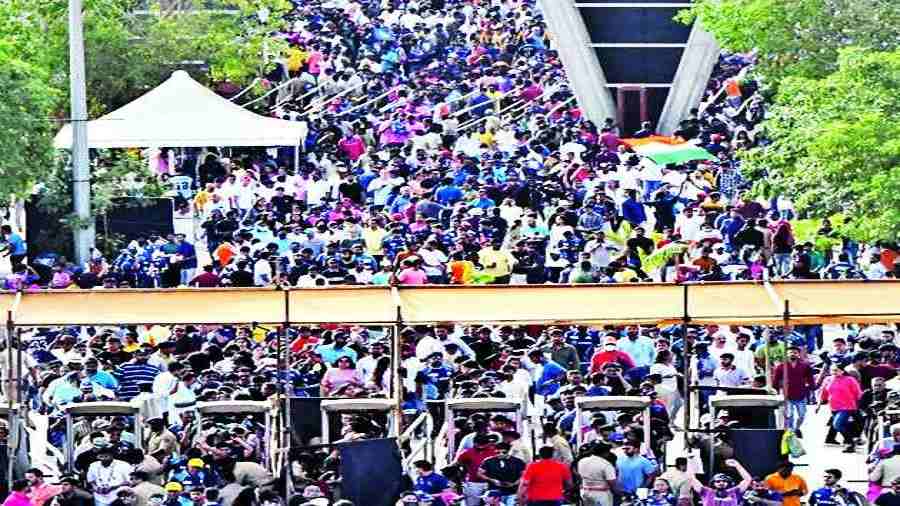 Spectators enter the Motera for the final.
IPL
---
Published 30.05.22, 02:01 AM
|
---
Eden Gardens showed the way with a huge turnout screaming their lungs out for the teams during Qualifier I and the Eliminator last week. The gigantic Motera in Ahmedabad has followed suit.
Sunday's grand finale, in fact, was a revisit to all those IPL finals of the good old days when the world didn't know Covid-19.
Last year's final and that of 2020 had seemed just another game, with empty seats all around leading to a rather disappointing look. The threat of the pandemic constantly played in everyone's mind.
However, this time, with Covid-19 having somewhat loosened its grip and normality regaining ground, the final of IPL 2022 was not just a game to determine the winners of the tournament's 15th edition, it was also a grand occasion to celebrate cricket and, above all, life.
The refurbished Motera, now called the Narendra Modi Stadium, can accommodate as many 1,32,000 people. On Sunday, a couple of hours before the final between Gujarat Titans and Rajasthan Royals got underway, every nook and corner of the facility was filled up. Not one seat appeared to be left vacant. Before captains Hardik Pandya and Sanju Samson went out for the toss, Bollywood star Ranveer Singh and Oscar-winning composer AR Rahman set the stage on fire with their performances during the closing ceremony, which the BCCI could finally organise this time. The capacity crowd also swayed to Ranveer's dance numbers and the foot-tapping chartbusters that Rahman and his team served.
Akshay Kumar, another Bollywood star, was seen seated alongside the BCCI officials and so were dignitaries from the other cricket boards.
Much of the crowd support was for local lad Pandya and his men as the cheers turned into roars whenever the Titans picked up a wicket. "Well, it's very overwhelming to see so many people come and support us. People of Gujarat are very loyal, so we're very excited to get so much of support," skipper Pandya told Ravi Shastri at the toss.
Samson, too, acknowledged the presence of such a massive turnout, which was badly missed in the last two editions. "Everyone feels very positive and all are excited to play the final in front of this fabulous crowd.
"In fact, this is one reason why we want to play," the Royals captain emphasised.
This IPL has been almost free from any unwanted interruptions. That's how everyone would like it to be even in the years to come.